Making sure your passport is ready before a trip abroad is imperative. Your Korea passport photo is equally important. If you don't want to pay a photography service to take this for you, try out iVisa Photos easy process. With our fast service, getting your Korea passport photo is a breeze.
Just read our Quick Facts guidelines and then take a new photograph of yourself using your laptop or smartphone. We'll edit from there and process for next day pickup. If you need to also apply for a visa, be sure to use an efficient service. Visiting our iVisa.com page is the best way to get your visa on time.
Photo Specs
Size: 35mm width by 45mm height.
Color: No filters or black and white. Color only.
Head size and position: Centered and forward facing. Heads should measure 25-35mm.
Recency: Taken within the last 6 months.
Background: White or light colored.
Smile: None. Keep mouth closed and avoid frowning.
Eyes: Open and fully visible.
Glasses: Prescription only and cannot block eyes.
Headgear: Religious or medical head coverings only.
Dimensions and size (pixels): 600 dpi.
Attire, clothing, dress code: No uniforms such as military or law enforcement.
Beard: Optional.
Quantity needed in application: 1.
Korea Passport Photo Size Requirements Guide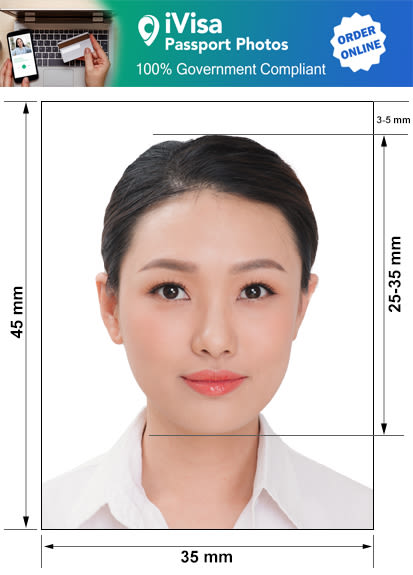 Korea Passport Photo and Visa Photo Requirements, Rules, Guidelines, and specifications
Though the above facts are easy to read, there are far more details missing. We wish it were as simple as a selfie with your best friends but unfortunately governments don't approve. If you plan on getting a photo done or taking it yourself, here are a few more specifications to assist in making your photo better than ever:
Every photo submitted should be no older than 6 months. It needs to reflect your current appearance.
Clothing is encouraged to be whatever you wear on a daily basis with the major exception to any uniforms. Military and law enforcement are the most vulnerable and therefore not allowed in the photos. If you wear a religious uniform, this is acceptable.
Beards are always optional in a sense. If you normally have a beard, keep it for the picture. If not, don't grow one out.
Glasses are allowed so long as the lenses or frames don't hinder eyeball recognition. Sunglasses are never permitted. Be wary of glare from a flash as this cannot be submitted.
Red eye can be avoided if the flash is not aimed directly at the eyeball. Should red eye occur, the photo must be completely retaken and not digitally altered afterwards.
No smiling is allowed. You must maintain a neutral expression with both eyes forward and mouth closed.
Good lighting is crucial. Common mistakes which lead to rejection are an overexposed or underexposed photo. Shadows on the background or face are also a problem. Be sure the light is even and your head is in stark contrast to the wall.
Hats, elaborate hair pieces or gaudy jewelry are not acceptable. Head pieces for religious or medical reasons are OK. Medical reasoning may require additional documentation to coincide with your application.
Rules and requirements for babies, infants, and newborns Passport and Visa photos
Children can be trickier to photograph than adults but it can be done. If you are planning to bring a child or infant, keep in mind each minor traveling with you must have a valid passport or visa. Age doesn't matter. Even if the infant is a day old, he or she must be equipped with documents. An individual photo of the child is another requirement. Family or group shots are not accepted. The above requirements are applicable in addition to a few extra guidelines:
No toys, pacifiers, bottles or other people are permitted in the photo.
The child or infants' eyes must be open, mouth completely closed and face looking at the camera. Be sure the top of his or her shoulders are visible and the head fills at least 70% of the photo.
Depending on how you wish to photograph your child, use a white or light colored cloth or sheet as the background.
You can take the picture of the infant either sitting, being held or lying on the floor. Be wary of your hands as they cannot be seen in the image.
Price and Cost
Now that you have all the information you could possibly need to take a proper photo, you can jump on board with where to have them done. Depending on your level of adventure, you could take the usual route and look for a drug store or post office. Should you battle traffic jams and get achy bones from standing in long lines, be ready to pay a higher price. A typical set of photos at either one of these traditional locations can cost around 16,632 KRW. That is definitely drastic when compared to a quicker and easier way, like using iVisa Photos. A set of 2 photos goes for 7,025 KRW. That's more than a 50% savings! It grows when you begin adding up an entire family's passport or visa photos.
How to get Korea Passport Photos or Korea Visa Photos Online
We are all about getting you photos at your convenience and at a cost which doesn't break the bank. At iVisa Photos, you can take your picture using a smartphone or tablet from home or office. Our 100% government compliance guarantee works to assure your photos are on par with guidelines. If you are not completely satisfied with your images, retake the photo until you are happy at no extra charge. The easy to use website is designed so you can complete the process in a few minutes. Should you have any questions, our friendly representatives are standing by. Give us a try and allow us the opportunity to get you where you want to be faster.
References