If you want to become a nurse and you need to get approval to practice as an entry-level nurse in your state, you have to pass the NCLEX exam. To participate, you need to submit an application. As you may already know, that application includes a photograph too, and that is what we can help you with.
Instead of going to a photo studio to have your picture taken, you can take it at home. iVisa Photos will make sure that you end up with a valid NCLEX application photo. It's fast, it's convenient, and you don't have to waste valuable time going anywhere. After all, you have an exam to get ready for.
Photo specs
Below, you are going to find the general NCLEX application photo requirements.
Required photo size: 2 by 2 inches
The submitted photos must be in color
Head position: straight
Recency: taken no more than 6 months ago
Background: white
Smile: no
Eyes: must be clearly visible
Blurred pictures will be rejected
Glasses: you should take them off
Headwear: not allowed. Exceptions are made for religious/cultural purposes
Resolution (pixels): at least 600 dpi
Dress code: the colors of your clothes must be in contrast with the background. Do not wear white tops
Beard: permitted if it represents your everyday appearance
Number of photos necessary: 1
Please note that your signature must be present on the back of the photo.
Passport Photo Size Requirements Guide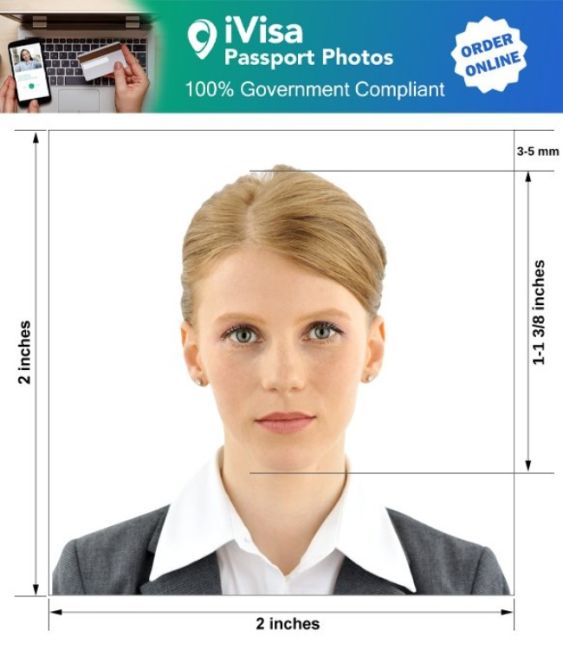 NCLEX Application Photo Requirements – Rules, Guidelines, and Specifications
Taking your own NCLEX application photo is similar to taking a selfie, but not quite. You do not abide by any rules when you take a selfie. But in this case, there are strict rules in place. You need to follow them so that you do not have your picture rejected. You would be surprised at how often that happens. So, to avoid rejection, here are the rules you need to remember:
You are required to take your NCLEX application photo against a white background. You can use a wall or a sheet that is not transparent. No matter which you choose, you just have to make sure that your background does not have any colors on it. Patterns and shadows should not appear in the photo, either.
The lighting is essential because it has the potential of distorting your facial features. For instance, a room that is too dark will create a dark complexion or shadows on your face. That is unacceptable. You should go for a frontal source of light. Again, you need to avoid shadows on your face.
When you take your NCLEX application photo, you must keep your head straight. It has to face the camera as best as possible. Do not submit a portrait-style picture because it will definitely be rejected. It is necessary for both sides of your face to be equally visible.
We know you have a nice smile, but you cannot display it in your NCLEX application photo. In fact, you are not permitted to adopt any other facial expressions other than neutral.
You must look straight into the camera when you snap your photo. Your eyes must be clearly distinguishable. If you wear prescription glasses, you should take them off. They can create a flash reflection or can obstruct your eyes due to large frames. Your chances are better if you just remove them from the shot altogether. As you can imagine, sunglasses are not permitted, either.
In the process of taking your own NCLEX application photo, you cannot cover your head. You cannot wear a hat, for instance. However, exceptions are made for people who cover their heads for religious reasons. So, if that is the case, you can keep your headwear. Just make sure that your face is visible from the bottom of your chin to the top of your forehead. Also, the headwear must not cast shadows on your face.
As long as your beard represents your everyday likeness, you are not asked to shave it for your NCLEX application photo. Just keep in mind that if you want to make some changes about your facial hair, you have to do so before taking your picture. Your current look must be depicted in it.
Price and Cost
Going to a professional photo studio to have your NCLEX application photo taken not only wastes your time, but it is also more expensive. Why do that when you have a cheaper and less time-consuming alternative?
For an NCLEX application, you need one photo. When you use the services provided by iVisa Photos, you can get at least two. They only cost $5.99. you will not find a better price than this one.
How to get NCLEX Application Photos Online
Now that you have all the necessary information at hand, we believe that you are ready to take your own NCLEX application photo. There are a few steps you have to go through.
Step one – make sure that your camera has a decent resolution. Fortunately, technology helps here. Most smartphones or tablets have a resolution that is more than satisfactory. In fact, most people use their phones.
Step two – is to find the right spot in which you can take your picture. Remember all the rules about the background and lighting we discussed above? Make sure that the setting you opt for follows those rules.
Step three – take your picture. You have to follow all the other rules we stated above. Failure to do so does not help us to help you.
Step four – submit the picture to iVisa Photos. You can either send it to us via e-mail or upload it to our website. The choice is yours.
Once we receive your picture, we will make sure that the photo complies with all the NCLEX application photo requirements. After that, you will get two options:
1.You can download your picture to print it yourself. Just make sure that you have photo-quality paper at hand.
2.If you provide us with your address, we can send the photos to you.
Hopefully, the information above is helpful. If you have any more questions or concerns, do not hesitate to contact iVisa Photos' customer support service.
References