Are you busy preparing your Netherlands passport for a big trip? Waiting until the last minute to ensure your passport is ready to go can cost you more money, and could potentially delay your trip. You'll need to make sure that every detail is covered, including your Netherlands passport photo.
If you don't have the time to have a new photo taken, don't worry. iVisa Photos offers convenient passport photo services, using a current photo you already have on hand. Jut upload, and leave the rest to us. Looking for assistance with obtaining a visa? You can find all the information you'll need if u just click here.
Photo Specs
Size of Dutch photo: 35x45mm
Color: Must be in full color
Head size & position: Full face, remember to look straight into the camera
Background: White
Smile: Neutral facial expression
Eyes: Must be visible & open
Glasses: None are allowed, however you are allowed to use your daily wearing glasses for medical reasons, no sunglasses.
Headgear: None, but you may wear headgear if it's strictly for religious reasons
Quantity: Two (2) photographs
Netherlands Passport Photo Size Requirements Guide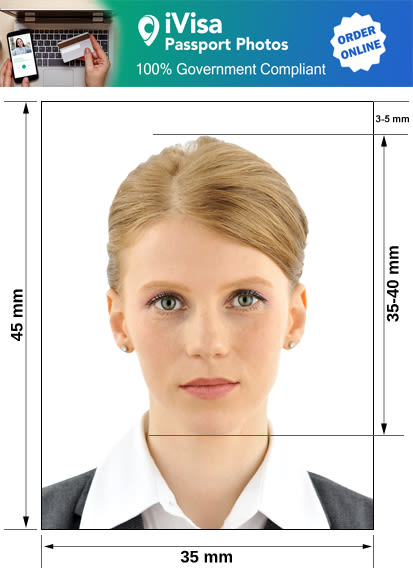 Process your passport photo with us now!
The Netherlands Passport Photo and Visa Photo Requirements, Rules, Guidelines, and specifications
Our team at iVisa Photos makes sure that your photo will always be 100% compliant and approved by all embassies. The Schengen tourist visa photo has a lot of rules and requirements. Should you fail to meet some of them, then you risk a denied visa application as a result. Always make sure that your photo abide to the rules of the Netherlands Government. A few notes on your photograph:
Your photograph should have a white background, this could be a white painted wall/door.
Always look straight , do not tilt your head
Size: 35mm x 45mm
Photo must have been taken within the past 6 months.
Do not wear hats or scarves that may block your face. Also make sure to tuck your hair behind your ears.
If you use glasses then be careful avoid glares on the glass lenses.
Two (2) photographs are required.
Rules and requirements for babies, infants, and newborns Passport and Visa photos
The Schengen visa to the Netherlands that you will apply for at Dutch embassies has the exact same requirements for both adults and children. This goes for the visa application as well as the required photo. If you need to take pictures of a baby then check these tips.
One: The baby's eyes have to be open. A lot of moms recommend to take the pictures after the baby had a nap or rest. That way you will ensure that the baby will be happier and wide awake for the photo session.
Two: The background must be white so use a white blanket or bed sheet. And if you do not have any of these 2 things, then you can also use a white paper to lay your baby on. top

Three: If your baby is too young then you can take your baby and lay the baby on a table with a white background in its car seat and take the passport photo there. As soon as the baby is ready and in position, take the photo. It is crucial though that you take safety precautions when doing this. We recommend that one person holds the baby while the other person should make sure that your baby is secure and safe in its seat.
Finally, take multiple photos so that you will have a lot to choose from.
Learn more about the requirements you must follow for the Netherlands Passport Photo.
Price and Cost
iVisa Photos prices start from as low as $3.99 for a passport or visa photo. We offer various different types of delivery options such as mail delivery and in-store pickup. Simply select a CVS store, Walgreens store or a Walmart if you live in the United States.
How to get your Netherlands Visa Photographs Online with iVisa Photos?
Use the app with a smartphone, tablet or if you have a digital computer you will be able to use their online website. Download the iVisa Photos app for both iOS here and Android here.
MPP tips to take a good quality photo with the app:
Use a door or wall with a white background
Avoid all shadows behind you
Maintain a neutral expression, smiling is allowed but natural
For good lightning, we suggest that you take the photo in front of a window and have someone else take it. You will get a lot of light on your face thus avoiding shadows
Do not wear sunglasses or any headgear
What you need to know before taking your photo:
It will take a few minutes to take a photo with the MPP app.
Select the Netherlands at the beginning of the app, this is important as each country has different photo requirements
Use a smartphone, tablet or digital camera
iVisa Photos has an option to have your photo reviewed by a photo editor before printing. We suggest you use this service as it will result in a 100% compliant photo with the Netherlands Government.
You can 1, download the image,2 select home delivery, 3 or pick a store such as Wal-Mart, CVS or Walgreens for next day pickup.
Our guarantee: If your photo is not accepted at the Netherlands Embassy, we will retake a photo at no extra cost.
You can also take a passport photos with the app if needed. Just select passport under "Photo Type". You can get a passport photo for all nationalities. Click on the "Take Photo Now", and if you need help then contact our customer service team. Get your photo with iVisa Photos before your trip to Europe, and enjoy your time exploring the Netherlands.