If you're getting ready to go on a trip to Nigeria, there are many things to plan and worry about before your trip. However, finalizing your Nigerian passport photo shouldn't be one of them. If you've never had a passport photo taken before, you might be struggling with the best way to go about getting one. Luckily, iVisa Photos can make the process for a Nigerian passport/visa quick and straightforward.
Just read through our Quick Facts, take a new photo or upload one you already have, and we'll go ahead and edit your picture, as needed, to ensure it's ready to go. You can also get easy visa service with iVisa.com.
Photo Specs
Size of visa photo: 35x45mm
Color: Full color
Head size and position: Face centered
Background: White
Smile: Neutral
Eyes: Open
Glasses: None, only daily wearing glasses
Headgear: None allowed, only for religious purposes
Quantity needed: Two (2) - digitally uploaded
Nigerian Passport Photo Size Requirements Guide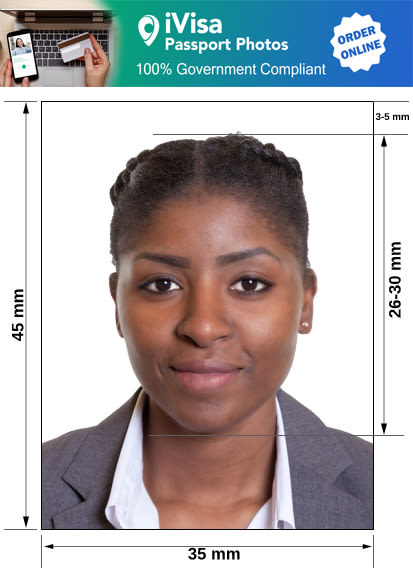 The Nigerian Passport Photo and Visa Photo Requirements, Rules, Guidelines, and specifications
The Nigerian Tourist Visa has a long list of documents that you need to submit in conjunction with a visa application form. See notes regarding your photo that you also have to submit:
The photo needs to have a white background
Face should be centered, showing top parts of your shoulders
Size specifications: 35mm x 45mm
Must be a recent photo taken less than 6 months ago
No headgear, you can however use headgear for religious purposes
If you use glasses then you should avoid glares
You need two (2) photographs
Rules and requirements for babies, infants, and newborns Passport and Visa photos
The Nigerian Government offers various different types of visas such as a tourist and business visa. No matter what visa you will apply for, you will require to submit at least 2 visa photos. Both parents and their children need to apply all separately.
So if you have a baby and need to take a photo of your little one, then check the following tips:
One, The visa photo requires your baby's eyes to be open.
Two, the background has to be white .
Three, if the baby is too small to lay straight on a floor, then you can place the baby in its car seat.
Finally, take a lot of photos so you have a few to select from.
Price and Cost
iVisa Photos prices start at $5.95. Delivery options: mail delivery or in store pickup at a CVS, Walgreens or a Walmart.
How to get your Nigeria Visa Photographs Online with iVisa Photos?
Use the iVisa Photos app with a smartphone or tablet, downloadable for iOS here and Android here.
Tips to take a high quality photo:
Use a white background, example include can be a wall, fridge or door
Keep your face centered in the photo
Keep a neutral facial expression
What you need to know before getting started:
You only need 5 mins to take a photo
You will select the country where the photo will be used at the start of the app
Use a smartphone or tablet
You can download your photo right after, have it delivered to your house or select a store for pickup; Walmart, CVS or Walgreens.
In addition to visa photos, you can also take a passport photos with our easy to use app. Simply select passport under "Photo Type" and start the process today. Get your photo with the iVisa Photos app before your trip to Africa´s Nigeria.
References