When you are assembling your photos for a Pakistani passport, you need to make sure that your photos meet the specific requirements of that country. Otherwise, you are likely to experience delays and added expense. iVisa Photos is a valuable tool to ensure your photos are right the first time. Check out the Quick Facts and follow those requirements and we will produce a photo that satisfies the Pakistani passport authorities the first time.
Before using your iVisa Photos to travel abroad, visit iVisa.com to confirm whether you need a visa. Most likely, you can process your visa right there online saving you time and money.
What is the passport photo size for Pakistan?
A Pakistan passport photo must be 45mm x 35mm. The photo can be obtained through a photo service or you can get your passport photo online.
Photo Specs
Size: 45mm x 35mm
Color: Your photo must be in color
Head size and position: you should look straight into the camera
Background: White
Smile: - Neutral
Eyes: Should be open
Glasses: Wear everyday reading glasses but no dark glasses
Headgear: No
Quantity needed in application: Two photographs
Pakistan Passport Photo Size Requirements Guide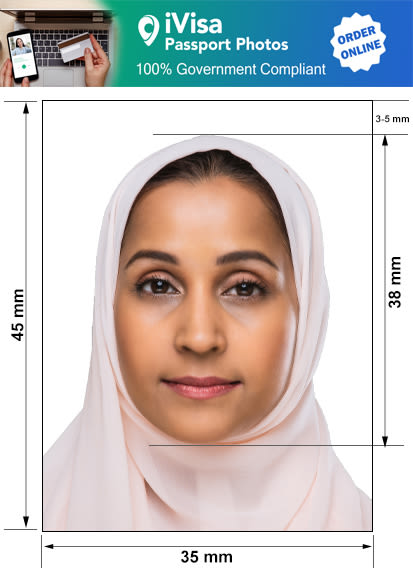 Pakistan Passport Photo and Visa Photo Requirements, Rules, Guidelines, and specifications
The photograph you submit need to have a white background
The size specifications are as follows: 45mm high x 35mm wide
Your photo needs to be a true identifiable image and recently taken in the past 6 months
You have to show your entire face, not wear headgear. You can wear your reading glasses if you prefer.
You have to submit two (2) photos
Rules and requirements for babies, infants, and newborns Passport and Visa photos
Below are some tips for taking pictures of your baby:
The baby needs to have its eyes open
Background should be white, we suggest you use sheets/paper/blankets/bedsheets etc.
If your baby is not able to sit by itself like my baby, then I recommend you to take the baby to his car seat and take the photos there.
Sometimes it is a good idea to put some toys to entertain the child during the photo session, but make sure that they are not visible through the camera.
Finally, take a lot of pictures, because you might get one acceptable one out of twenty.
Price and Cost
Getting your photo with iVisa Photos will offer you extremely competitive prices that starts at a mere $3.99 for 1 passport or visa photo. The fact that you can select home delivery or to pick up your photos the next day at various stores is an added benefit that few other competitor offer in the industry. These stores include Walmart, CVS and Walgreens throughout the United States.
How to get the Pakistani Passport Photos or Pakistani Visa Photos Online?
iVisa Photos offers you a photo service that is; compliant with the Pakistani Government´s Ministry of Interior regulations. You simply do not need to worry about getting a compliant photo anymore.
The iVisa Photos app is available for iOS, Android, smartphones, or tablets. See tips below for a stress-free photo session:
Use a plain, white background when taking your picture.
Your head should be angled straight with a neutral expression.
No smiling, no open mouth, and or frowning.
Select a room where there is ample lighting and avoid any shadows that may appear next to or behind you.
Don't wear anything which will cover parts of your face like, dark glasses, large framed glasses, or hats.
Here is what you need to know about getting started:
It will take you only a few minutes to complete an order with the MPP app
Select Pakistani visa photo as there are slightly different regulations for each country so make sure you select the correct option before continuing.
Take a photo with a smartphone, tablet or digital camera. You will have to upload the best shot
iVisa Photos can edit your picture for an extra fee to ensure its compliant with the Pakistani Government guidelines.
Once the image is approved, you will have the option for immediate download of your photo, home delivery or select a store near you for the pickup. Stores in the USA includes: Wal-Mart, CVS and Walgreens.
If your visa photo is not accepted by the Pakistani Embassy, note that we will do whatever we can to assist you and will retake your photo.
Keep in mind we here at iVisa Photos also complete passport photos as well. The process is similar with only a few differences. You have to choose a passport under "Photo Type."
Get a Canadian passport photo online, New Zealand passport photo online, or a USA passport photo online. These are not the only nationalities that can get the photo online though, click on the "Take Photo Now" button for more info.
Contact MPP anytime if you get stuck. We have a friendly 24-hour customer service team that will always be a click away for help. We offer an affordable and reliable way to give you peace of mind before venturing off to Pakistan.
References