Is there anything more comical than an old fashioned passport photo? Ask friends and family members to pull out their old identification cards and drivers licences and you're sure to have a good laugh looking at the variety styles throughout the years- from outrageous haircuts to crazy beards and mustaches. The comedy value is high, but that's just another reason to make sure that your latest passport photo is one to treasure.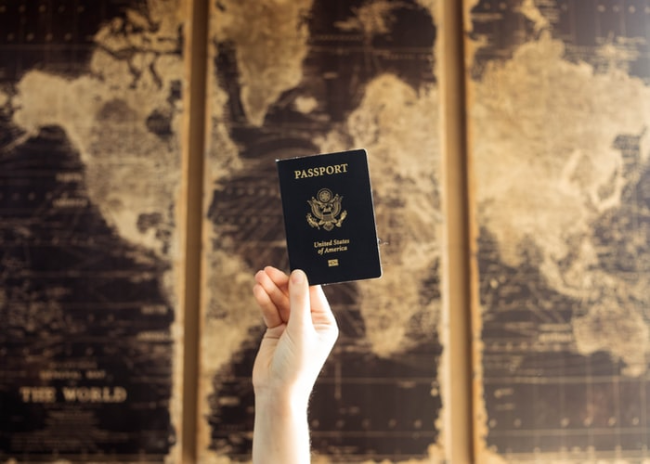 It's hard to find the right pose, especially if you're perched on a stool in a busy shop. iVisa Passport Photo have the solution. On the ingenious website, you can discover a way to take your own photograph- giving you more control over how it looks, and how you'll be remembered for years to come. To learn more about the ins and outs of the passport photo USCIS requirements check out this blog post we've put together for you.
Frequently Asked Questions
Can I use a photograph that I took last year?
The guidelines for passport photos are strict about using old photographs. You are not allowed to use a photograph that was taken more than 30 days ago. This is to ensure that the document has the most recent image. Through weight loss or gain, a new hairstyle or hair colour, people can often change significantly from one year to the next. Use iVisa Passport Photo to edit your picture and our expert team will make sure that your passport photo USCIS ticks all the official boxes, saving you time and effort that can easily be spent elsewhere.
What kind of lighting is best for my passport photo USCIS?
We recommend that you follow the step-by-step process detailed on the instruction page to avoid taking a photo that could be rejected by US officials. If your photo has a shadow in the background, or the lighting is creating an unusual glow that distracts from your natural skin tone then it will likely be unsuitable for use.
You can prevent this from happening by taking the time to find the ideal spot for your photograph. The best light is natural sunlight, so get ready to take it in the morning. Find a plain white or light-colored background- any painted wall will do. Now make sure you're not covering any part of your face and start clicking.
Do I need to put my phone number on the photograph?
When you're taking your passport photo USCIS, it's important to remember to write your name and admission number on the back in pencil. This will help the processing team to match your image with the application when creating your passport. Be sure not to write in pen as this could delay the process.
What size should my passport photo USCIS be?
The dimensions of your photo must match the requirements specified by the passport photo department. It should measure 2 inches x 2 inches, and your eyes should be positioned 1.5 inches from the bottom of the image. Unless you use an expensive passport photographer it can be difficult to obtain an image with such exact specifications, so we suggest you try out the tools at iVisa Passport Photo.
Thanks to our nifty web team, we can provide you with any size of photograph for a formal document, passport, or visa application.
Can I wear a baseball cap in my photo?
Hats and face coverings are not permitted in your photograph, so leave your baseball cap to one side. Religious or medical coverings are only permitted with a signed statement, but remember that your eyes should be visible at all times.
I normally wear glasses, can I wear them in my passport photo?
Even if you wear glasses on a daily basis, you cannot keep them on in the photograph. The camera light can create a reflection, and glasses can also prevent border officers from clearly identifying you when crossing borders, so leave them to one side too, along with your baseball hat.
Is iVisa Passport Photo a good provider of passport photos?
From the team that brings you worldwide visas, electronic visas, ETIAS applications, and many more travel necessities, now we are here with the latest travel requirement tool- passport photos.
Times have changed, and you no longer need to splash out on a trip to a professional photographer in the mall for expensive printed passport photos. Now you can click over to iVisa Passport photos to get your customized images emailed directly to your inbox, and for our US readers, they can also be posted to your home or delivered to your nearest Walgreens. It doesn't cost a fortune either! You can count on us to take care of your official photography needs, all from the comfort of your armchair.
Where can I find out more about passport photo USCIS requirements?
If you're looking for more information about passport photo USCIS requirements then get in touch with a knowledgeable team member using the chat function. You can also make your way over to our website to read more informative blogs on the topic and read the guidelines and step-by-step instructions for the process.