When you travel outside the United States, you are required, in most cases, to hold a valid passport. If you do not already have one, getting a US passport is not complicated. Make sure that you meet the requirements, and then go to the issuing authority to apply. As you will see, you will need to provide 1 passport photo. iVisa Photos can help you get that with little to no effort.
Now, since you are interested in traveling abroad, you may also need a visa. You should check out our website. With its help, you can find out whether or not you qualify for an electronic visa. And if you do, iVisa facilitates the online application process so that you do not go through too much trouble.
Photo specs
Required photo size: 2 by 2 inches
The submitted photos must be in color
Head position: straight
Recency: taken no more than 6 months ago
Background: white
Smile: no
Eyes: must be clearly visible
Blurred pictures will be rejected
Glasses: no longer permitted as of 2016
Headwear: allowed for religious/medical reasons only; signed statements are required
Resolution (pixels): at least 600 dpi
Dress code: the colors of your clothes must be in contrast with the background. Do not wear white tops
Beard: permitted if it represents your everyday appearance
Number of photos necessary: 1
United States of America Passport Photo Size Requirements Guide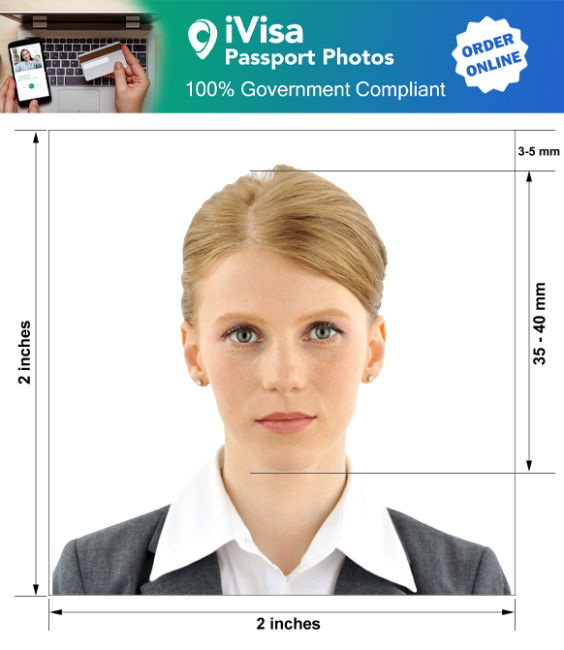 United States of America Passport Photos and Visa Photo Requirements – Rules, Guidelines, and Specifications
When you take your own passport photo or visa photo, do not imagine that it is the same as taking a selfie. You have to follow some rules and guidelines in the process. Below, you will find all the information you need to know.
The background cannot have any other colors than white. It cannot include patterns or shadows, either. A plain white wall is the best solution. However, if you do not have white walls in your house, take a white sheet and hang it on a wall. As long as it is not transparent, you are good to go.
Choosing the right setting for you to take your picture in is essential. For one thing, make sure to opt for a frontal source of light so that you do not end up with shadows on your face. Too dark or too bright photos will be rejected.
In your passport photo or visa photo, you must appear with your head straight and your face forward. Both sides of your face must be equally visible, so do not submit a portrait-style photo.
You are not permitted to smile in your passport photo or visa photo. Nor can you frown or raise your brows. You can only display a neutral expression.
Your eyes must be perfectly distinguishable in your photo. Glasses are not allowed in a passport photo as of 2016. As you can imagine, you cannot wear sunglasses either.
Headwear is usually not permitted. However, an exception is made if you cover your head for religious or medical purposes. But you must submit a signed statement that verifies that the hat or head covering in your photo is part of traditional religious attire worn continuously in public. For medical reasons, you have to procure a signed doctor's statement verifying the hat or head covering in your photo is used daily for medical purposes.
As long as you usually have a beard, you are not required to shave it before you take your passport photo or visa photo. The whole point of the picture is to depict you as you usually look.
Rules and Requirements for Babies, Infants, and Newborn Passport and Visa Photos
You are going to have to take your children's photos too if you plan on traveling abroad together. There are no significant differences between a child's passport photo and an adult's passport photo except for the fact that a child's head is smaller. Thus, it can take less space in the picture. Here are some other pieces of helpful information:
You should photograph your children when they have their eyes open. Not when they are asleep.
You cannot appear in your child's passport photo or visa photo at all. Not even your hands can be visible.
Before snapping the photo, make sure to remove your baby's pacifier and headwear.
If you want, you can put your child in a car seat. But remember to cover the backrest of the chair with a white sheet to ensure a white background.
Keep in mind that under no circumstances can you appear in your child's passport photo. If you decide to hold your baby, not even your hands can be visible.
Price and Cost
As far as cost is concerned, you will be pleased to learn that getting your passport photos or visa photos online with iVisa Photos is cheaper than going to a photo studio. For a United States passport, you are required to submit 1 picture, and iVisa Photos can give you a set of two for only $5.99.
How to get United States of America Passport Photos or United States of America Visa Photos Online
Next, we are going to tell you about what you can expect from the process of getting your passport photo or visa photo online with iVisa Photos. Make sure that the camera you are going to use has a decent resolution. The one from your phone or tablet should be just fine.
First, you have to make sure that you have the right environment, as explained above. Then, you have to take your picture considering all the rules we talked about. As soon as you have a photo that you are satisfied with, you have to submit to iVisa Photos for processing. We will make sure that your photo follows all the United States passport photo requirements. Once that is done, you will get two options:
1.Download the processed image to print your own passport photo. Make sure that you have photo-quality paper.
2.Give us your address, and we will make sure that the pictures reach you as soon as possible.
As you can see, the online process of getting your passport photo or visa photo online is straightforward. However, if you have any questions, please contact iVisa Photos' customer support.
References