If you're from Brazil, you'll only need a Portugal Passenger Locator Card to visit Portugal as Brazil is one of the visa-exempt countries for the EU territory (including Portugal). The locator card is the only mandatory document you need upon arrival, and it's recommended to apply for it at least 4 days before your travel date.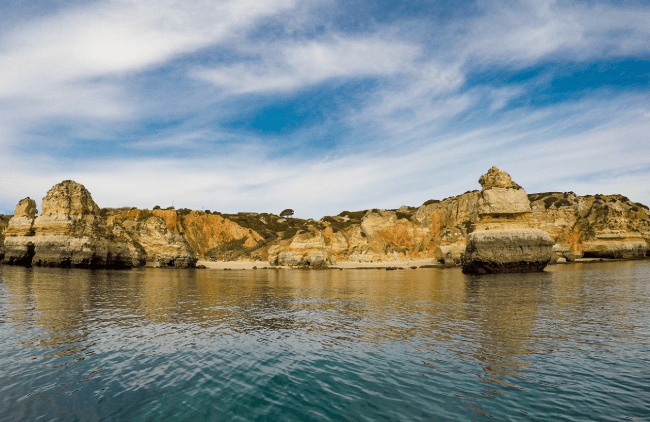 If you want to see How Citizens of Brazil Can Enter Portugal During Coronavirus, then keep reading the information below as it'll be helpful for you to apply at iVisa.com within 15 minutes if not less.
How Citizens of Brazil Can Enter Portugal During Coronavirus with iVisa.com
Enter the application website.
Complete the form with basic information about yourself and your trip.
Choose the processing speed.
Our agents will check your application form and they'll let you know if there are any issues.
Get your document by email inbox.
Display your locator card to the officials at the airport upon arrival.
Apply in advance with iVisa.com
If you're going to travel later, then take into account that you can still apply for the Portugal Passenger Locator Card in advance! Apply Here and forget about having to verify if you're eligible for this document!
Frequently Asked Questions
What is the Portugal Passenger Locator Card?
The Portugal Passenger Locator Card is a travel document that all foreign travelers, including Brazilians, must get before entering Portugal. This is the only mandatory document to enter the country by now.
Apply for the Portugal Passenger Locator Card here.
Which travelers can visit Portugal for tourism?
Travelers arriving from these countries can enter Portugal for tourism: European Union (Austria, Belgium, Bulgaria, Croatia, Republic of Cyprus, Czech Republic, Denmark, Estonia, Finland, France, Germany, Greece, Hungary, Ireland, Italy, Latvia, Lithuania, Luxembourg, Malta, Netherlands, Poland, Portugal, Romania, Slovakia, Slovenia, Spain and Sweden), Liechtenstein, Norway, Iceland, Switzerland, Brazil, USA, UK, Saudi Arabia, Argentina, Australia, Bahrain, Canada, Chile, Colombia, South Korea, UAE, Indonesia, Kuwait, New Zealand, Peru, Qatar, China, Rwanda, Uruguay, Hong Kong, Macau and Taiwan
Do I need a COVID vaccine or vaccination certificate to enter Portugal?
No, you don't. As of today, COVID certificates are not mandatory to enter Portugal.
Approved vaccines are Janssen, AstraZeneca, Moderna, Pfizer-BioNTech. You are considered vaccinated if all doses of a vaccine against SARS-Cov-2 have been administered for at least two weeks before traveling.
Vaccine certificates from Albania, Andorra, Switzerland, Faroe Islands, Israel, Iceland, Liechtenstein, Morocco, Monaco, North Macedonia, Norway, Panama, San Marino, Turkey, United Kingdom, Ukraine, and the Vatican are accepted as well as recovery certificates.
Do I have to take a COVID-19 test before traveling to Portugal?
COVID test prior to arrival: PCR/NAAT within 72 hours or antigen/TRAq within 48 hours for all travelers.
COVID test exemptions: Children under 12 are exempt from testing requirements.
COVID test on arrival: Travelers who have spent time in South Africa, Botswana, Eswatini, Lesotho, Mozambique, Namibia or Zimbabwe in the past 14 days must take a PCR test on arrival.
Do I have to quarantine once I arrive in Portugal?
Quarantine requirements: 14 days for travelers arriving from Mozambique, South Africa, Botswana, Eswatini, Lesotho, Namibia and Zimbabwe only with a negative result from a PCR or antigen test on day 3 to end quarantine early.
What items do I need to apply for the Portugal Passenger Locator Card?
You won't need a long list of requirements or items to get your locator card ready, you only need the following:
A valid passport. It should have at least 6-month validity.
Your credit/debit card or your PayPal account.
Your email address to get the document.
Apply for your locator card here.
What is the price of the Portugal Passenger Locator Card?
We can offer you three processing options so that you can choose the one that's better for your needs:
Standard Processing:

1 Business Day

-

USD 20.00

.
Rush Processing:

8 hours

-

USD 35.00

.
Super Rush Processing:

4 hours

-

USD 60.00

.
See How Citizens of Brazil Can Enter Portugal During Coronavirus here.
How Can Citizens of Brazil Enter Portugal During Coronavirus via the web?
To get the Portugal Passenger Locator Card in the easiest and safest way possible, we recommend you follow these steps:
First, complete the online application form with your basic details, and after that, select the processing option you prefer.
Second, verify the information you previously offered and pay for the document.
Third, add the documents required and click the 'submit' button to finish the process.
Can I get this document for free?
Yes, this electronic document is usually available for free. Nonetheless, applying for it with iVisa.com and having it ready before your trip to Portugal is quite convenient if you want to save time in the immigration queues. Besides, you can apply in any language you prefer.
Is it safe to use iVisa.com to apply for this document?
Yes, you can feel safe using iVisa.com. Also, keep in mind that we've been offering these documents for many years, which is why you can see that we have many positive reviews here.
Learn How Citizens of Brazil Can Enter Portugal During Coronavirus here.
Where can I check more information?
Check How Citizens of Brazil Can Enter Portugal During Coronavirus here, and contact our customer service center if you still have questions or doubts about the application process.
iVisa.com recommends
Portugal has plenty of things to offer, including relaxing beaches, which are commonly called "Praias". You can also take a break at a coffeehouse in Lisbon or tour the antique castles in places like Sintra.
The capital city, Lisbon, is full of tourist spots for you to consider when planning your trip. Some of them are the famous Elevador de Santa Justa, the Pedro IV Square, or Plaza del Comercio, which is the most iconic in the city.
Aside from Lisbon, don't forget to visit the castles in the country, including Palacio de la Pena in Sintra, and the Episcopal palace in Oporto.
For crystal-clear waters and relaxing environments, visit the beaches or "praias" in the Azores. A good example of it is the Berlengas Archipelago, which is also great to get to know Portugal's fauna and flora. Also, if possible, plan a tour to Lagoa das Sete Cidades, an incredible natural place that you can also find in the Azores, but always with a professional guide, of course.
Get started with the online process to get the Portugal Passenger Locator Card so that you can enjoy all the beauties Portugal has to offer.