Lisbon, the capital of Portugal, is one of Europe's most appealing urban areas. Set on the banks of the River Tagus, this dynamic Atlantic port is dissipated over a progression of slopes that uplift its mind-blowing waterfront area. Investigating the city's notable center is an excursion into its entrancing past - a legacy exemplified by praised guest attractions, for example, the strong Castelo de São Jorge and Alfama, the most established piece of Lisbon.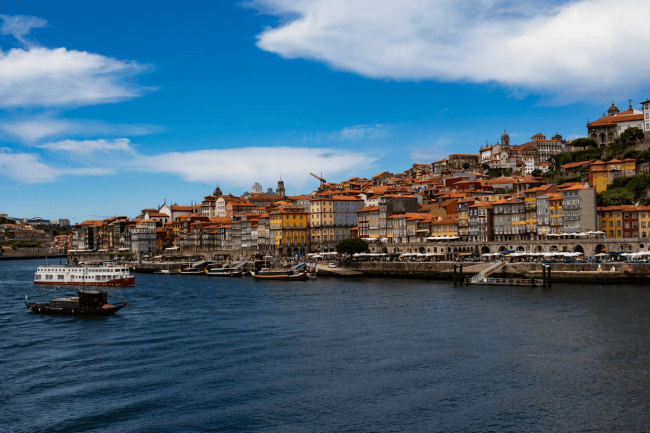 Citizens of the United States of America will be required to complete the new online form called ETIAS. This is a new requirement for visa-exempt countries to the Schengen area, including the United States of America.
iVisa.com is providing a fast, simple, and trustable service for the Portugal ETIAS. Trust iVisa.com services and obtain your document on time.
Keep reading about Portugal ETIAS below.
Frequently Asked Questions
WHAT IS ETIAS?
ETIAS is the new entry requirement to the Schengen area for all countries that are exempt from a Schengen visa. ETIAS is the acronym for European Travel Information and Authorization System.
The European Union has created ETIAS to collect the international traveler's info to better control the European borders. The main purpose is to identify and intercept people that could be threats to the European countries.
Complete the ETIAS application with iVisa.com!
IS ETIAS REQUIRED FOR USA CITIZENS?
Yes, citizens of the United States of America will need a Portugal ETIAS. The USA is exempt from the Schengen visa, therefore USA citizens will need to acquire an ETIAS before arrival.
Explore the application page and enjoy Portugal soon!
IS PORTUGAL ETIAS IDENTICAL TO A VISA?
No, ETIAS and visas are completely different. A visa demands an appointment at the embassy and long paper forms. On the contrary, an ETIAS provides automatic authorization once you have completed the online form that will take you a few minutes.
Both documents are targeted to different countries. For example, countries that don't require a Schengen visa, like the USA, need an ETIAS. But nationalities that have to apply for a Schengen visa, don't need to have an ETIAS.
IS THE ETIAS ONLY VALID FOR PORTUGAL?
No, ETIAS is not just for Portugal. The authorization document is valid for the 26 countries that are part of the Schengen agreement. Sometimes it's hard to differentiate Schengen countries from EU-member states and European countries therefore, iVisa.com facilitates a Visa Checker in case you want to know if you need an ETIAS or another document to travel.
If you have some questions, contact our customer service agents!
HOW LONG IS PORTUGAL ETIAS VALID FOR?
The ETIAS authorization document is valid for 3 consecutive years. If you visit Portugal or any Schengen country you can stay up to 90 days with the ETIAS.
Visit Portugal soon with the ETIAS!
WHAT DOCUMENTS ARE REQUESTED?
You should have the following:
A passport scan that shows the photo and personal details.
An email address to receive the ETIAS document.
Payment, iVisa.com gives you the option to pay with a Paypal account or with a credit/debit card.
Complete the information required in the electronic form with personal information such as name, passport number, nationality, and trip information among others. Also, give details about criminal records, past trips to risky countries, and health background.
WHAT ARE THE PROCEDURE TIMES FOR THE ETIAS?
iVisa.com brings you three alternatives for procedure times:
Standard service, a moderate waiting period.
Rush service, a faster option to obtain the ETIAS authorization.
Super rush service, the quickest alternative when you can't wait.
Not sure which one to choose? Then connect with a customer support agent for further advice.
WHAT STEPS DO I NEED TO FOLLOW?
You need to follow 3 very important steps:
Fill out the online questionnaire and choose a processing time (Standard, Rush, and Super Rush).
Double-check the answers in the form and select a payment method between a credit/debit card or a Paypal account.
Attach your passport scan.
Visit Portugal with your ETIAS!
WHY DO I NEED AN EMAIL ADDRESS?
A valid email address is very important for the ETIAS process. iVisa.com will send the ETIAS document to the email address in the application. This is the only way to receive your ETIAS. Once you have the authorization document, show it to the airport officers at your arrival.
HOW SECURE IS IVISA.COM WITH THE PORTUGAL ETIAS?
iVisa.com is 100% secure. iVisa.com is the best option to handle travel documentation such as ETIAS. Travelers around the world have trusted iVisa.com with their documents and had satisfactory reviews, check them here.
HOW CAN I OBTAIN MORE DETAILS?
Check with customer support or write to help@ivisa.com. There is always an iVisa.com agent ready to help you with any inquiries.
ETIAS are easy to get, start planning your Portugal trip!