Exploring Portugal is always a great plan for those who are looking for new adventures coming from a country that preserves tradition and modernism at the same time. Nevertheless, the coronavirus pandemic has been why the government has implemented different measures to mitigate its impact among visitors and residents.
As you visit this country, you might wonder about Portugal coronavirus what's open? As you know, there are other new travel documents designed for these unprecedented times.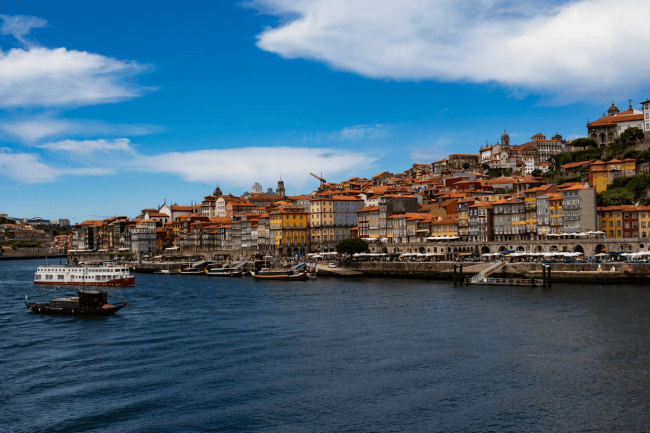 One of these is the Portugal Passenger Locator Form, in which you will have to provide information about yourself and your trip. The government might get in touch with you if you were exposed to the coronavirus.
If you don't know how to complete it or you want some extra help to avoid its ambiguous language to save time, we recommend you using iVisa.com. Here you will have the opportunity to get your travel documents more effortlessly while our experts take care of most of the paperwork.
Find out more about the Portugal Coronavirus: what's open?
Get started here and obtain your Portugal Passenger Locator Form
Frequently Asked Questions
What's open in Portugal during coronavirus?
As you know, the current outbreak of coronavirus in Portugal has been the reason why the government declared a new lockdown for everyone: both residents and visitors. That's why it is important that you know in advance about the Portugal coronavirus what's open?
All essential groceries shops, supermarkets, hypermarkets and good shops will be opened without any restriction. Health services such as hospitals will also be opened to the public. Restaurants are only open to take-away or deliveries. Hotel restaurants and bars will work for room-service or take-away service.
To visit Portugal, you will also need the Portugal Passenger Locator Card that you must fill out, print and sign to show it to immigration authorities.
Apply with iVisa.com to obtain it right now
Which countries are on the allowed list?
Flights are the following countries are allowed to enter Portugal: European Union (Austria, Belgium, Bulgaria, Croatia, Republic of Cyprus, Czech Republic, Denmark, Estonia, Finland, France, Germany, Greece, Hungary, Ireland, Italy, Latvia, Lithuania, Luxembourg, Malta, Netherlands, Poland, Portugal, Romania, Slovakia, Slovenia, Spain and Sweden.), Liechtenstein, Norway, Iceland, Switzerland, Australia, Brazil, Canada, Chile, China, South Korea, United States of America, Jordan, Kuwait, New Zealand, Qatar, Rwanda, Saudi Arabia, Singapore, Taiwan, Ukraine, Uruguay, United Arab Emirates, United Kingdom, Hong Kong and Macao
Do I need a COVID vaccine or vaccination certificate to enter Portugal?
No, you don't. As of today, COVID certificates are not mandatory to enter Portugal. Now if you have an EU Digital COVID Certificate or a valid vaccination certificate issued by the countries mentioned below, you won't need to present a negative PCR test result nor to follow a quarantine.
Approved vaccines are Janssen, AstraZeneca, Moderna, Pfizer-BioNTech. You are considered vaccinated if all doses of a vaccine against SARS-Cov-2 have been administered for at least two weeks before traveling.
Vaccine certificates from Albania, Andorra, Switzerland, Faroe Islands, Israel, Iceland, Liechtenstein, Morocco, Monaco, North Macedonia, Norway, Panama, San Marino, Turkey, United Kingdom, Ukraine, and the Vatican are accepted as well as recovery certificates.
Do I have to quarantine once I arrive in Portugal?
Quarantine requirements: There are no quarantine requirements in Portugal.
What do I need to get my Portugal Passenger Locator Card?
For your Portugal Passenger Locator Card you will have to provide us the following information: your personal information, your trip details and a valid payment method to pay for our services. Please, make sure to check about the Portugal coronavirus what's open in this article before preparing your plans to visit this gorgeous country.
Get started here and complete our application form
What is the process and time waiting for the Portugal Passenger Locator Card?
iVisa.com prepared the following processing services based on your budget and needs. Please, don't forget about the Portugal coronavirus what's open before your departure.
Standard Processing Time:

1 Business Day

-

USD 20.00

.
Rush Processing Time:

8 hours

-

USD 35.00

.
Super Rush Processing Time:

4 hours

-

USD 60.00

.
Get your Portugal Passenger Locator Card right now
Where can I find out more about it?
Feel free to reach out to our customer service agents who are available whenever you need help to clarify all your doubts about the Portugal coronavirus what's open. You will also find information in the iVisa.com website about tourism in Portugal.
Contact our customer service agents here
iVisa.com recommends
Portugal is one of the most exciting countries to visit if you want to explore southern Europe. It mostly borders Spain and the Atlantic Ocean, which means you will have more than one plan to visit. Although it is one of the smallest countries in the region, it is a hidden gem that is waiting to be discovered. That's why iVisa.com will recommend some places that you should consider for your next vacations to this astounding country.
There is no doubt that you should visit Lisbon. It has beautiful gardens, spectacular monuments, places that will blow your mind and historical sites that you can visit for free where you will learn more about the history of the Portuguese country. Lisbon has a lot of free and open space, which makes it a city for exercising outdoors as well as walking around and enjoying its baroque and modernist style.
We also recommend you going to Oporto, the second most important city that you will love. From traditional buildings to magnificent cathedrals from the Medieval age, there are more than one reason why you should go to this wonderful country.
To visit Portugal, you will need the Portugal Passenger Locator Card. If you want to get it straightforwardly, you should use iVisa.com. Apply right now and obtain your document here