Portugal is one of the most beautiful countries you can visit if you want to visit southern Europe. As you know, there are new health measures implemented to control the spreading of coronavirus within its borders. If you wondered about the Portugal COVID Mask, then you must know that face masks have to be worn in all public places as requisite. If you decide not to wear it, you might have some sanctions and restrictions to enter the country. Please, remember to wear it all the time, practice social distancing and follow all government indications.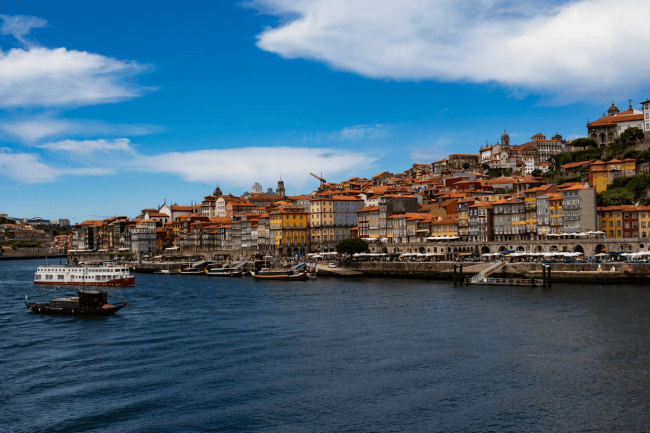 On the other hand, you must consider the new travel documents designed to enter Portugal that all visitors will have to present, no matter the nationality. It is the Portugal Passenger Locator Card. You will have to fill it out, submit it before your arrival, and print it to present it to immigration authorities. If you want to avoid spending extra time on its ambiguous questions and its lengthy, you should use iVisa.com. Our outstanding team will help you while you wait at home.
Find out more about the Portugal COVID Mask and other health measures implemented in the country for your trip in the following lines.
Apply for the Portugal Passenger Locator Form right now.
Frequently Asked Questions
What are the health measures that I should follow to visit Portugal?
As part of the government's health measures, you will need to wear a mask in public places. Not wearing it will bring you consequences, and your access to the country might be restricted because it is now a law for both residents and visitors. You will also need to practice social distancing, wash your hands, and follow other health indications given by health authorities. That's what you have to know about the Portugal COVID Mask.
On the other hand, you will need to complete the Portugal Passenger Locator Card to enter the country. If you want to get it effortlessly, we recommend you using iVisa.com for that purpose.
Apply right now and get your document.
Which travelers can visit Portugal for tourism?
Travelers arriving from these countries can enter Portugal for tourism: European Union (Austria, Belgium, Bulgaria, Croatia, Republic of Cyprus, Czech Republic, Denmark, Estonia, Finland, France, Germany, Greece, Hungary, Ireland, Italy, Latvia, Lithuania, Luxembourg, Malta, Netherlands, Poland, Portugal, Romania, Slovakia, Slovenia, Spain and Sweden), Liechtenstein, Norway, Iceland, Switzerland, Brazil, USA, UK, Saudi Arabia, Argentina, Australia, Bahrain, Canada, Chile, Colombia, South Korea, UAE, Indonesia, Kuwait, New Zealand, Peru, Qatar, China, Rwanda, Uruguay, Hong Kong, Macau and Taiwan
Do I need a COVID vaccine or vaccination certificate to enter Portugal?
No, you don't. As of today, COVID certificates are not mandatory to enter Portugal.
Approved vaccines are Janssen, AstraZeneca, Moderna, Pfizer-BioNTech. You are considered vaccinated if all doses of a vaccine against SARS-Cov-2 have been administered for at least two weeks before traveling.
Vaccine certificates from Albania, Andorra, Switzerland, Faroe Islands, Israel, Iceland, Liechtenstein, Morocco, Monaco, North Macedonia, Norway, Panama, San Marino, Turkey, United Kingdom, Ukraine, and the Vatican are accepted as well as recovery certificates.
Do I have to take a COVID-19 test before traveling to Portugal?
COVID test prior to arrival: PCR/NAAT within 72 hours or antigen/TRAq within 48 hours for all travelers.
COVID test exemptions: Children under 12 are exempt from testing requirements.
COVID test on arrival: Travelers who have spent time in South Africa, Botswana, Eswatini, Lesotho, Mozambique, Namibia or Zimbabwe in the past 14 days must take a PCR test on arrival.
Do I have to quarantine once I arrive in Portugal?
Quarantine requirements: 14 days for travelers arriving from Mozambique, South Africa, Botswana, Eswatini, Lesotho, Namibia and Zimbabwe only with a negative result from a PCR or antigen test on day 3 to end quarantine early.
What are the prices to get the Portugal Passenger Locator Card?
iVisa.com has prepared the following options that you can choose based on your needs. Make sure to select the best one for you. Please, don't forget about the Portugal COVID Mask before your trip.
Standard Processing Time:

1 Business Day

-

USD 20.00

.
Rush Processing Time:

8 hours

-

USD 35.00

.
Super Rush Processing Time:

4 hours

-

USD 60.00

.
Don't hesitate and apply right now.
Where can I find out more about it?
If you still have inquiries about the Portugal COVID mask, you should contact our customer service agents, who will be ready to help you at any time you need. They will clarify all your questions about it. You can also read more about Portugal on the iVisa.com website.
Reach to our support agents 24/7.
iVisa.com recommends
Portugal is one of the most beautiful destinations for any tourist who wants to visit Europe because of its fantastic landscapes and traditional architecture. Even though it is one of the smallest countries in the region, it has a lot to offer to visitors. If you plan to go there, but you don't know what to visit, iVisa.com recommends some places that you might like.
Vila Nova de Milfontes is the perfect place for anyone looking for a relaxing place to stay. It is located close to the Alentejo coast, and it has the best beaches that you would find in Portugal. We recommend you go during summer to enjoy yourself.
If you want to know one of the most visited cities in Portugal, you should go to Oporto. It has a lot to offer because of its picturesque landscapes that will blow your mind. Most tourists come to stay here for its beauty.
Evora is a gorgeous city located in the Antalejo region. It is well-known for preserving one of the oldest Roman temples. You will also find the spooky and fantastical Capela dos Osso. It was built with real human skeletons.
To visit all of these places, you will need to fill out the Portugal Passenger Locator Card to enter the country. Apply right now with iVisa.com and achieve your dreams. Don't forget about the Portugal COVID Mask to mitigate the spreading of coronavirus.