Taking stock of the Coronavirus pandemic and the fact that several businesses are starting to open up to rekindle the economy, the Puerto Rico government is taking efforts to provide a safe and hassle-free entry and stay for people entering the island. This means new documentation is being put in place and we at iVisa.com are here to make this process super easy for you!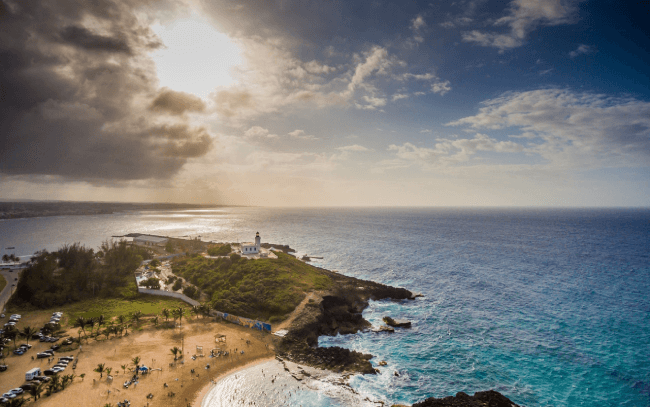 Keep reading to understand more about what kind of tests and measures Puerto Rico has put in place to curb the rise of the COVID-19 pandemic.
Frequently Asked Questions
Firstly, is entry into Puerto Rico even possible right now?
Yes, absolutely! The new order has stated that the Puerto Rico authorities do allow tourists to enter, as long as they follow all the steps the health department has put in place to enforce safety. Maintaining social distancing and wearing face masks is compulsory in public areas and is a fineable offense. Given that all businesses are reopening at reduced capacity, they have been informed that they must comply with the CDC and EPA's hygiene requirements and guidelines.
If you are planning to take a trip to Puerto Rico, check out the iVisa.com COVID-19 Travel Declaration Form that is the first step in the process to get you closer to the sparkling sands of the Flamenco beach.
Do I need a COVID vaccine or vaccination certificate to enter Puerto Rico?
All foreign national air travelers aged 18 and over need to display a COVID vaccination certificate. Unvaccinated U.S. citizens arriving on international flights must provide a negative PCR or antigen test result performed no more than 24 hours prior to arrival.
Accepted vaccines by the US government are Moderna, Johnson and Johnson, Pfizer-BioNTech, Oxford-AstraZeneca/Covishield, Sinopharm, and Sinovac. The last dose must have been received a full 14 days before traveling.
Do I need to take a PCR COVID-19 test before traveling to Puerto Rico?
COVID test prior to arrival: PCR or antigen within 72 hours (24 hours for unvaccinated US citizens)
COVID test exemptions: Fully vaccinated arrivals from the U.S Territories (United States, American Samoa, Guam, Northern Mariana Islands, US Virgin Islands, United States Minor Outlying Islands) and children under 12
WHAT MUST I DO BEFORE ARRIVING IN PUERTO RICO?
The Government of Puerto Rico has designed a Travel Declaration Form to help the Department of Health ensure the safety of everyone entering the island. You must check-off the following requirements before you enter into Puerto Rico during the Coronavirus pandemic:
Register yourself with the COVID-19 Travel Declaration Form - This is compulsory and is used to input your information into the SARA Alert electronic system and stay in touch with you for any important Coronavirus related updates.
Either display a negative molecular COVID-19 test in advance- mind that it is only valid for 72-hours!
Or choose to self-quarantine - you will have to follow restricted movement for 14 days from the date of entry.
These steps are extremely important and submitting the form is absolutely a must! Click here to fill it out right now.
HOW MUCH WILL REGISTRATION FOR THE TRAVEL DECLARATION FORM COST?
iVisa.com's COVID-19 Travel Declaration Form has 3 pricing and time options, created just for you!
The Standard option - This will deliver the form to you at the lowest price (

USD 20.00

) and the highest waiting time we have (

24 hours

).
The Rush option - If you need to get your form as soon as possible (

4 hours

), choose this option at a moderately higher price (

USD 35.00

).
The Super-Rush option - When you need to get this done at the last minute or at high priority (

30 minutes

), you can pick this option for a relatively higher price (

USD 60.00

).
All you will need to confirm your application is to complete the payment using PayPal or a credit/debit card. The Puerto Rico authorities might need to contact you for contact tracing, so make sure you enter accurate details into the iVisa.com COVID-19 Travel Declaration Form!
WHAT INFORMATION WILL THE FORM REQUIRE?
The COVID-19 Travel Declaration Form will need you to provide some very basic info:
Your name and related bio-data.
A valid identification number from your passport or driver's license.
Your contact information - something that you are sure you will check often.
Travel details like flight number, arrival/departure date.
Apply now, and complete the first requirement for your trip to Puerto Rico.
WHAT ABOUT THE 72-HOUR COVID-19 TEST?
The Travel Declaration Form is the first step but before you can enter, you must take a molecular COVID-19 test. You must qualify as negative and this has to be done not more than 72 hours prior to your departure to Puerto Rico.
However, if you are unable to provide a negative test result on arrival, you will be tested in Puerto Rico. While you are waiting for your test results, you will have to self-quarantine. If your results come back negative, your mandatory quarantine will be lifted or if they're positive you will be required to isolate for 14 days and seek further medical attention. The government of Puerto Rico will not be responsible for any expenses that may be incurred in either case.
Please note that vaccinated travelers from US territories do not need a PCR test result.
IS IT SAFE TO USE iVISA.com TO GET A TRAVEL DECLARATION FORM?
Yes, absolutely! The iVisa.com COVID-19 Travel Declaration Form is completely safe and reliable as it meets all of the government's standards and ensures the confidentiality of your info at all times. Read our client reviews and verify for yourself what they have to say.
WHERE CAN I FIND OUT MORE?
Reach out to us for any further questions you may have by just clicking here and talking to us.
Great! You have all the information you need. Apply now and close the gap between you and the Puerto Rican sun.