To visit Puerto Rico, you will have to bear in mind the government's health measures for travelers' safety. This includes several recommended vaccinations for visitors to Puerto Rico, but none of them are mandatory.
In addition, the COVID-19 vaccine and filling out the Traveler Declaration are currently not entry requirements anymore. In the information below, you'll find all the details to answer your questions about entry requirements for Puerto Rico.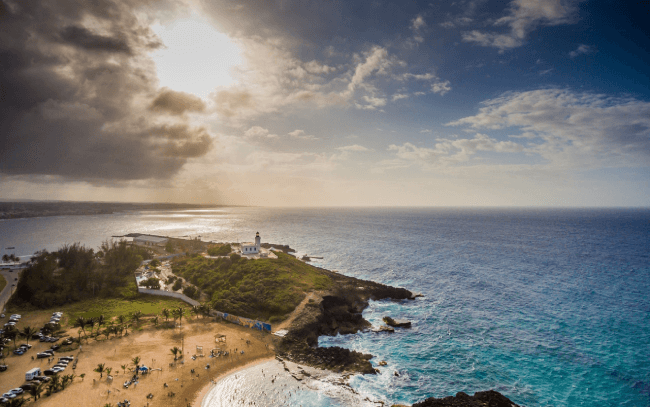 Vaccination requirements for Puerto Rico
Some vaccines are recommended if you want to visit Puerto Rico, but these are not mandatory. Make sure to keep them in mind and consult with your doctor before getting them. The recommended vaccinations are: Hepatitis A, Hepatitis B, Typhoid, Rabies, Meningitis, Polio, Measles, Mumps, Rubella, Tetanus, Diphtheria, Pertussis, Chickenpox, Shingles, Pneumonia, and Influenza.
In addition, there is currently no mandate to have the COVID-19 vaccine to travel to Puerto Rico. However, always check the government website before traveling to ensure that you are up-to-date about any requirements, as info may change quickly.
COVID-19 entry restrictions and requirements for Puerto Rico
Find out all the requirements related to the COVID-19 pandemic for Puerto Rico below. Make sure you're up-to-date and make the most out of your trip to this beautiful country!
COVID-19 vaccination requirements for Puerto Rico
As mentioned above, both foreign and local travelers do not need to show a COVID-19 proof of vaccination to visit the country.
Do I need to take a PCR COVID-19 test before traveling to Puerto Rico?
There are no testing requirements, you'll be able to board the plane to Puerto Rico without having to show a negative PCR or rapid antigen test result.
Do I have to quarantine when I get to Puerto Rico?
There are no quarantine requirements in Puerto Rico.
Puerto Rico Health Declaration
In the past, every traveler had to complete a Travel Declaration, to inform the government of their health status. However, this Travel Declaration measure has recently been lifted.
Visa requirements for Puerto Rico
Check our handy Visa Checker Tool or the government website to find out if you need a visa for Puerto Rico. Currently, iVisa does not offer tourist visas for visitors to the country.
More information about traveling to Puerto Rico
If you want more info about visiting the country of unbound natural beauty, visit our ultimate Puerto Rico travel guide to find out more about the best time to visit, unmissable sights, and visa information.
I have a question about travel documents for Puerto Rico. How can I contact you?
If you still have doubts about the Puerto Rico Vaccination Health Requirements, contact our support agents online. They are availalbe 24/7 to answer all of your questions. Chat with them now..