Before planning your trip to Qatar, you must check the current travel restrictions due to the COVID pandemic. The iVisa.com team is ready to help you with all your needs. We have displayed all the necessary information for your trip below.
First of all, you must obtain the Qatar Entry Registration. This health declaration is mandatory for all international travelers. Also, we have detailed information about quarantine and test requirements. Learn more about the Qatar COVID rules with us.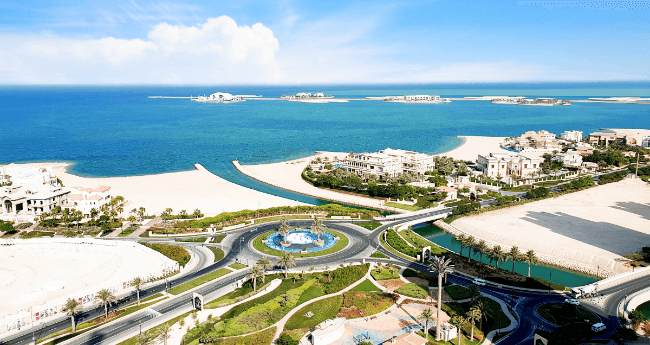 Frequently Asked Questions
What are the Qatar COVID rules?
According to the classification of the country you come from, you must comply with some guidelines while in Qatar. If you have a COVID vaccine, it could help you skip certain requirements. In addition, all travelers must take a PCR test within 72 hours before arrival. You can check all about these rules on our application.
Don't forget the Qatar Entry Registration before your arrival. Health authorities will request it as soon as you land in Qatar.
Since the COVID-19 rules are frequently changing, we recommend you to check our product page FAQ section to get up-to-date information about traveling to Qatar. We have all the details about the Qatar COVID rules.
What is the Qatar Entry Registration, and how is the application?
The Qatar Entry Registration is a mandatory travel document all incoming visitors to Qatar need. It has a maximum validity of 15 days after arrival and provides a Single Entry to the country. If your nationality requires a visa, you must get it, as well. This health declaration doesn't replace a visa.
Check the three steps to get your travel document:
First: Answer the questions in the online form and pick a processing time of your preference.
Second: Check your information and correct any mistakes. Proceed to pay for the service with a debit or credit card.
Third: Upload the necessary documentation and apply.
Upon arrival, show the documentation to immigration authorities and enjoy Qatar! Keep checking more about the Qatar COVID rules with us.
Which countries are in the green, red and exceptional red categories in Qatar?
Exceptional red list countries: Bangladesh, Egypt, India, Nepal, Pakistan, Botswana, Lesotho, Namibia and Zimbabwe.
Red list countries: Algeria, Anguilla, Austria, Belgium, Canada, Cayman Islands, Croatia, Cyprus, Czech Republic, Denmark, Dominica, Estonia, Eswatini, Ethiopia, Faroe Islands, France, Georgia, Germany, Gibraltar, Greece, Greenland, Guernsey, Hungary, Iceland, Indonesia, Ireland, Isle of Man, Italy, Jersey, Jordan, Kenya, Latvia, Lebanon, Liechtenstein, Lithuania, Luxembourg, Maldives, Mauritius, Netherlands, Norway, Philippines, Poland, Portugal, Saudi Arabia, Slovakia, Slovenia, South Africa, South Sudan, Sudan, Spain, Sri Lanka, Switzerland, Trinidad and Tobago, Turkey, United Araba Emirates, United Kingdom and the United States.
Green list countries: Rest of the world
What are the costs and processing times?
Standard Processing Time:

24 hours

-

USD 20.00

Rush Processing Time:

8 hours

-

USD 35.00

Super Rush Processing Time:

4 hours

-

USD 60.00
What do I need to start?
Make sure to have these items:
Passport: We need a copy of the details page.
Email address: Expect the Qatar Entry Registration electronically.
Payment method: Pay with a credit or debit card.
The application will request details of your negative PCR test and your COVID vaccine (if applicable). In addition, if you're eligible for quarantine, you must provide the details of the hotel where you will spend your isolation.
Let us help you with the Qatar COVID rules.
Can I rely on iVisa.com?
Of course! We have helped countless travelers with all types of travel documents. We know how to handle the Qatar Entry Registration process. Our team can help you with the Qatar COVID rules.
Head to our customer reviews page and confirm iVisa.com is the best alternative.
I have some doubts. Where can I find more details?
Get in touch with our customer support team for any doubts about the Qatar COVID rules. We can help you 24 hours a day.
iVisa.com is here to make your trip planning easier.
iVisa.com Recommends
The National Museum of Qatar is one of the cultural jewels of the Middle East. The building was designed by Jean Nouvel, a Pritzker Prize winner. He took inspiration from the crystal formations in Qatar known as desert rose. The museum extends 430,500 square feet, which means it will take you a while to explore it all. The museum holds a fascinating collection of archaeological and heritage objects. Also, you can find photos, jewelry, and costumes in the galleries. You can learn about Qatar and the whole region.
Check the famous pearl carpet of Baroda, a masterpiece commissioned by the Maharajah of Baroda in 1865. The piece has 1.5 million pearls with diamonds, rubies, and other precious gemstones. The museum offers 11 galleries where you can explore the changing history of the Middle East. Each gallery has music, visuals, films, archival images, and much more. Also, you can find an auditorium, a restaurant, two cafés, a gift shop, laboratories, and research centers.
Nearby, you can find the Museum of Islamic Art and the Corniche. In addition, we invite you to explore Al Bidda Park, where you can find the traditional market, Souq Waqif. Finally, the gorgeous Msheireb Museums offer a closer look to the Qatari people.