Qatar is one of those astonishing and wealthy countries that simply has so much to offer to every traveler. The good news is that you don't need to apply beforehand for a visa to Qatar. If you are a US citizen they will give you a visa waiver upon arrival valid for 30 days on both single and multiple trips with the chance to extend it for another month.
You will need to show them a valid passport (with 6 months minimum validity) and a confirmed onward or return ticket.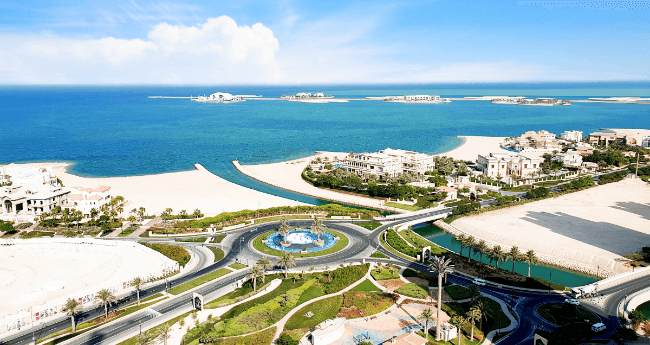 You will be asked to present proof of vaccine application (the whole list is in the Frequently Asked Questions portion below). iVisa.com has gathered certain vaccine requirements that you must comply with before you travel to Qatar. There's an optional traveling document you might be interested in, the Qatar Embassy Registration.
If you decide to get your Qatar Embassy Registration you will be registered in your embassy and that will provide you with a sense of protection while you are traveling abroad.
Apply today for your Qatar Embassy Registration.
Do I need a vaccine to travel to Qatar?
Yes. A full vaccine list is provided in the Frequently Asked Questions (FAQs) section when you scroll down.
A Qatar Embassy Registration is suggested aside from the vaccine listing.
The process starts by filling out the online application form on the iVisa.com website with all your personal and trip details.
Provide your payment method information.
Upload any necessary documents such as your passport and hit Submit.
After the completion of your application, the Qatar Embassy Registration will be sent to your email.
This is useful, especially during emergencies. You will have shelter in case something unexpected comes up.
Request your Qatar Embassy Registration here.
Frequently Asked Questions
Which are the vaccine requirements to travel to Qatar?
Recommended.
Hepatitis A.
Typhoid.
Hepatitis B.
Rabies (consider if you will be close to dogs or wildlife).
Required.
Chickenpox (Varicella).
Diphtheria-Tetanus-Pertussis.
Influenza.
Measles-Mumps-Rubella (MMR).
Polio.
Get your Qatar Embassy Registration.
Is Yellow Fever a hazard for travelers in Qatar?
No.
Fill out the Qatar Embassy Registration application now.
What items do I need to apply for my travel documents to Qatar?
The documents you need to apply for will depend on your country of origin. Most of the time we only ask the following:
Passport, with a copy of the information page.
A credit or debit card to pay the processing fee.
An email address to receive the eVisa.
Start your application process here.
Is Malaria risk for travelers in Qatar?
No.
Apply here for a Qatar Embassy Registration.
Is Dengue fever a threat for travelers in Qatar?
No.
Click here to request a Qatar Embassy Registration.
Is a negative PCR (COVID-19) test required to travel to Qatar?
Yes, it is mandatory while the coronavirus outbreak is still present.
Apply for a Qatar Embassy Registration.
Can iVisa.com help me with the entry requirements?
Yes, we can help you thanks to our fast and reliable process. We can help you at any time! All you have to do is to fill in an online form.
What are your payment methods?
You can either pay with a credit/debit card or a PayPal account.
Order now your Qatar Embassy Registration.
What is the iVisa.com fee for completing my Qatar Embassy Registration?
iVisa.com fee is $12.95 per applicant.
Take me to the application form.
Which are the iVisa.com processing times?
iVisa.com has three (3) types of processing the Qatar Embassy Registration:
Can I trust iVisa.com to get my travel documents?
You totally can. iVisa.com's mission is to provide a 100% secure environment for all your traveling documentation needs. Please read our testimonials section where you will be able to see how compromised we are with delivering the safest service online.
Take me to iVisa.com's Qatar page.
Where can I find more information?
If you have any questions or concerns, please contact our customer support center which is available for you 24 hours a day, 7 days of the week.
iVisa.com recommends
Most Popular Attractions
The best place to go for a glimpse of Qatar's culture and entertainment. Located in Doha (Qatar's capital city). Among its main charms is the seaside promenade along with its art galleries, workshops, theaters, performance spots, and amazing restaurants.
An artificial island with splendor towers and villas, deluxe shopping, hotels, and fine dining. Classy boutiques and luxury car concessionaires. An outdoor yacht exhibition can be seen while walking along the marina.
The center for Qatar's learning, research, and culture. It offers different programs and community courses.
A Venice-inspired vicinity situated in Doha facing the Arabian Gulf. Great for a sunny walk and a visit to its boutiques and cafes.
Means "standing market". Here you will find traditional and fancy restaurants, like Parisa, cafes (try Arabic coffee), art galleries, and local retail shops. Drive your nose crazy with Qatar's spices such as saffron, water, sumac, dried flowers, and black lemons. Wander through the:
Gold Souq.
Falcon Souq (for those interested in Qatar's traditional falconry sport).
See the camels (near the Falcon Souq).
Emiri Stables (see Arabian horses).
Retail shops.
Souq Waqif Art Centre.
Pearl market.
Street performances.