The next FIFA World Cup will take place in Qatar. It's the first time that a Middle East country will host this competition, the sporting event has never happened so close to the United Arab Emirates. This is the perfect opportunity to travel from the UAE to Qatar to enjoy the Qatari attractions and watch live World Cup matches. iVisa is here to help you with all the information you need to take the trip!
You'll be amazed by the museums, local markets, modern architecture, and beach resorts in Qatar. In addition, the country is known for its diversity, being home to different nationalities: Qatar citizens make up less than 15% of the total population, which is composed mainly of other Arabs (13%), Indians (24%), Nepali (16%), Filipino (11%), Bangladeshi (5%) and Sri Lankan (5%). So, it is also an amazing cultural experience.
The United Arab Emirates is part of the Gulf Cooperation Council (GCC) countries (Bahrain, Kuwait, Oman, Saudi Arabia, and the United Arab Emirates), following the same travel requirements as the rest of the group to enter Qatar, like COVID-19 restrictions and the type of visa required.
Count on iVisa to be prepared for this next trip!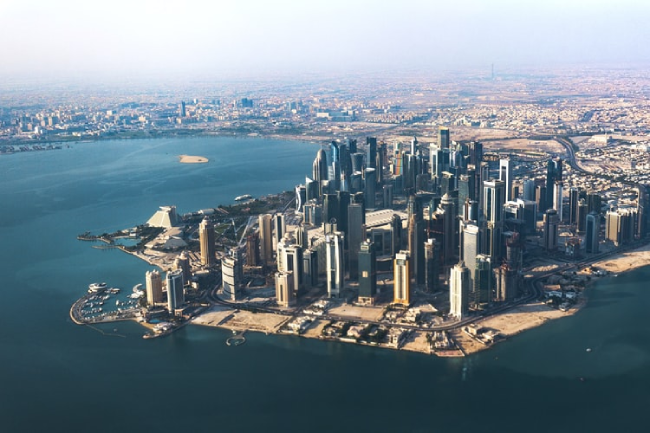 2022 FIFA World Cup in Qatar
The 2022 FIFA World Cup will take place from November 1 to December 18 in eight stadiums in Qatar. FIFA changed the competition's calendar, which usually happens in June, so that the matches could occur in the Qatari winter, during cooler temperatures, between 70 °F (21.11 °C) and 80 °F (26.67 °C).
The government invested in infrastructure to make this World Cup edition epic. The subway was improved, so each stadium has different lines, avoiding big crowds on game days. There will be special cruises to accommodate all tourists going to the event.
The main cities hosting the matches are Doha, Al Wakrah, and Al Khor. They're both developed and full of attractions. So, besides the match time, you can visit museums, markets, beaches, and enjoy good restaurants.
How to apply for the Hayya Card - Fan ID
One of the requirements for traveling from the UAE to Qatar is the Hayya Card, also known as Fan ID. This document was developed by Qatar authorities to facilitate tourists' identification during the World Cup. It has the traveler's data, and it will give access to stadiums and public transportation.
The Fan ID is mandatory to visit Qatar during the sporting event, which means that all passengers arriving have to apply, even travelers that won't attend matches.
But don't worry; registration is pretty simple. You can apply via iVisa, by filling out your personal data and ticket information.
Traveling to Qatar from UAE
As GCC nationals, passport holders from the United Arab Emirates have to follow the same COVID-19 restrictions and visa requirements as the rest of the Gulf Cooperation Council countries (Bahrain, Kuwait, Oman, Saudi Arabia, and the United Arab Emirates) to travel to Qatar.
Ehteraz: Online Pre-travel Registration
It is not mandatory anymore to fill out Qatar's Entry Registration Form, also known as the Ehteraz Pre-Entry Registration Form, to travel from the United Arab Emirates to Qatar. This document was developed during the COVID-19 pandemic to help the health authorities to control coronavirus spread, track cases, and keep the territory safe for passengers and residents.
All COVID-19 requirements have been dropped in anticipation of the FIFA World Cup 2022. Both fully vaccinated and unvaccinated citizens from the United Arab Emirates are exempt from the Ehteraz Pre-Entry Registration Form, COVID-19 testing requirements, quarantine, and other.
Travelers can still download the Ehteraz mobile app and activate the app with an international SIM card as soon as they arrive at the airport to stay up-to-date about health information in Qatar.
Qatar Visa: Entry requirements
A visa is part of the travel requirements for Qatar. BuHowever, nationals from United Arab Emirates are eligible for a Visa on Arrival, getting the document on arrival in Doha, with no need for a pre-travel visit to the embassy. However, be aware that this is a visa for tourism, so if you are traveling for business or medical purposes, you have to contact the Qatar embassy.
The Visa on Arrival is free-cost, so you don't have to worry about fees. Plus, Qatar's authorities make the whole process on arrival. It's valid for a one-month stay and can be renewed for another two months.
Other than that, if you're traveling from the UAE to Qatar during the FIFA World Cup event, you must obtain a Hayya Card. This replaces a visa and gives access to public transport, stadiums, and more.
Travel tips from the United Arab Emirates to Qatar
The United Arab Emirates and Qatar are neighboring countries in the Persian Gulf. The route from one to another can be by land, water, or air. The prices and duration of travel vary according to which transport mode you use.
Airlines with international flights
In the United Arab Emirates, there are direct flights from Dubai and Abu Dhabi to Doha. It's a quick journey that takes around one hour.
Emirates
Etihad Airways
Flydubai
Qatar Airways
Dubai to Qatar by boat
Considering the proximity between the UAE and Qatar, travelers can travel by Gulf water. But currently, there's no ferry service available from Abu Dhabi or Dubai to Doha. So the only way is to rent a boat.
Travel from the UAE to Qatar by road
Since the countries are close, the main question is, "Can I go to Qatar from Dubai by road?" Yes you can. The route has 648.9 km from Dubai to Doha, which takes around 6h 30 min.
You can drive from Abu Dhabi to Doha in less time: it's 5h 30 on the road to cover the 546 km.
Cities you should visit in Qatar
Doha: Well, you'll probably arrive in Doha, but besides being the main entrance to Qatar, the city is worth visiting. The capital combines modern landscapes with Arabic tradition. Additionally, there are art museums and markets to explore beyond the futuristic urban landscape.

Al Wakrah: This was a fisherman's village near Doha. Nowadays, the city has developed, even though fishing is still an economic activity around there. You can enjoy the beach, the port, and the local market.

Al Khor: It also used to be a small fisherman's village that grew up in the last years. As well as in Doha, modern architecture is amidst traditional Qatari buildings. It's also an excellent spot to enjoy the beach and restaurants.
More questions about Qatar travel documents?
If you are still unsure which travel documents you need as a United Arab Emirates citizen for Qatar, please reach out to our expert customer service team online or via email at [email protected]. They are available 24/7 to assist you.