Although issues like the COVID-19 pandemic make travel planning difficult for those who love to explore new places, it doesn't mean that it's something impossible to achieve. An example of this is that you can now enter Qatar if you have a Health Declaration, as this document allows the government of this country to have better control over the entry of tourists. The Qatar 14 day quarantine requirement is the same as the Health Declaration, but to know how to apply for this document, we recommend you continue reading this article.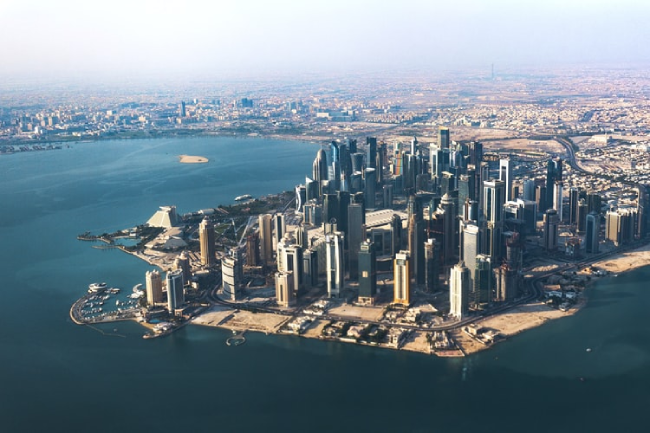 To receive this document, you must follow certain steps through an online process. The easiest way to do it is by completing the online application that iVisa.com has. This way, you'll be ready in just a few minutes.
Remember that iVisa.com has developed this process to facilitate your travel plans, so by reading the following FAQs you will be ready to take a few minutes with the online application.
Frequently Asked Questions (FAQs)
What is a Qatar Health Declaration?
The Qatar Health Declaration is an official authorization that allows you to enter this country by following the guidelines that are related to COVID-19. It's also known as the Qatar 14 day quarantine requirement and it is needed to avoid any issues with the authorities when you arrive at the airport.
Do I need a COVID vaccine or vaccination certificate to enter Qatar?
No, you don't. As of today, COVID vaccination passports or certificates are not mandatory to enter Qatar.
Now if you are a Covid vaccine certificate holder coming from green list countries, you won't need to follow a quarantine.
Approved vaccines are Pfizer, Moderna, AstraZeneca, and Johnson & Johnson.
Travelers that have received full vaccination of Sinopharm, Sinovac, Sputnik V, Covaxin (conditionally approved vaccines), must also present a Serology Antibody test with a positive result before travelling to Qatar. Passengers that do not show these documents must follow a 7-day quarantine
People who have received two doses of a conditionally approved vaccine followed by one dose of Pfizer or Moderna vaccine and after 14 days from the last dose will be considered fully immune.
Since information may change quickly, we advise you to follow up on the latest Qatar travel updates and/or contact your local embassy.
Will I be required to quarantine on arrival to Qatar?
Green country of origin quarantine- vaccinated travelers: No quarantine

Green country of origin quarantine- unvaccinated travelers: 7 days and antigen on day 7

Red and exceptional red country of origin quarantine- vaccinated travelers: 2 day quarantine and a Rapid Antigen Test on day 2 of hotel quarantine. The individual will be released on same day if the result of the COVID-19 test is negative.

Red and exceptional red country of origin quarantine- unvaccinated travelers: 7-day quarantine and antigen test on day 7 to end quarantine
Travelers that have received full vaccination of Sinopharm, Sinovac, Sputnik V or Covaxin must also present a Serology Antibody test with a positive result before travelling to Qatar. Passengers that do not show these documents must follow a 7-day quarantine
Do I need to take a COVID-19 test to enter Qatar?
COVID test prior to arrival: PCR within 72 hours
COVID test exemptions: Children under 12
Which countries are in the green, red and exceptional red categories in Qatar?
Exceptional red list countries: Bangladesh, Egypt, India, Nepal, Pakistan, Botswana, Lesotho, Namibia and Zimbabwe.
Red list countries: Algeria, Anguilla, Austria, Belgium, Canada, Cayman Islands, Croatia, Cyprus, Czech Republic, Denmark, Dominica, Estonia, Eswatini, Ethiopia, Faroe Islands, France, Georgia, Germany, Gibraltar, Greece, Greenland, Guernsey, Hungary, Iceland, Indonesia, Ireland, Isle of Man, Italy, Jersey, Jordan, Kenya, Latvia, Lebanon, Liechtenstein, Lithuania, Luxembourg, Maldives, Mauritius, Netherlands, Norway, Philippines, Poland, Portugal, Saudi Arabia, Slovakia, Slovenia, South Africa, South Sudan, Sudan, Spain, Sri Lanka, Switzerland, Trinidad and Tobago, Turkey, United Araba Emirates, United Kingdom and the United States.
Green list countries: Rest of the world
Do I need to go to the Embassy to apply for the Qatar Health Declaration?
You can have your Health Declaration with an online process, so you don't need to go to the embassy at all. For your convenience, you can fill in the online form from anywhere, even from your home or office, since the amount of time required is minimal compared to another process.
If you apply with iVisa.com, you'll save a lot of time and effort.
What documents do I need to apply?
The online process for your Qatar Health Declaration is quite simple, so the list of documents you need is simple too. These are:
A valid passport with a scanned copy of the information page.
Your email address
A Payment alternative, which can be your credit or debit card or your Paypal account.
How much will I pay for the Qatar 14 day Health Declaration?
At iVisa.com, we know that knowing the price of a travel document is the most important thing, but it's also important to know the amount of time it'll take to obtain the document. Therefore, you should know that we have 3 options that will allow you to get your document as soon as you need it. Of course, remember that these prices vary depending on the speed. To keep it simple: the faster you want the Health Declaration, the higher the price will be.
Unfortunately, we can't offer the exact price information given that this is in conjunction with the fees that the Qatar Government may ask.
What you should keep in mind is that we won't charge you anything without your confirmation, so before you send your online form, you'll always know the exact price of the document.
iVisa.com's processing options are:
Standard Procedure Time: this is the option that most travelers request because it's the least expensive. If you're not in a hurry but you prefer to avoid the difficulty of obtaining your document with the Government, this option is for you.
Rush Procedure Time: this alternative is faster. Therefore, the price is also higher.
Super Rush Procedure Time: this is the most expensive option but it's because you also way a lot less than the previous option.
How can I apply for this document?
An excellent thing about iVisa.com's online form is that it only has 3 steps to follow. These steps are:
First, write the information requested in the initial questionnaire and select the processing time you need.
Second, pay for your document according to the processing time you selected and check that all the information is correct.
Third, upload and attach your requirements so you can send the form by clicking the "submit" button.
You should always check the spelling of your information before sending the online form.
How much time do I need to apply online?
You don't need more than 20 minutes to complete your online form because iVisa.com has a modern system. The online form is easy to understand, so you won't spend a lot of minutes filling it in.
What should I do as soon as I receive the email?
You'll receive all the information about this process, including the document, via email. You're free to download these details if you prefer.
Keep in mind that's important to get this document before entering Qatar. Once you arrive there, The Immigration Officers will inform you about the rest of the things you have to do, including the 14-day quarantine.
How safe is to apply with iVisa.com?
iVisa.com has an updated system that allows you to protect your information to the maximum, so all the data you offer is not filtered anywhere. Rest assured that iVisa.com is quite safe with the online procedures. You can verify that by reading our reviews on this link.
I have more questions, where can I find more information?
You should take advantage of the opportunity to travel to Qatar while having all the necessary regulations to protect your health and safety against any inconvenience. Therefore, don't hesitate to get your Health Declaration with us.
Also, if you have any questions, you can contact us, we will be ready to help you. You can also read other information on our website and keep up to date with everything that happens to travel wherever you want.