Fort the professionals who want to carry their laptops along with important documents and papers with style, an attache case is the best choice. The small and thin suitcase is distinctively for their leather or metal exterior and a slim profile. Nowadays attache cases include a shoulder strap to offer more comfort when carrying it around for meetings, business trips, and back and forth from the office.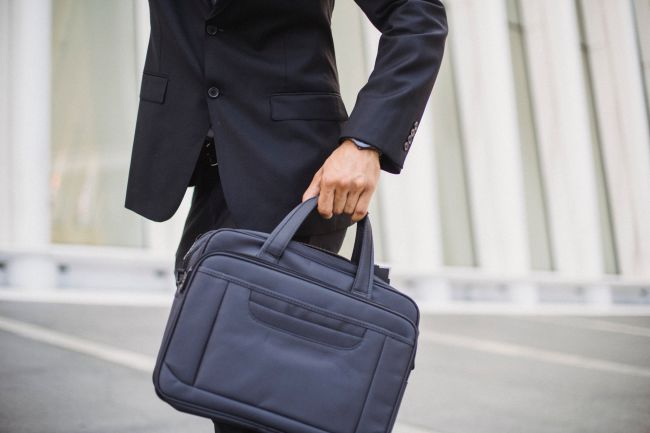 In the following lines, we're presenting a list of the best attache cases available online.
HIGH-END OPTION: FLOTO VENEZIA VECCHIO BROWN BRIEFCASE ATTACHE LAP-TOP CASE
Cost: $269.99 (price may vary on the color) (as of 08/07/2020 14:28 EST- Details*)
Made in Italy with full-grain leather and including brass or stainless hardware, this briefcase offers a sleek, classic look that will set you apart. The treatment of leather was done using vegetable extracts and natural oil.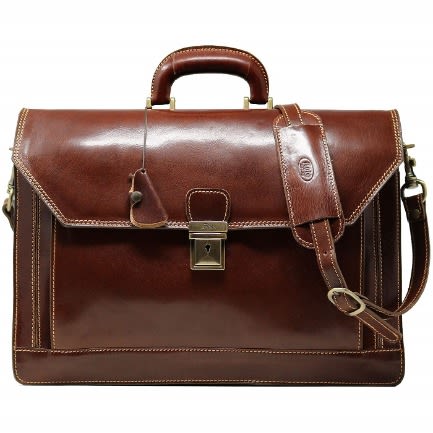 Photo by Desert Cart.
Available in three colors - Vecchio Brown, Olive (Honey) Brown, and Black, the Venezia Vecchio also features:
3 Compartments - 1.75" deep each
Pockets for Smartphone + Charger
Outside Pocket
Detachable Shoulder Strap - 40/46"
Suitable for laptops up to 17"
Lock
The lather in this case was hand-stained using non-toxic vegetable-based stain by artisans in the hills of Tuscany, using a special cotton sponge. For the bag lining, the company uses an American 8-ounce cotton duke canvas, made in a textile mill in South Carolina.
ON A BUDGET OPTION: MEN'S PU LEATHER BRIEFCASE BY JACK&CHRIS LAWYER ATTACHE CASE 14'' LAPTOP MESSENGER BAG FOR OFFICE BUSINESS
Cost: $49.00 (as of 08/07/2020 14:28 EST- Details*)
Created by Jack&Chris, a company that focuses on retro-style leather bags, you'll get a case that offers more than what is in sight.
Photo by Desert Cart.
Featuring anti-rust silver hardware, a comfortable handle and a strap that's both adjustable and detachable, the case also includes:
Made of PU leather
Inner polyester lining
2 main compartments (one for a 14'' laptop, other for cellphones, wallets and other items)
1 zip compartment
1 inner zip pocket
Multi-function storage area for A4 papers, pens, cards, and key
Front flap buckle closure that comes with a key to lock
Divided sections for organizing folder files and other paperwork
Perfect gift for birthdays, anniversaries, Christmas or father's day, this case is great for college, work, travel, business trip, office, weekender, short-time business travel, and more.
VINTAGE ATTACHE CASE: BANUCE VINTAGE FULL GRAINS ITALIAN LEATHER BRIEFCASE FOR MEN LOCK LAWYER ATTACHE CASE 14 INCH LAPTOP MESSENGER BAG TOTE SHOULDER BUSINESS BAG
Cost: $184.99 (as of 08/07/2020 14:28 EST- Details*)
If you're into a cool and vintage look, BANUCE specializes in designing classic and vintage leather bags, putting extra attention on functionality and durability. Made with Italian materials this case is right for business travel, meetings, and office work.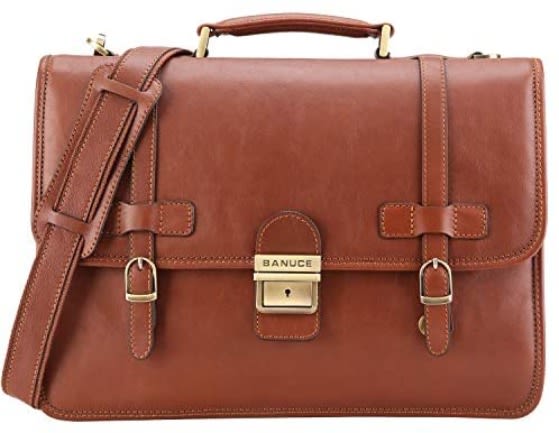 Photo by Anneweege.
Suitable to store A4 folders, planners, and books among others, the case also provides:
Vegetable-tanned leather imported from Italy
3 compartments
Key lock and double buckles closure
Space for a 14" laptop
Pockets and slots for your wallet, keys, pens, and smartphone
Ideal for daily use or business travel/event.
Ideal as a business briefcase, work bag, messenger bag, or laptop bag, this vintage briefcase presents natural full-grain cowhides Italian leather, tanned using animal fats and vegetable tanning. After being used for some time, the case will become glossy, soft, and with a stronger vintage look.
To keep the case in perfect shape, use cream polish –the same color as the leather- and gently paint and cover the scratches on the bag, using a cotton swab, then use facial cream on the spot to get a better finish, and finally, slowly wipe the cream polish with a dry cloth until it becomes even.
SLIM LEATHER ATTACHE CASE: BANUCE FULL GRAINS ITALIAN LEATHER BRIEFCASE FOR WOMEN HANDBAGS TOTE BUSINESS BAG ATTACHE CASE LADIES MESSENGER SATCHEL PURSE
Cost: $164.99 (as of 08/07/2020 14:28 EST- Details*)
Now is the turn to show on the list a beautiful and elegant case for women. Here, Banuce comes along again to deliver a vintage-style Italian leather briefcase that includes a lot of the same characteristics as the previous case for men.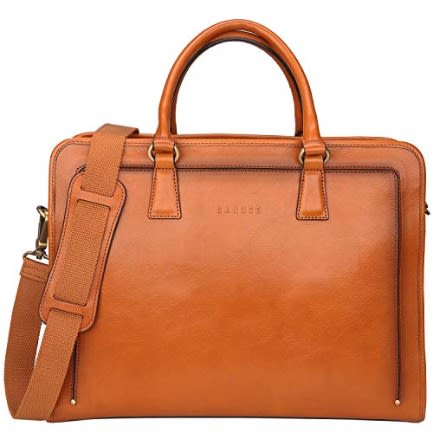 Photo by Desert Cart.
Closing with a zipper, the case features:
Made of full grain vegetable tanned Italian leather
Rust-proof zinc alloy hardware
Cotton-poly twill lining
Sfumato leathercraft
3 main extendable compartments
Padded open pocket for laptops
2 compartments use extendable U-zip zippers
Rear pocket strap to attach onto a luggage
Detachable and adjustable shoulder padded strap
Flat bottom to stand upright naturally
On keeping your case beautiful and perfect remember to use cream polish –the same color as the leather- and softly cover the scratches on the bag, using a cotton swab. Facial cream will also be part of the process to put on the spot for a better finish, then the last step will be to slowly dab the cream polish with a dry cloth until it becomes even.
This classy attache case can be used as a leather briefcase, business bag, messenger bag, satchel, handbag, shoulder bag, leather purse, or work bag.
BEST ALUMINUM BRIEFCASE: ROADPRO SPC-931R 17.5" X 4" X 13" SILVER ALUMINUM BRIEFCASE
Cost: $35.16 (as of 08/07/2020 14:28 EST- Details*)
Changing the materials to an aluminum briefcase, it's time to show the vantages of a lightweight, long-lasting, and trustworthy case.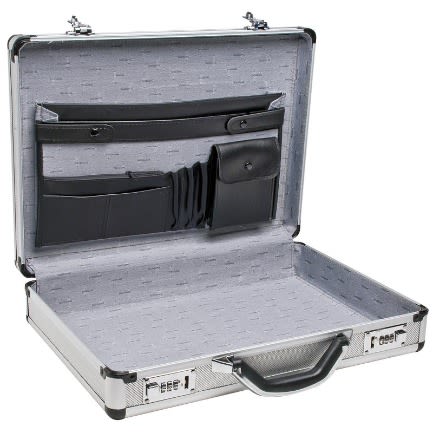 Photo by RoadPro.
The sharp-looking aluminum case, which measures 17.5" X 4" X 13", features:
2 combination locks
Lined interior with pockets
Space for a laptop
Pen loops
Considering his sturdy case, this briefcase will hold everything together during a business trip to another city like New York, Paris, Milan, Seul, or London.
If by any chance you find yourself on a business trip to London, don't forget to visit Hyde Park, the National Gallery, or enjoy the opportunity of catching a show in West End theatre district. Business trips might be short, but if you can take some time to visit the museums, walk around Candem Market, or even take the Jack the Ripper tour, could be a fantastic way to remember London.
HARD BRIEFCASE WITH LOCK: ALPINE SWISS EXPANDABLE LEATHER ATTACHE BRIEFCASE DUAL COMBINATION LOCKS 1 YEAR WARRANTY
Cost: $79.99 (as of 08/07/2020 14:28 EST- Details*)
Another hard briefcase makes it in the list, although in this case, the exterior is made of genuine leather for a sophisticated look highlighted by silver hardware. In order to prevent fast wear and tear from the floor, the case comes with four protective metal feet at the bottom.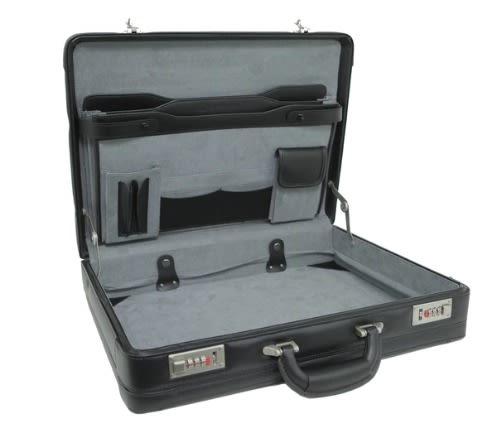 Photo by Alpine Swiss.
Aside from dual combination locks that can be set individually to keep your articles safe, the case also includes:
Expandable exterior and interior
Interior organizer features a folder section, business card slots, 2 pen slits, phone slip pouch, and a secure flap over the pouch
1-year Alpine Swiss manufacturer's warranty
Its expandable interior and exterior, stylish leather-look, multiple pockets, and hard shell make this hard briefcase with a lock an essential companion for any businessmen. It will last for years during many business trips, meetings, and in and out office work, providing protection for your belongings and important documents thanks to its dual lock system that can be set individually.
Complete your sharp-dressed man office style with this dashing briefcase that will make work look good.
Conclusion
It might not be a big luggage for some exotic trip but is just as important to carefully select an attache case to carry and protect your personal belongings. For the right selection, you have to take into consideration the materials, durability, space, and extra qualities such as being expandable, have enough pockets to keep everything tidy, and the security system. So is practically like picking a travel bag, just that you'll be traveling to your office, meetings, and probably to other cities or countries, depending on your job. Hence, it's imperative to choose the right case to hold your important documents, files, laptops, and other electronic devices.
We wanted to make sure that even traveling for business, you'd still have a list specially made to help you decide on the best attache case from the online marketplace. For iVisa, every detail is essential when it comes to helping you get the best on your travel experience. Remember that we can be by your side to provide the best advice and guidance on getting a visa for your next destination.
Have an amazing voyage!
* Product prices and availability are accurate as of the date/time indicated and are subject to change. Any price and availability information displayed on the linked site at the time of purchase will apply to the purchase of this product.