It's time to check out the best Bluetooth wireless headphones available on e-commerce retail sites. We've gathered a variety of in-ear and earphones that will get you moving to the rhythm of your favorite tunes. Take the headphones on a plane trip, road trip, train trip, or just any corner of your house where you can be relaxed and happy listening to podcasts, audiobooks, mantras, or music.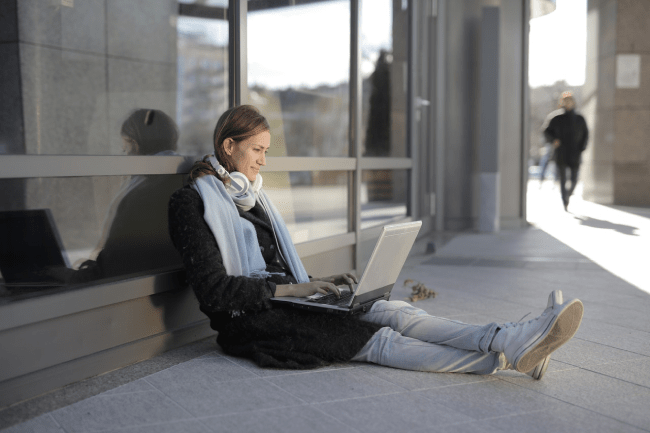 BEST (HIGH END) OPTION: SONY NOISE CANCELLING HEADPHONES WHCH710N
Cost: $128.00 (as of 08/14/2020 10:03 EST- Details*)
Sony brings the CH710N headphones to this list, offering noise-canceling that automatically collects information about your surroundings, improving the performance accordingly. This means that whether you're in a flight or co-working, you can still focus on your audio without being disturbed.
Available in colors blue and black, the headphones offer:
Smart noise cancellation
Dual Noise Sensor Technology
Up to 35 hours of battery
Quick charging
Hands-free calls
Can use it with your voice assistant
Wireless Bluetooth streaming with NFC One-touch
30mm Driver Units
Adjustable metal sliders
Next-generation USB Type-C charging
A reviewer used them for work saying: "I needed great headset for work, helping me to focus while life goes on around me. These fit the bill! They cover my ears and have the noise-canceling feature that works really well. Fully charged lasts me several shifts but I usually throw on a charger after the 3rd just to be safe. Easy to set up, I don't think there's anything to be relayed for tips there. Works with Skype and other apps, Windows, and Mac. I highly recommend them!" Another user commented: "I wanted a pair of Bluetooth noise-canceling headphones since I travel a lot and am on airplanes often. These were affordable and have by far exceeded my expectations. The sound is great and blocks out a lot. I have to make a conscious effort to pay attention when a beverage service is happening otherwise I won't hear the flight attendants asking me if I'd like anything to drink. Oops. The battery life is incredible as well. I charged it once after initially receiving them and have not needed to recharge them yet even though I use these pretty frequently. There is also an app you can download to change the sound settings on the headphones. Overall, great product value!"
Ideal for those workout sessions at the gym, a flight, or for work, the noise cancelation paired with the quality of the sound will work wonders on your ears.
BEST (ON A BUDGET) OPTION: TOZO T10 BLUETOOTH 5.0 WIRELESS EARBUDS WITH WIRELESS CHARGING CASE
Cost: $34.99 (as of 08/14/2020 10:03 EST- Details*)
The TOZO T10 offers something that is pretty handy if you're an outdoorsy and active person… They're water and sweatproof! Now, it doesn't mean that you can go swimming, or in a steam room, or sauna with them, of course, but it means that no matter how much you sweat at the gym, running, jogging, bicycling, hiking, climbing, or exploring, sweat won't ruin them. Just as they'll also be safe from rain. Oh, and you can actually ski and snowboard with them too.
These little fellas are available in 5 different colors: Black, blue, gray, white, and khaki, also offering:
Bluetooth 5.0 technology
TOZO T10 supports HSP, HFP, A2DP, and AVRCP audio codecs
Provides in-call stereo sound
Fast and stable transmission
8mm large size speaker driver
IPX8 waterproof rate Earbuds
Nano-coating makes them waterproof for 1m deep for 30 minutes.
You can even wash the ear-buds and base.
Can last for over 4 hours' playtime from a single charge and 14 extra hours in the compact charging case.
Charging case support wireless charging
8 ear caps (two already on the ear-buds)
For pairing, just pick up the two ear-buds from the charging case, then enter your phone's Bluetooth setting and choose "TOZO-T10-R", they will connect each other automatically. Another advantage of the case is that supports wireless charger (not included).
Take them with you to explore Peru, where you can be marveled not only by the food, but its incredible landscape like Machu Pichu, the incredible fortress of the Incas, or Chan Chan, which was the core of the Chimor Empire until the 1500s. For more adventure, you can check out Huacachina, where you can get riding the dunes. In this little Oasis, you can practice some sandboarding.
BEST WIRELESS EARPHONES: BLUETOOTH HEADPHONES, LETSCOM WIRELESS EARBUDS IPX7 WATERPROOF NOISE CANCELLING HEADSETS
Cost: $19.95 (as of 08/14/2020 10:03 EST- Details*)
Featuring Bluetooth 5.0 and CVC6.0 digital noise-canceling technology, the U8I headphones will be the perfect partner during your workout and outdoor activities.
Available in 6 different colors, these headphones also provide:
Great sound quality
Bluetooth 5.0 technology
11 mm vibrating diaphragms
CVC6.0 digital noise-canceling technology
IPX7 water & sweat proof rate
Hands-free calls
Up to 8 hrs of battery life
3 buttons control
Nano-coating
Includes: 1 Eva bag, 1 Micro USB cable, and 1 wire clip (removable)
The case included with these makes it easier to transport and protect them, and good to have in hand whenever you're outside practicing sports.
BEST WIRELESS IN-EAR HEADPHONES: POWERBEATS PRO WIRELESS EARPHONES - APPLE H1 HEADPHONE CHIP, CLASS 1 BLUETOOTH
Cost: $199.95 (as of 08/14/2020 10:03 EST- Details*)
Beats offer you the chance to share your audio with a friend, which means that you can pair two sets of Beats headphones to an iPhone and have a great time listening to the same song, podcast, or movie along with your friend.
Pick between 8 different colors, and enjoy features like:
Up to 9 hours of listening time (more than 24 hours with charging case)
Adjustable ear hooks with secure-fit
Volume and track controls on each ear-bud
Voice capability
Autoplay/pause
Compatible with iOS and Android
A 5-minute charge gives 1.5 hours of playback
The box includes: wireless earphones, charging case, ear tips with four size options, lightning to USB-A charging cable, quick start guide, warranty card
Powered by the Apple H1 chip, you can enjoy them with your iPhone, iPad, Macbook, Apple Watch, iMac, and Apple TV. These headphones are compatible with Android.
BEST BLUETOOTH EARPHONES: TOZO T6 TRUE WIRELESS EARBUDS WITH WIRELESS CHARGING CASE IPX8
Cost: $39.99 (as of 08/14/2020 10:03 EST- Details*)
TOZO is once again in the list as the best Bluetooth earphones, delivering hassle-free listening, light-weight, and high compatibility.
Featuring tactile control, these waterproof headphones also give you:
Bluetooth 5. 0 technology
TOZO T6 Support HSP, HFP, A2DP, AVRCP
In-call stereo sound
Fast and stable transmission
Powerful bass performance with 6mm large size speaker driver
Nano-coating gives them a waterproof protection for 1 meter deep for 30 minutes
You can wash the ear-buds and base
The T6 ear-buds can last for over 6 hours' playtime from a single charge and 24 extra hours in the compact charging case
Charging case support wireless charging
Just like the previous TOZO ear-buds, you can also take these with you anywhere and enjoy their super waterproof quality, noise-cancellation, Bluetooth 5.0 technology, and more. A wonderful place to bring this with you is the Philippines! Where you can listen to some music while you're relaxing over the white sands of Boracay Island. You can also explore the Island of Cebu, an incredible place for diving and snorkeling, that also has sea caves that are a wonder for photographers.
Conclusion
Once again we've researched for the best products you can find online to make your travels more comfortable, exciting, and fun. We love helping you with anything you may need before traveling to that exotic location you've been dreaming of, and we like complementing our services with a little extra by adding a list of great products to fill your needs.
* Product prices and availability are accurate as of the date/time indicated and are subject to change. Any price and availability information displayed on the linked site at the time of purchase will apply to the purchase of this product.