Young people today love to travel because they know that it's guaranteed to be a special way that they can spend quality time with their parents and siblings. When you have so little precious time together as a family whilst they're young, the last thing you need is to be worrying about your luggage arriving in one piece or fighting over who gets to bring what in a fiercely contested shared suitcase.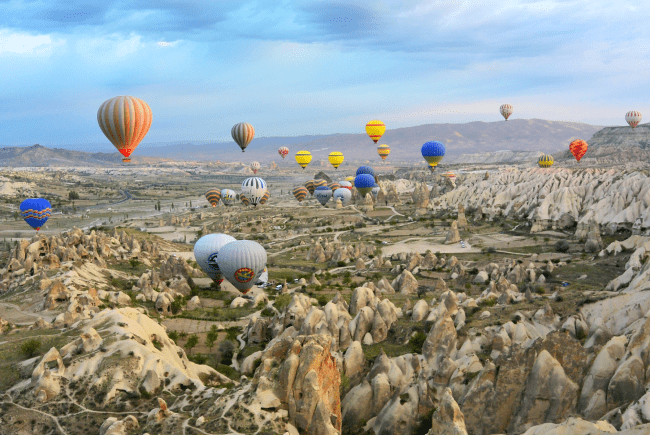 We heard your call and we recognised that no one has time to enter hundreds of hard shell luggage shops and stores that sell travel gear on retail e-commerce sites to find the perfect case, that is bound to be there just waiting to be discovered. Luckily for you, we've done the dirty work so you don't have to. We are adamant that the line-up of superb cases that we're about to introduce to you will leave you doubtless that the hard shell luggage you're looking for is right beneath your fingertips.
HIGH-END OPTION: PELICAN AIR 1615 TRAVEL CASE - SUITCASE LUGGAGE (BLACK)
Cost: $419.95 (as of 09/13/2020 20:51 EST- Details*)
Military personnel can confirm that Pelican is an outstanding brand which manufactures reliable luggage suitable for flying all kinds of kit around the world. These top-of-the-range brand products are used for top strength transport and this impressive hard shell case is sure to turn heads at the check in desk.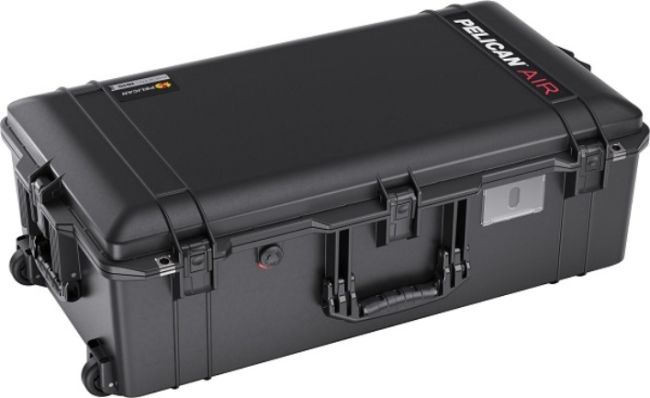 Photo by Pelican.
It also features:
Super-light proprietary HPX polymer, automatic purge valve that keeps water and dust out while balancing air pressure
Quiet rolling stainless-steel bearing wheels
Retractable extension handle
Includes LID mesh and zippered storage compartments and packing cube organizers
Press and pull latches with TSA key locks
Exterior dimensions are (LxW×D) 32. 58 inches x 18. 40 inches x 11. 02 inches
This case is the maximum airline check in size
Comes with Pelican lifetime guarantee
As this extreme suitcase is the biggest size accepted by airlines, we challenge you to visit the biggest mountain in the world, Mount Everest. Even making it to base camp at such high altitudes (some 8848 metres above sea level) requires extensive training but you can rest assured that people of all ages and nationalities have managed to make it so why not put yourself to the test with a trip to this impressive giant and see what you're made of.
ON A BUDGET OPTION: COOLIFE EXPANDABLE SUITCASE
Cost: $59.99 (as of 09/13/2020 20:51 EST- Details*)
If you have a weeklong business trip planned and you're worried about having enough room in your pokey old suitcase for all of your presentation suits and the final dinner dress, then you're in the right place for a solution to your problems. The Coolife Expandable Suitcase is designed to hold all of your belongings in the right place to save you time on the road and in the hotel room. Additionally, this sophisticated and sleek case will save you a bit of money too as it doesn't break the bank at under $60.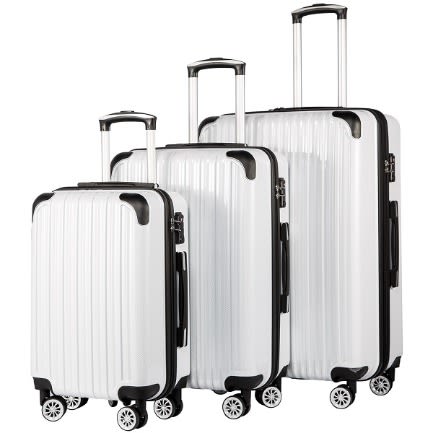 Photo by Coolife.
It also features:
ABS+PC hard plastic shell tested under strict quality control standards to create strong and sturdy pieces that can withstand any forms of rough handling with the included
TSA lock to ensure your valuables are secure and safe.
Quiet airplane spinner wheels and an adjustable 3-level 100% pure aluminum telescoping handle which allows you to quickly maneuver in tight spaces
Fully lined interior and the multi-use organizational pockets.
28 inches size case is expandable and adds 15% to the scalable space (dimensions grow to 20.5 inches x 11 inches x 30.3 inches)
2-year warranty included
With this beautiful luggage in tow, you'll fit in with the glamorous families of Qatar. You can visit the glistening shopping malls, check out the exotic historical sights and soak up the rays in magical desert sands during a fun filled trip to this welcoming and culturally rich country.
BEST SAMSONITE LUGGAGE: SAMSONITE CENTRIC HARDSIDE EXPANDABLE LUGGAGE
Cost: $83.20 (as of 09/13/2020 20:51 EST- Details*)
The Samsonite Centric Hardside Expandable Luggage combines two of our favourite extremes when it comes to hard shell luggage. It is extremely lightweight and the solid design is extremely impactful. We loved the unique exterior of this 24 inch hard side luggage option from brand favourite Samsonite.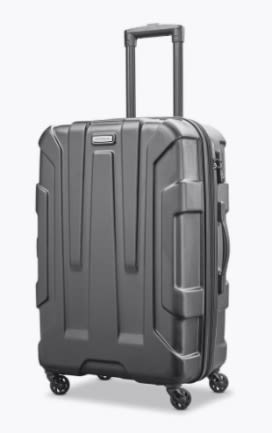 Photo by Samsonite.
Features include:
Scratch-resistant polycarb twill texture, keeping cases beautiful trip after trip.
Side-mounted TSA lock's act to deter theft, ensuring that only you or a TSA agent have easy access to your belongings when traveling
1.5 inches expansion to allow you to pack more items and compression keeps clothing neatly pressed
Four, multi-directional oversized spinner wheels for effortless mobility
Push-button locking handles provide easy maneuverability when extended out from the suitcase, and stores neatly inside when not in use
Full-zip interior divider and cross straps for increased packing organization
The overall dimensions of this case are 26.5 inches x 17.75 inches x 11 inches
The weight of this luggage is 9 pounds.
10-year limited warranty: Samsonite products are rigorously tested to ensure our products meet stringent standards. This bag comes with a 10-year warranty against defects in materials and workmanship.
LARGE HARD SHELL LUGGAGE: PELICAN AIR 1535 TRAVEL CASE
Cost: $309.95 (as of 09/13/2020 20:51 EST- Details*)
If you're in the market for specialized luggage to transport delicate equipment then you may already know that the Pelican Air 1535 Travel Cases are already doing a great job of delivering kit safely to their happy owners.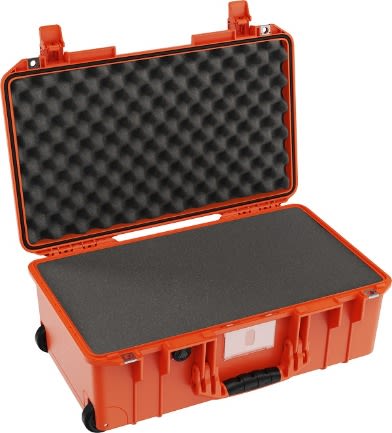 Photo by Pelican.
As well as performing military functions and taking numerous other sensitive items on flights around the world, this case also features:
Made from super-light proprietary HPX polymer
Automatic purge valve that keeps water and dust out while balancing air pressure
Quiet rolling stainless-steel bearing wheels and retractable extension handle
LID mesh and zippered storage compartments and packing cube organizers included
Press and pull latches with TSA key locks
Minimum Temperature is (-60°F) (-51 ° C). Maximum Temperature is 160° F (71 ° C)
Exterior dimensions are 21. 96 x 13. 97 x 8. 98 inches; Interior dimensions are (L×W×D) 20. 39 x 11. 20 x 7. 21 inches
Comes with Pelican Lifetime guarantee.
HARDSIDE LUGGAGE SETS: COOLIFE LUGGAGE 3 PIECE SET
Cost: $169.99 (as of 09/13/2020 20:51 EST- Details*)
The people who really benefit from hardside luggage are the quick thinkers who calculate how much they will use their suitcase in comparison to how much time the suitcase sits in their spare room, basement, attic or hallway. The COOLIFE Hardside Luggage Set is a wonderful example of the joyful solution that luggage sets offer to your storage constraints presented by bulky luggage.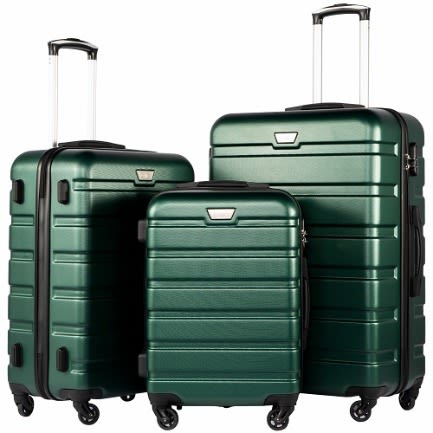 Photo by Coolife.
Other features of this fantastic set of cases include:
100% Lightweight yet extremely durable ABS material.
Spinner wheels, multidirectional smooth and silent 360°wheels.
TSA-Accepted Lock for security and peace of mind.
Sturdy ergonomic aluminum telescoping handle.
Interior mesh zip pocket and elastic squared full-capacity design.
Two-year warranty
As a small island nation, Taiwan is the ideal destination with a family trip for all ages. Tourists are often impressed by how clean this tiny country is whilst they can also enjoy excellent services and transport routes in the city. For a refreshing day trip to escape the busy streets we recommend you visit Shifen waterfall on the upper stretch of the Keelung River. Winning a title as the widest waterfall in the country, this stunning attraction is one of many reasons to visit beautiful Taiwan.
DELSEY HELIUM AERO: DELSEY PARIS HELIUM AERO HARDSIDE EXPANDABLE LUGGAGE
Cost: $106.20 (as of 09/13/2020 20:51 EST- Details*)
We couldn't take our eyes off this Delsey Paris Helium Aero Hardside Expandable Luggage. We were consistently wowed by how well this hard shell suitcase survived journeys as recorded by happy customers. This is thanks to the scratch-resistant, twill texture with deep metallic finish for style.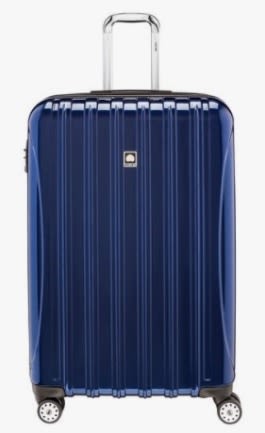 Photo by Pinterest.
Additional features of this sophisticated travel companion include:
Lightweight and durable design made of 100% Polycarbonate with a deep metallic finish.
The double spinner wheels assure exceptional maneuverability.
This suitcase expands up to 2 inches for additional packing space.
TSA-accepted lock allows only TSA agents to open and inspect your bag.
Four twin spinner wheels assuring multi-directional rolling and optional stability with zero weight on your hand
The overall dimensions are 32 x 20.5 x 12.75 inches
Weight 12.5 lbs
Two large fully-lined compartments with multiple pockets allow easy access and organization for all of your items. Web straps and a zippered divider secure clothing and help minimize wrinkles.Packing compartment in the lid comes with zippered divider to provide extra space for organizing.
Recessed "one-button" locking handle system with industrial grade aluminum tubes and molded ergonomic comfort grip handle.
The Delsey Paris Helium Aero Hardside Expandable Luggage is the ideal companion for your next vacation to the magical emerald island. You can soak up the cosmopolitan atmosphere in the capital city of Ireland and dance until midnight in Temple Bar to the merry sound of traditional irish music played by fiddlers and drummers. Clear your head the next day with a trip to the Guinness factory for a pint of the black stuff. You'll be cured with fish and trips straight from Dublin Bay and eaten on the bridge looking over the city.
Conclusion
After checking out the dimensions and sussing out the shades of hundreds of different hard shell luggage options from producers around the world, we are pleased to present our winner of this popular list as the Delsey Paris Helium Aero Hardside Expandable Luggage. We loved the unique texture that disguises marks and scuffs that are often unavoidably caused by airport transit employees. The consistently high standard of this brand's range of products is validated by proud owners who review this with such praise that you know you can buy with confidence for your next trip. Plus you know that the advantage of this expandable case is that there'll never be a row over how many shirts and shoes you get to bring.
As an online visa processing company, iVisa is passionate about making it easier for you to take the much dreamed about vacation to the place you've always wanted to visit. The handy website combines reliable and updated information for travellers of every nationality. With tools such as the online visa checker and easy to understand forms, iVisa makes the application process as simple and clear as possible. That's why we're dedicated to finding the perfect luggage for your next vacation to make your experience comfortable, convenient, and enjoyable.
Bon Voyage on your next trip!
* Product prices and availability are accurate as of the date/time indicated and are subject to change. Any price and availability information displayed on the linked site at the time of purchase will apply to the purchase of this product.