Hardside luggage is a great choice for trips where you want a little extra protection for your things. Whether it's the rain of London or the crowds and traffic of a city like New York or Delhi, hard case luggage can give you convenience and peace of mind. Moreover, the hard exterior offers protection for fragile items and is an extra deterrent to theft, as softer materials that are easier to cut through are more likely to be targeted. On top of all that, hard case luggage can be easy to clean. Usually, you just have to wipe down the surface.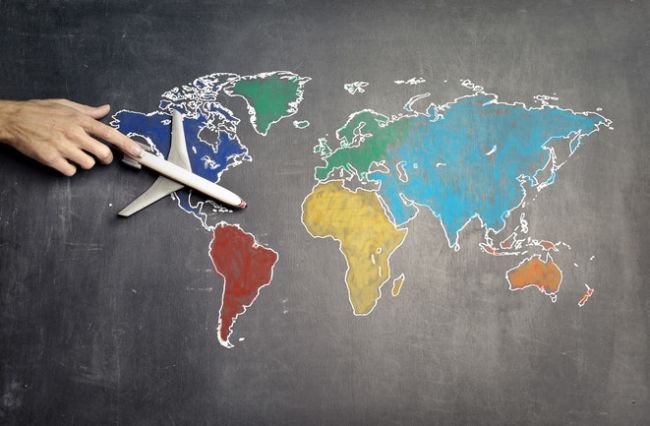 After sorting through hundreds of online reviews, we selected our top picks of hardside luggage, ranging from budget to more expensive models. We also include an 80/20 style of luggage (the lid opens from the top rather than down the middle), our favorite Samsonite hardside luggage, and a luggage set. Save yourself time from scrolling through e-commerce sites and use this handy guide to find the right hardside luggage for you.
HIGH-END OPTION: CHESTER MINIMA CARRY-ON LUGGAGE
Cost: $175.00 for carry-on size (as of 08/06/2020 13:41 EST- Details*)
Our number one pick is the Chester Minima Carry-on Luggage, which also comes in medium and large sizes. Weighing in at only seven pounds, it is both durable and ultralight, and is available in seven colors.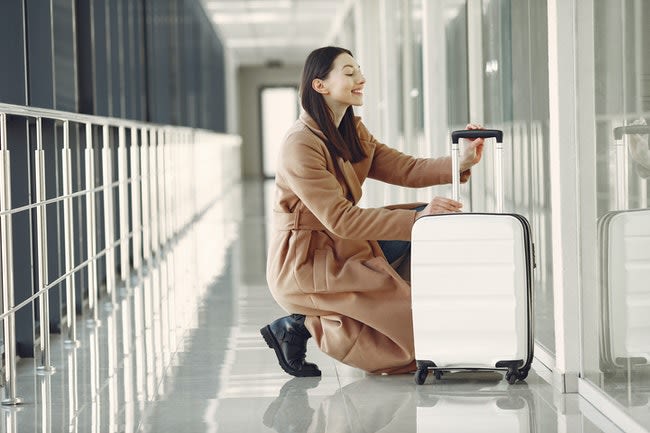 Reference image.
Made of lightweight polycarbonate material, this luggage features:
A spacious 38 liters of room
TSA-approved combination code lock
Ten-year limited warranty
Two compartments and three interior organizers to store smaller items
A removable nylon laundry bag
4 silent, multi-directional wheels
100% aluminum telescoping ergonomic handle with two lock positions
Top and side easy-grab handles
Ten-year limited warranty
The Chester carry-on would be perfect for a week-long trip to London. Despite its small size, it can hold three to five outfits comfortably. You don't have to fear getting your clothes or souvenirs wet thanks to the waterproof exterior. So the drizzly London weather won't affect your travel plans. Thanks to the sleek, sophisticated design of this suitcase, you'll fit right in with the elegant Londoners as you make your way through the city to your accommodation. Or maybe you'll stop for a bite to eat or drink at one of the city's many pubs. Either way, you can rest easy and travel in style.
ON A BUDGET OPTION: COOLIFE CARRY-ON SUITCASE
Cost: $59.99 (as of 08/06/2020 13:41 EST- Details*)
This Coolife carry-on suitcase is a less expensive but still sturdy option for hardside luggage. In addition to the carry-on size, it can be purchased in medium (24 inches) and large sizes (28 inches) in four different colors. Be aware that only the large size features an expandable compartment that offers 15% more space.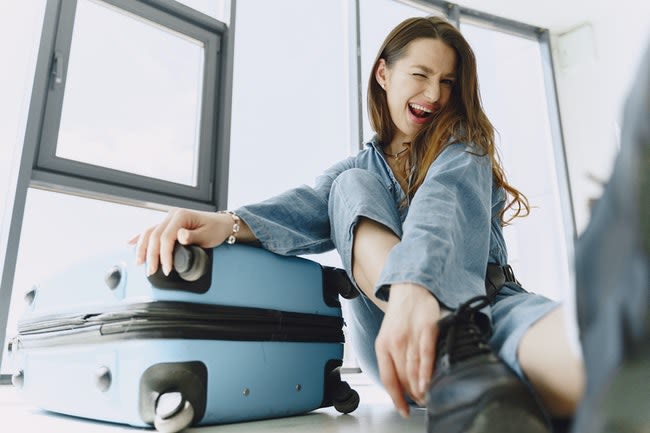 Reference image.
At 6.38 pounds and made of hard plastic, this suitcase features:
A 2-year warranty
A TSA-approved lock
Mesh pockets for organization
Quiet airplane spinner wheels
An adjustable 3-level aluminum telescoping handle
BEST HARDSIDE LUGGAGE SET: COOLIFE EXPANDABLE SUITCASE 3 PIECE SET
Cost: $139.99 - $149.99 (as of 08/06/2020 13:41 EST- Details*)
If you're looking to invest in a hardside luggage set, look no further than the Coolife Expandable Suitcase 3 Piece Set. Like the Coolife model mentioned above, only the 28-inch size suitcase is expandable in this set of three.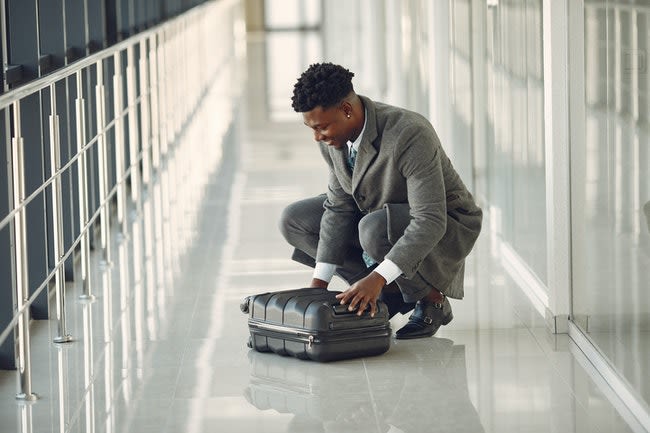 Reference image.
Made of extra strong ABS material, this luggage set features:
A TSA safety lock
360-degree multi-directional spinner wheels
An adjustable push-button locking handle
Interior straps and a zippered divider for organization
2-year Warranty.
This luggage set offers plenty of storage for a family trip to New York City. The Big Apple is all about hustle and bustle, and these suitcases offer you and your possessions the protection you want while making your way through the big city. Take a stroll through Central Park, see a show on Broadway, and visit the Statue of Liberty. Then, stop for a bite to eat at a bagel shop, a deli, or one of the city's many five star restaurants. Don't forget to grab a few souvenirs, and bring them back safely with you in your hard case luggage.
BEST HARDSIDE LUGGAGE WITH LID OPENING (80/20 HARDSIDE LUGGAGE): BRIGGS & RILEY TORQ-HARDSIDE CARRY-ON SPINNER LUGGAGE
Cost: $321.75 (as of 08/06/2020 13:41 EST- Details*)
While most hardside luggage opens down the middle, 80/20 models zip open from the top, like a lid. This can be handy, since unzipping a suitcase from the middle means your things are likely to spill out if you need to grab something on the fly. Our favorite 80/20 luggage is the Briggs & Riley Torq-Hardside Carry-On.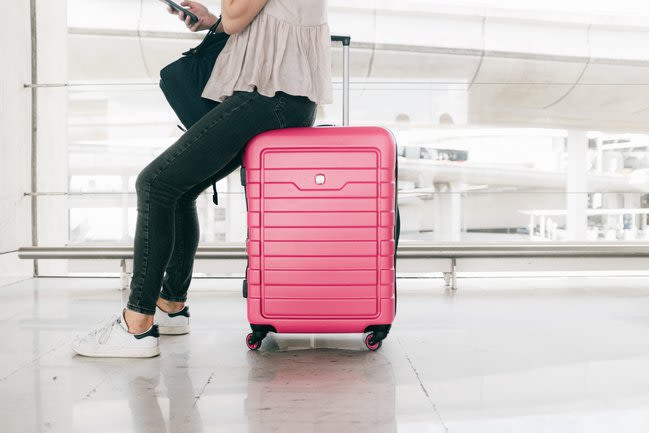 Reference image.
Weighing in at just under eight pounds, this carry-on features:
A high strength Makrolon Virgin Polycarbonate hard case shell
Easy rolling dual wheels
Scratch-resistant textured case
Zippered interior pocket and straps for organization
80/20 lid opening
This suitcase offers you protection and sleek style for a trip to San Francisco. Wildlife, food, arts, nature, the beach—San Francisco has something for everyone. Head to the coast for a whale-watching tour or a cruise to nearby Alcatraz Island, site of a former federal prison. You could also take a hike in one of the city's many parks, or enjoy some authentic Asian food in Chinatown. Whichever adventure you choose, you can rely on the Briggs & Riley suitcase to keep your belongings safe.
BEST BUDGET HARD SIDE LUGGAGE
Cost: $29.57 - $61.58 (depending on color) (as of 08/06/2020 13:41 EST- Details*)
Looking for a budget hardside luggage? Our favorite is the Hardshell Spinner Suitcase Luggage by a generic e-commerce brand.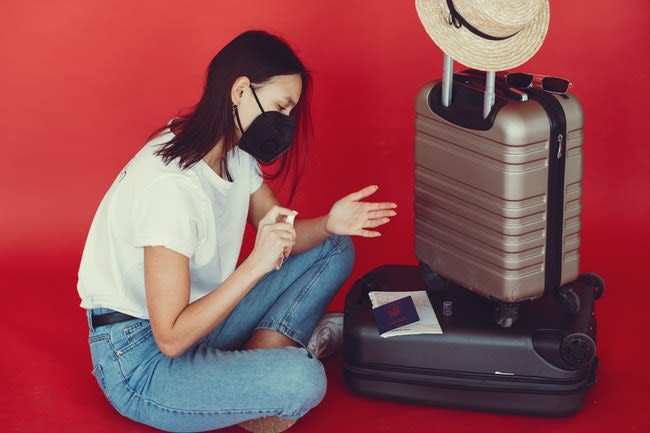 Reference image.
At just under seven pounds, this carry-on size suitcase features:
40 liters of space.
Multiple compartments with straps and zippers
360-degree dual spinner wheels for easy mobility
Adjustable, telescopic handle
Recessed TSA lock for security
This suitcase could accompany you on a trip to Rio de Janeiro, the huge seaside city in Brazil. Every year around February, the streets come alive for the Carnival celebration, with parade floats, flamboyant costumes, and samba dancers. Although you will want to leave your suitcase in your hotel room to take part in the fun, you don't need to worry about damaging your things when you wheel down the street with this piece of luggage. While in Rio, be sure to check out the gorgeous beaches and the 38 meter tall Christ the Redeemer statue on Mount Corcovado.
SAMSONITE HARDSIDE LUGGAGE: SAMSONITE OMNI PC HARDSIDE LUGGAGE (28")
Cost: $99.99 (medium size) (as of 08/06/2020 13:41 EST- Details*)
The Samsonite Omni PC Hardside Luggage is our favorite model of Samsonite hardside luggage.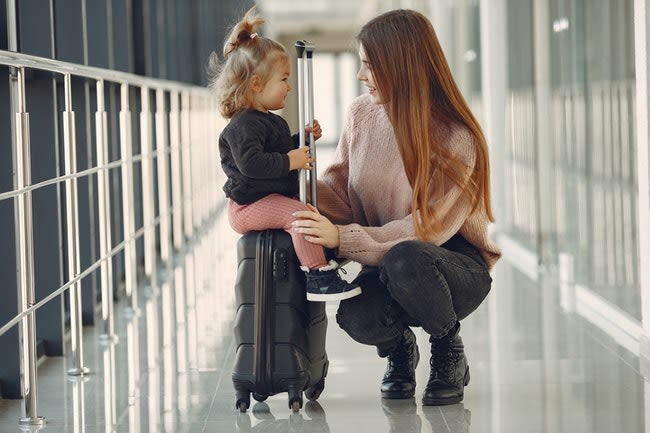 Reference image.
Equipped with a scratch-resistant micro-diamond polycarbonate texture, the suitcase features:
Spinner wheels
Push-lock handle
A side-mounted TSA locks
An extension for extra space
A ten-year warranty for this suitcase.
This suitcase is durable enough for a holiday in Delhi, the most visited city in India. Depending on the length of your stay, you could choose the carry-on, medium or large size. As Delhi's streets are often crowded with people, vehicles, and animals, having a hardside suitcase offers protection against any bumps or scratches your luggage might receive during your journey. That includes train rides in India, where workers might not always be the most careful handling your luggage. The lock and hard exterior will also discourage theft. While in Delhi, be sure to check out the amazing mosques, forts, and monuments of India's capital city. If you're feeling adventurous, head to Chandni Chowk, the crowded main street of Old Delhi and home to one of the oldest and busiest markets in India. You can find inexpensive jewelry, fabrics, and electronics, as well as Delhi's street food.
Conclusion
When you're traveling, the last thing you want to worry about is your luggage getting damaged. Hardside luggage removes that worry, as the tough exterior protects your things from dirt, damage, and water. Due to its durability, light weight, and sleek appearance, The Chester Minima Carry-on Luggage is our number-one pick for hardside luggage.
At iVisa.com, making travel faster and more convenient is our passion. We designed our site to make visa application painless and free of the hassles of government bureaucracy or trips to the embassy. We are delighted to help you continue making travel fast, easy, and convenient with our travel product guides. By bringing you the very best travel products that the online marketplace has to offer, our handy guides save you time and energy. This way, you can be confident that you have the right gear you need to make it a great trip.
Bon Voyage on your next journey!
* Product prices and availability are accurate as of the date/time indicated and are subject to change. Any price and availability information displayed on the linked site at the time of purchase will apply to the purchase of this product.