There's nothing better than spending the weekend in the mountains, breathing in the fresh air, listening to the sounds of birds and rustling leaves as well as stretching your legs and taking a well-deserved hike to shake the cobwebs out of your system. Getting away from the city also means escaping the crowds, the noise, the pollution, and the relentless pinging of your cell phone's inbox. The best hikes take us so far from the city that the internet doesn't quite arrive there and without our gadgets distracting us from swiping and scrolling we can truly enjoy nature.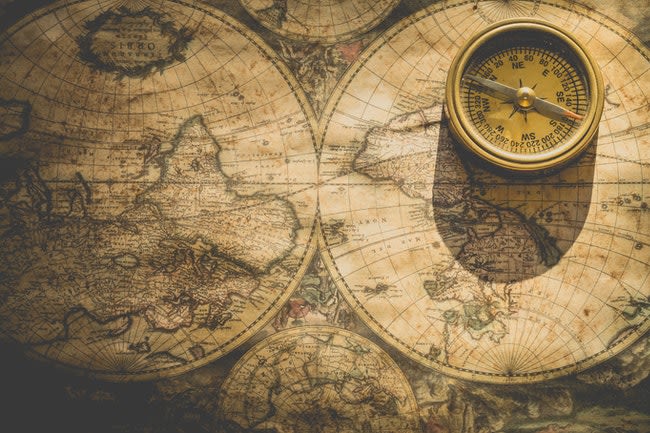 Of course, setting off on a long walk without a phone signal or internet connection can be scary if you're accustomed to using an App to find your way around. That's why serious hikers know the importance of having both a compass and a map. The compass offers a wireless solution without a satellite link-up thanks to a magnetized needle that can point the reader in the right direction.
We've combed through hundreds of different compass brands and styles available on the online marketplace to find the best products on the market to get you striding towards the summit in no time. We took the time to read mountains of reviews from the top of the range products to budget bargain busters that do the job for less and everything in between. We're certain that within this list you'll find the perfect compass for your next trip or the ideal gift for the outdoorsy type in your life.
HIGH-END OPTION: SUUNTO MC2G NAVIGATOR COMPASS
Cost: $79.95 (as of 08/03/2020 10:41 EST- Details*)
Whether you're a seasoned walker or a newbie setting out to conquer your first mountain, the top of the range Suunto MC2G Navigator Compass is the perfect addition to your kit. This product's easy to use dial is convenient and makes reading the compass a simple task. The global needle helps to ensure precision and the lightweight body means you don't feel weighed down.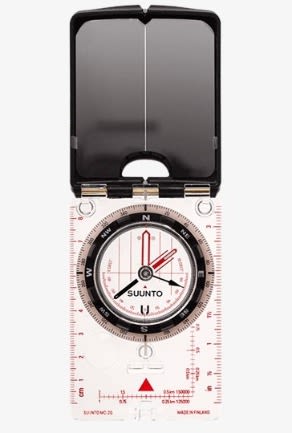 Photo by Suunto.
Other features of this amazing compass include:
Globally balanced needle with jewel bearing
Sighting tools for accurate direction taking Adjustable Declination correction
Fast globally balanced needle with jewel bearing, 20 degrees tilt margin for easier readings
Adjustable declination correction
Weighs 75 g
Measures 2.56 inches x 3.98 inches x 0.71 inches
Additional sighting hole and magnifying glass
Made from lightweight plastic material
The Peruvian Inca trails lead hikers to the mountain top homes of ancient civilizations. Although many people visit this popular destination every year, many choose the easy option by taking a one day trip right to the top. Hardcore hikers however will prefer to take the multi-day trek through the jungle, stopping to catch a glimpse of colorful and exotic birds and soaking up the majestic views.
ON A BUDGET OPTION: TURN ON SPORT COMPASS
Cost: $12.67 (as of 08/03/2020 10:41 EST- Details*)
Our budget option, which doesn't break the bank at a reasonable price of $12.67 is from Turn on Sport. This compass offers the convenience of a mirror to ensure that you don't miss a step on your journey as well as a handy black cover that snaps closed to protect the inner mechanisms. The maker doesn't skimp on quality either as multiple reviewers confirmed their purchase was still working after multiple uses.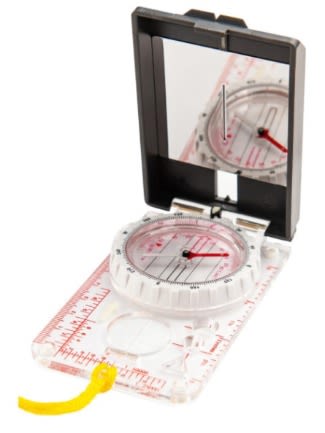 Photo by TurnOnSport.
Other features of this compass include:
Mirror sighting
Global needle
Adjustable declination - cm on one side and inch on the other - 1:25000 and 1:50000 scales.
Sighting lines, lens, and compass dial align nicely for line of sight navigation.
If you're a beginner to the trails then make your first hike an unforgettable one by pounding the pavement to the Hollywood sign. This walk won't leave you feeling lost and confused as the route is clear to the most famous viewpoint in Los Angeles. You don't need to leave the city far behind to reach the summit on this hike and if your travel buddies aren't keen then there's plenty for them to see and do whether its a movie set tour at Warner Brother studios or a shopping spree in Beverly Hills.
BEST SILVA COMPASS: SILVA RANGER 2.0 COMPASS
Cost: $49.49 (as of 08/03/2020 10:41 EST- Details*)
The team at Swedish company Silva has a world of experience of producing directional equipment including altimeters for aircraft. We loved the sleek, sophisticated style of this compass which also includes a detachable soft lanyard so you can keep it handy to check your map frequently as well as a magnifying glass for ease of reading.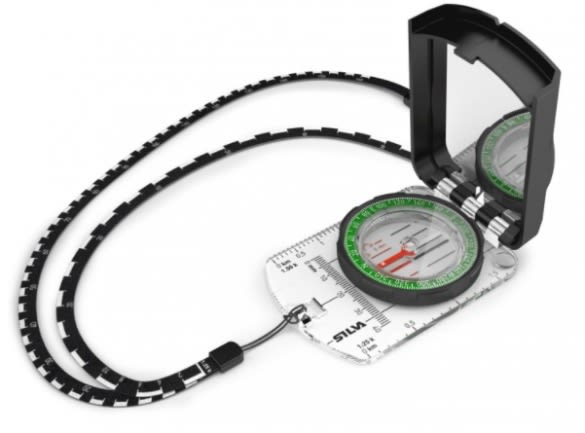 Photo by Silva.
Other features include:
A sighting mirror so you can stay on track.
Turnable housing for use with the SILVA 1-2-3 System Mirror sighting with sighting hole for determining direction over long distances
Luminous markings enable night time navigation up to 4 hours once activated by daylight/
Withstands tough treatment and conditions
Magnifying lens for precision map work
Item Weight: 4.8 ounces
As a professional compass, the Silva is best when it's being used to its potential in the highest peaks. Climbers and hikers don't hesitate to push their limits and this compass will be with you all the way. The Himalayas in India is home to Mount Everest, the highest peak in the world. If you've been training for this moment and are ready to test yourself with the best, iVisa can help you with the entry requirements to India on our easy to use website, making your travel plans the last thing you need to worry about.
COMPASS TO BUY: BIJIA MULTIFUNCTIONAL SIGHTING COMPASS
Cost: $19.59 (as of 08/03/2020 10:41 EST- Details*)
Hikers are not the only people who need a compass to find their way home. This Bijia multifunctional compass is also the perfect accessory for fishermen who seek safe harbour in a storm thanks to its robust casing suitable for all kinds of extreme conditions. The built-in bubble level can improve accuracy ensuring you won't find yourself on a cliff edge when you least expect it and the dial is sensitive to guarantee that navigation is a breeze with the most precise readings.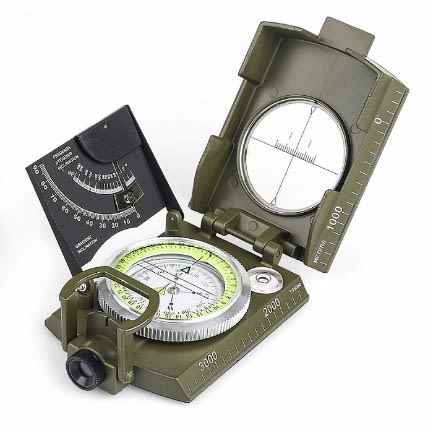 Photo by Desert Cart.
Other features include:
This compass is made of high strength, sturdy and durable engineering metal with IP 54 waterproof grade and solid metal construction
Conversion chart for angle, gradient & distance on the backplate
Ruler units on the sides measuring inches & centimeters
Vertical Lubber line of the sighting optic improves its accuracy and decreases its errors.
Includes a clinometer to help you assess avalanche hazards. Field scientists and search-and-rescue professionals also like to have a clinometer.
Luminous magnet arrow and compass card allows you to read data in a dark environment after absorbing enough sunshine. Lights up the dial in the dark for data reading.
Includes compass, carry pouch, neck lanyard, English manual, and cleaning cloth
Lifetime warranty service and 60 days money-back guarantee.
The clinometer feature of the Bijia compass provides its user with a sense of security by providing a clear assessment of potential avalanche scenarios. There's no need to put this to the test as such, however, it certainly adds value to a gadget to know that it could save your life. We don't recommend you put it to the test unnecessarily so why not take a walking trip in the Swiss Alps during the summer months, when the ski lifts no longer sag with the weight of heavy passengers with helmets and poles. You can enjoy the beautiful scenery below the melted snow and ice and with this compass, there's no chance you'll find yourself lost.
BEST SUUNTO OPTION: SUUNTO A-10 COMPASS
Cost: $25.95 (as of 08/03/2020 10:41 EST- Details*)
This Suunto compass with its rugged design is our top contender from this popular brand. Suunto is recognized by walkers around the world for its sturdy and durable materials that won't let you down when you're battling extreme outdoor conditions. This compass ticks all the boxes in terms of style and functionality. We were most impressed by the added feature which makes it easier for you to correct the declination of the compass. This ensures that any difference between north on a map and north on your compass can be adjusted by degrees.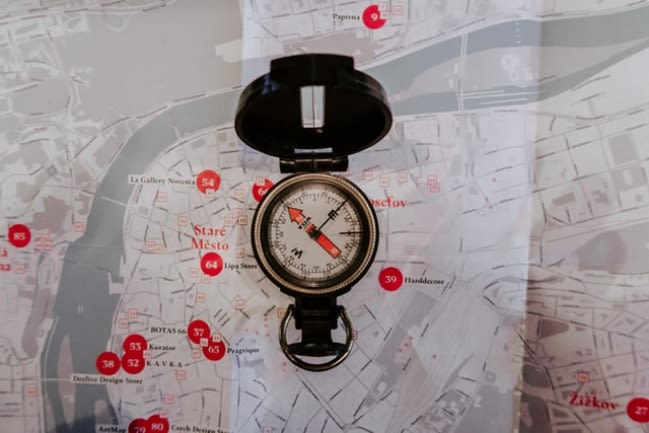 Reference image.
Other features include:
Mirror for accurate Direction taking and signaling
Floating, ergonomic multi-purpose mirror compass
Sighting hole and notch for accurate bearings
High-grade steel needle with jewel bearing
Detachable snap-lock lanyard with whistle
Item Weighs 2.2 pounds
Measurements 2.2 inches x 2.68 inches x 0.71 inches
It's no surprise that Finland produces some of the top hiking goods in the world, because as a nation the Finnish love to escape the city and enjoy the beautiful landscapes of the countryside. It's a hikers paradise with more than 40 national parks and with thousands of kilometers to explore you can easily lose yourself amidst pine trees. Finland is the perfect family destination too, with Lapland on your doorstep making it ideal for a winter wonderland getaway. So why not consider this gem on the Scandanavian peninsula for your next getaway in the great outdoors.
Conclusion
After hours of scrolling through compasses of all shapes and sizes as well as intense scrutiny of reviews and buyer experiences, we've decided that the Suunto MC-2G our number one pick above all other compasses on the market. The reason is simple- we need a product that is trustworthy and reliable that can be counted on to lead its user in the right direction. Time and time again, Suunto has proven their expertise so what are you waiting for? Get on out there and lose yourself in nature's playground. Just remember to bring your map and compass.
As an online visa processing company, iVisa is dedicated to making it easier for you to see the places you've always wanted to visit. The website combines reliable and updated information for travelers from every nationality. With handy tools such as the online visa checker and easy to understand forms, iVisa makes the application process as simple and clear as possible. That's why we're thrilled to help you find the ideal accessories for your next hiking trip to make your experience comfortable, convenient, and enjoyable.
Bon Voyage on your next journey!
* Product prices and availability are accurate as of the date/time indicated and are subject to change. Any price and availability information displayed on the linked site at the time of purchase will apply to the purchase of this product.