Laser tag is a shooting sport where participants use infrared light guns to tag their targets. Everybody wears sensitive signal devices to register hits. The best part of this sport or recreational activity is that even kids can play, so it's ideal for the entire family since there's no real danger of harm, like when playing paintball.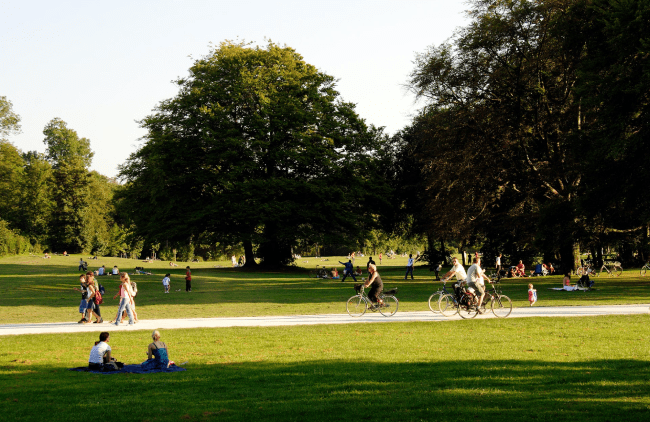 There are a lot of laser tag fields where you can go if you're looking for a more "combat style" kind of environment, but you can actually play in your garden, a park or wherever there's space enough for you to run around, hide and have an awesome time. There are also different gear, so we've created a list of the best laser tag sets online. Let's have some fun!
HIGH-END OPTION: ARMOGEAR MULTI-PLAYER LASER TAG SET
Cost: $199.99 (as of 08/07/2020 15:21 EST- Details*)
ArmoGear has developed a laser tag set that presents high-tech target vests and a patented stealth mode.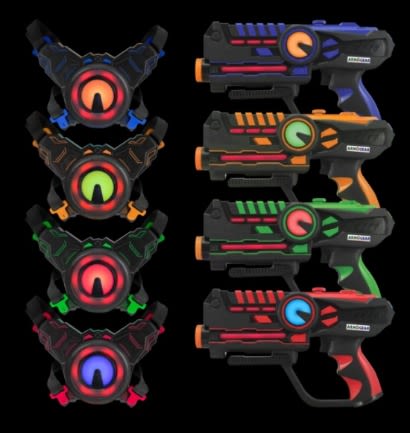 Photo by ArmoGear.
Performing within a wide range of 150ft, the set features:
Target vests
Invisibility mode
Night vision flashlight
Voice-guided directions
150 Ft shooting range
Up to 4 teams can play
Power options: pistol, shotgun, machine gun, and rocket
Laser blasters are designed with a solid grip in your hand
100% SAFE, using child safety infrared signal emission - 0.9mw.
Immersive gameplay feeling thanks to tactile vibrations and lifelike shooting sounds
Each blaster and each vest uses 3 AAA batteries for a total of 24 batteries for the whole set
Full money-back guarantee
Get them as a gift for a friend, family, or for yourself, and you'll be bringing a lot of joy to everybody. People can't resist the fun this set offer, so adults and kids will be playing together for hours.
ON A BUDGET OPTION: KIDZLANE LASER TAG GUNS SET FOR 4 PLAYERS
Cost: $59.99 (as of 08/07/2020 15:21 EST- Details*)
This set is simpler to use since the guns have a built-in receiver, making them a 2-in-1 gun set. You can still pick between 4 different modes and the set comes with four guns changing into 4 colors blue, red, green, and white to select the teams.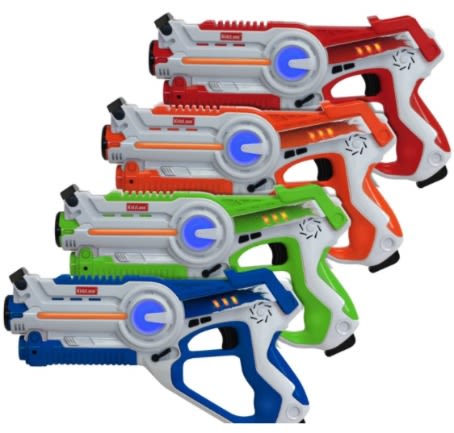 Photo by KidzLazane.
This Kidzlane laser tag guns set of 4 offers:
4-team color selection: green, red, blue or white
4 Gun Settings: pistol, shotgun, submachine gun and rocket
Lights up and vibrate when shooting or hit
130ft striking distance
Each gun mode comes with a different range of life bars
Child Safety Infrared Signal Emission that is less than 1mW
This set uses 4AA batteries on each blaster, and according to some reviews, the battery last quite longer than expected, but since this depend on how often you use the set and the quality of the battery, it would be perfect if you get rechargeable ones and save yourself some money buying packages of batteries for years.
LASER TAG GUNS: PLAY22 LASER TAG SETS
Cost: $85.99 (as of 08/07/2020 15:21 EST- Details*)
Made with non-toxic ABS plastic and a safe infrared signal emission 100% safe by all USA regulations, Play22 provides a safe toy for kids to play and have a great time around the house.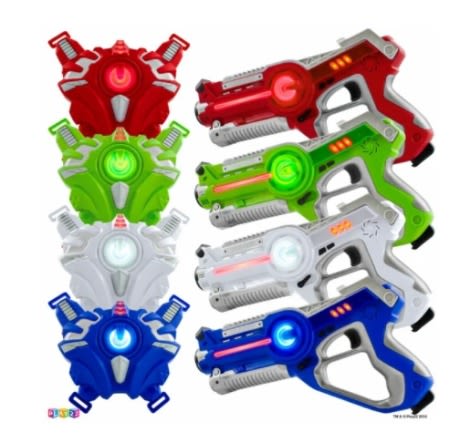 Photo by Play22.
The set, that includes 4 vests and 4 guns, also comes with:
4 color of lights indicating teams: blue, red, green, white
4 Gun Types: Pistol: With 12 Bullets, Shotgun: with 6 bullets, Machine gun: with 6 bullets, and Rocket launcher: with 1 missile
Realistic vibrations every time you hit or get hit
Strikes distance of approximately 130 Feet
Requires 28 AA batteries (Not included)
You can add multiple players by purchasing another set
Each gun type has a certain amount of bullets to reduce points. For the Pistol, there are 12 bullets that reduce 1-point life value if hit. The shotgun comes with 6 bullets, reducing 2 point-life value. Machine gun reduces 2-point life with its 6 bullets, and the Rocket launcher, with just 1 missile, reduces 3 points. Join your kids, or have your own only adult's battle, either way you'll have an incredible time laughing, hiding, and running.
ARMOGEAR LASER TAG: ARMOGEAR INFRARED LASER TAG GUNS AND VESTS SET OF 2- INFRARED 0.9MW
Cost: $64.99 (as of 08/07/2020 15:21 EST- Details*)
Armorgear makes it back on the list, this time with a set of two, which you can get as an addition to a previous set of 4 if you want to add more players to your game, or just have it as a one set only.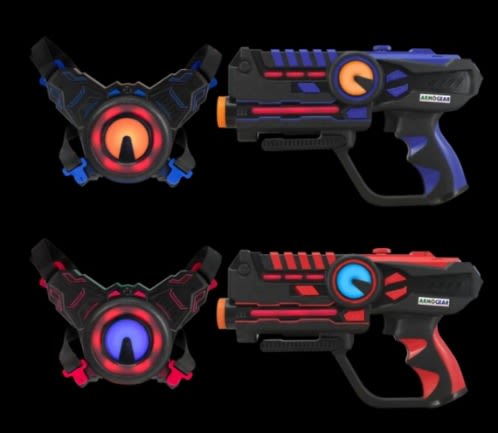 Photo by ArmoGear.
Just as the set of 4, this set includes the same cool functions, but we'll explain more about them in this opportunity:
Guns can also act as receivers, meaning that you can play without the vests
You can turn off your light to hide your location with the invisible mode
Night vision flashlight helps you find your opponent in the dark
Voice-guided directions to lead you through the game
150ft shooting range indoors and outdoors
Each gun and vest uses 3 AAA batteries, for a total of 12 AAA batteries this set
This will be the perfect addition to extend a set of 4 and increase the fun for everybody in the family. Remember to get rechargeable batteries, since chances are, you won't stop playing!
PROFESSIONAL LASER TAG GUNS: SQUAD HERO RECHARGEABLE LASER TAG SET - PACK OF 4 INFRARED GUNS & VESTS
Cost: $149.99 (as of 08/07/2020 15:21 EST- Details*)
These professional laser tag guns are for sure the best laser tag sets here and you'll see why. It has a couple of high-tech functions that make it outstand, for example the set is rechargeable! It comes with a charging station so you can stop buying batteries for good. The greatest thing about being rechargeable? On one full charge, you can play about 8 games of 30 minutes each.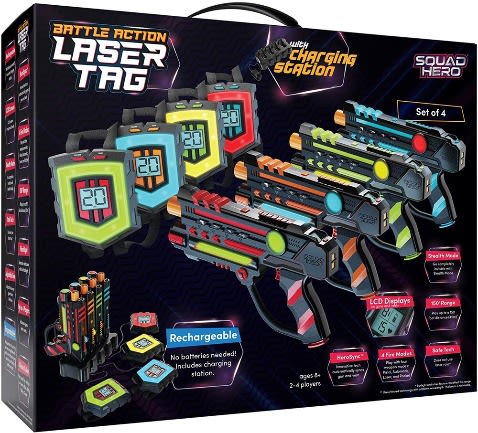 Photo by Squad Hero.
The blasters also come with a flashlight so you can see in the dark, plus other features like:
Includes: 4 guns, 4 vests, and one charging station
4 team colors: Blue, green, red, yellow
The guns and vests are fully rechargeable
The charging station charges all the gear at once
You can play approximately 8 games per full charge
HEROSYNC and LCD HUD technologies
Your guns and vests pair together
Lives and team data are automatically synced
LCDs on the vests and guns allow you to check your status
4 weapon modes: Pistol, Automatic, Laser, and Rocket)
Adjustable lives-per-game setting
Stealth Mode
150ft (45m) reach
Child-safe infrared emission
All Squad Hero Laser Tag sets are compatible, so you can add unlimited guns and vests
This set really have some great features that will make you want to roll, hide, run and take aim for hours.
Conclusion
This time the list includes products made to enjoy for the whole family or a big group of friends. There's no age limit to have a wonderful time and feel like a kid again, so not only this list was created for you to find the best gift for the children in your family, but also for you to remember those great moments of laughter, freedom and fun. We hope that with this list of best laser tag sets online, you can get back in touch with your inner child and play for hours running around the house, garden, or a park.
For iVisa is a pleasure to help you get all the documents needed for a visa to another country, as well as providing you with a list of items you can find on e-commerce retail sites that will be a great addition to your trips.
Have a lovely voyage!
* Product prices and availability are accurate as of the date/time indicated and are subject to change. Any price and availability information displayed on the linked site at the time of purchase will apply to the purchase of this product.