If you're an adrenaline junky and being in the snow is one of your favorite ways to get that exciting feeling of adventure, then you know how important is to have the right gear to protect you out there in the cold. This is why we made a list of the best mittens available on the online marketplace for snow, focusing on the best for skiing, snowboard, and winter.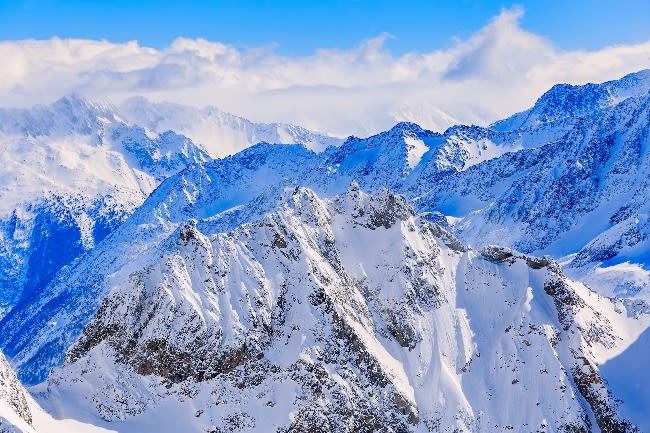 Do you already have a vacation planned, a skiing/snowboarding trip or you just want to be ready for whenever the adventure knocks on your door? We might suggest a couple of places along with the list where you can show off your awesome new mittens.
HIGH-END OPTION: SAVIOR HEATED MITTENS FOR MEN WOMEN, BATTERY HEATED GLOVES, HEATED SKI GLOVES
Cost: $103.99 (as of 07/14/2020 14:36 EST- Details*)
Made with genuine leather and available in three different colors (Orange, Grey, and Green), these mittens were designed to keep your hands warm and cozy during any outdoorsy activity in the cold like hiking, skiing, riding snowmobiles and more.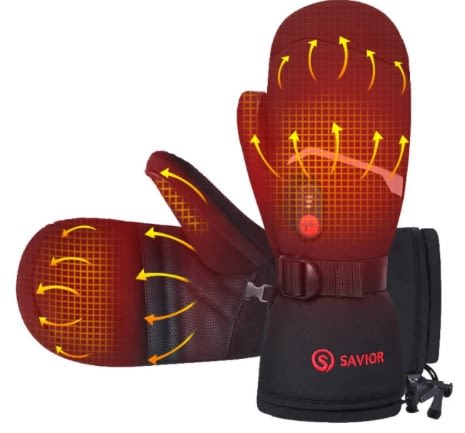 Photo by Savior.
Keeping you warm even under sub-zero areas, the gloves also provide:
Battery operated heating
Made with water-resistant and windproof lambskin leather
Adjustable waist belt
The gloves come with a split-finger design
ON/OFF button on the back of the mittens
A pair of rechargeable lithium batteries
3 temperature levels
Instant heating in 30 seconds
The gloves use far infrared heating elements
One year quality assurance
With a pair of rechargeable lithium batteries that can be fully charged in 2-3 hours, your hands can stay warm for up to 5 hours depending on the temperature. When using the gloves at high temperature (140-150°F) the battery will last between 2-2.5H, if you're using it at the middle (122-131°F) then it will last 3-4H, and if you're getting heated up at low (100-113°F) then the battery will last 4-5H.
To ensure a long-lasting warming effect for outdoor use, adjust to high setting for the first 20 min and then switch to medium.
Another benefit about these mittens is that they use far-infrared heating elements which is good for blood circulation, and it's also especially helpful for people who suffer from Raynaud's, arthritis, or stiff joints.
Perfect snow gloves to keep your whole hands warm while biking, running, fishing, and skiing, as well as camping, hiking, snow plowing, and walking in cold weather.
ON A BUDGET OPTION: TERRA HIKER KID'S SKI MITTENS, WATER-RESISTANT AND WINDPROOF GLOVES, BREATHABLE RIPSTOP FABRIC FOR BOYS, GIRLS IN COLD WEATHER, SUITABLE FOR CHILDREN AGED 2-6 (S), 7-11(M)
Cost: $6.99 (as of 07/14/2020 14:36 EST- Details*)
Thinking about the kids, we've included on the list the Terra Hiker Kid's Ski Mittens, available in sizes S and M for children between 2-11 years of age. The gloves come packed with a bunch of qualities to keep your children protected while they're playing outside on a frosty morning.
Photo by Tough Outfitters.
Besides being water-resistant and windproof, the gloves also feature:
A polyester double strand with waterproof treatment
Anti-slip and waterproof PU leather is used for the palm area
Reflective strip
Adjustable size with the Velcro fastener and elastic wrist
Windproof cuff
Anti-lost buckle
Ideal for skiing, snowboarding, cycling, snow shoveling, snowmobile, hockey, boating, sledding, hiking, or simply playing in the snow building snowmen and throwing snowballs, these gloves will keep your kid's hands so warm and dry that they might even get a bit sweaty.
BEST MITTENS FOR SKIING: RUGGED WATERPROOF WINTER MITTENS | EXTRA LONG GAUNTLETS | SNOWBOARD, SKI, ICE FISHING, MITTENS | MEDIUM WEIGHT
Cost: $26.95 (as of 07/14/2020 14:36 EST- Details*)
Featuring an extra-long cuff, snow will stay away from you no matter what, allowing you to focus on skiing and enjoying your time out there, instead of removing the snow from your arm and hands.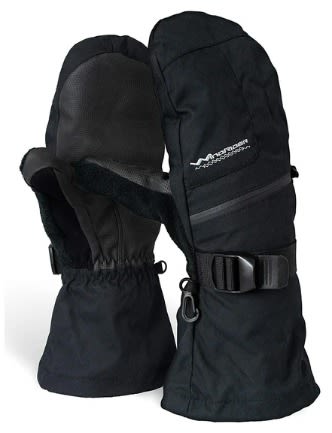 Photo by WindRider.
Besides the long cuffs with closure or the nose wipe strip on the gloves, the also deliver:
Waterproof coating and a liner on the outside to keep you dry
Backside pocket for your credit card, a hand warmer or your key
Water-resistant zipper
5 Layer insulation
Terry cloth wipe on the thumb for the nose (or goggles)
The waterproof coating and a liner on the outside make this the best mittens for skiing, keeping your hands dry even if you stick them in a lake, so fishing can also be one of the many activities you can do using these gloves. Speaking of fishing now… Have you ever thought about ice fishing in Lake Simcoe, Ontario? This place is where more people go fishing in winter, although is not the only place in Ontario perfect for this activity. Lake Nipissing is another large lake in Ontario where you can rent an ice bungalow with bunk beds, propane furnaces, and a 24- heated, lit bathroom.
On the other hand, Saskatchewan has Last Mountain Lake, which is one of the best fishing lakes in western Canada and where you can get walleye, whitefish, yellow perch, northern pike, and others. Quebec, Alberta, Manitoba, and Yukon are also incredible places for fishing in Canada.
BEST MITTENS FOR SNOWBOARDING: ANDORRA WOMEN'S TOUCHSCREEN SKI AND SNOWBOARDING MITTEN WITH DIAGONAL ZIPPERED
Cost: currently unavailable (as of 07/14/2020 14:36 EST- Details*)
Listed as the best mittens for snowboarding, these mittens are made in Polyester and Olefin, featuring a waterproof exterior, PU leather in the palm, 3M Thinsulate insert, and scratch-free wipers on the thumbs for google/lens.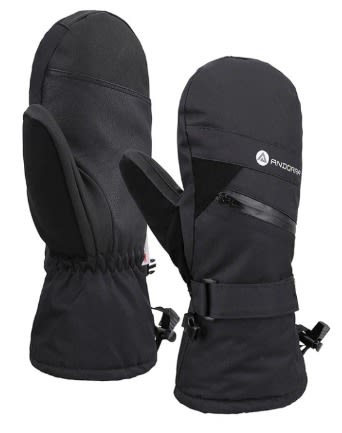 Photo by Andorra.
Available in sizes S/M and M/L, plus 5 different finish colors, the gloves also present:
Non-slip grip material
Zippered pockets
100g Lining
Elastic under the wrist and adjustable heavy-duty straps
The pocket in the mittens will allow you to carry cash, cards, keys or tickets to have what you need literally handy when you're having a great time snowboarding in Oberammergau in Germany, an ideal place for the adventurers who would like to ski or snowboard across the incredible Bavarian landscape, encountering monasteries, churches, and castles that will take your breath away.
A lovely family-friendly Oberaudorf will provide a lot of fun for the entire family, hosting a separate ski area for children, as well as a children's park to make sure there are plenty of things for them to be entertained.
BEST MITTENS FOR WINTER: KUTOOK SKI MITTENS THREE FINGERS THERMAL 3M THINSULATE WATERPROOF SNOWBOARD GLOVES WINTER FOR COLD WEATHER SNOWMOBILE
Cost: $59.99 (as of 07/14/2020 14:36 EST- Details*)
With a 3M Thinsulate featuring hydrophobic surface, hipora waterproof membrane, and thermal fleece lining, this is the best mittens for winter, keeping your hands warm and dry thanks to its windproof and waterproof qualities.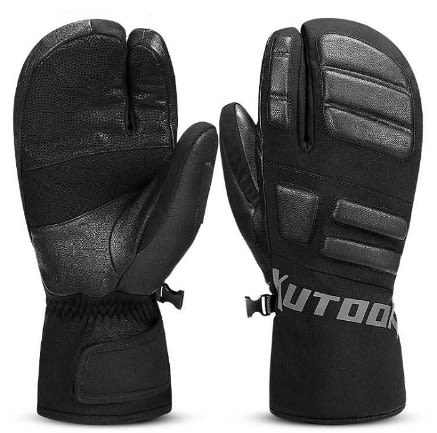 Photo by AliExpress.
Find these gloves in white and black finishes, featuring:
Drill nylon and PU leather outshell
Goat leather in the palm
It's suggested to choose a larger size than you usually do
The nylon outshell is tear-resistant
Adjustable wrist size
Neoprene cuffs
The thumbs have a conductive fabric to help wipe the snow off your goggles
These mittens were made to provide a warm and comfortable feel, using 3M of Thinsulate insulation, warmer than regular cotton but still lightweight enough to give you a full range of flexible moves on your fingers. They also come with a combination of nylon and TPU membrane on the outside to assure water resistance, something extremely important if you're practicing some extreme sport in the snow.
One of the coolest things about these gloves is the helmet visor wiper design, making sure that your ski goggles or the visor of your helmet stay clean from snow or rain, keeping your vision sharp. The other two features made to secure and store your gloves are the convenient rope and buckle design. The rope with the buckle pairs your gloves in a way that you can carry or store them together, just like the clips at the side of the mittens, preventing them from being lost.
Part of adjusting and holding your mittens tight is the hook&loop, which adjusts the size of the wrist. The elastic neoprene cuff is durable and comfortable, protecting your hands from cold air and snow. For a warmer feel, you can always put the sleeves of your jacket and shirt inside the cuff.
It's important to know that the gloves have a snug fit, so if you are in-between sizes, it would be better for you to choose the larger size. Also, in order to take care of your mittens when it comes to cleaning them, it's better to hand wash them.
Conclusion
This list includes the best mittens for wintertime, thinking about the multiple uses in the snow in order to select those with a greater capability to keep the entire hand warm, dry, protected from the wind and bumps, as well as those with an adjustable fit to make them perfect and comfortable for you.
You just went through gloves with a heating system powered by lithium batteries that not only keep your hands warm, but that also provides different benefits for certain conditions. You also explore the best mittens for children, which were simple but super functional and made some parents happy, and then went across gloves that are so water-resistant that you could soak them in water and your hand won't have a single drop on it.
On the way through the list, a couple of places – one from North America and the other in Europe- were presented as ideal spots to visit for either ice fishing, skiing, snowboarding, snowmobiling, and more. Canada and Germany are without a doubt stunning places to visit, which is why they're featured as two of the many countries in the iVisa list to get you a visa.
Have a wonderful voyage!
* Product prices and availability are accurate as of the date/time indicated and are subject to change. Any price and availability information displayed on the linked site at the time of purchase will apply to the purchase of this product.