Overalls have been a classic piece of clothing for decades, although they first started to be mass-produced in 1890 by Levi Strauss & Co. Usually worn as a protective and practical garment covering upper and lower parts of the body, the following list will showcase the best overalls for men on e-commerce retail sites, which were selected based on comfort, durability, mobility, and great characteristics relating to fabrics and function.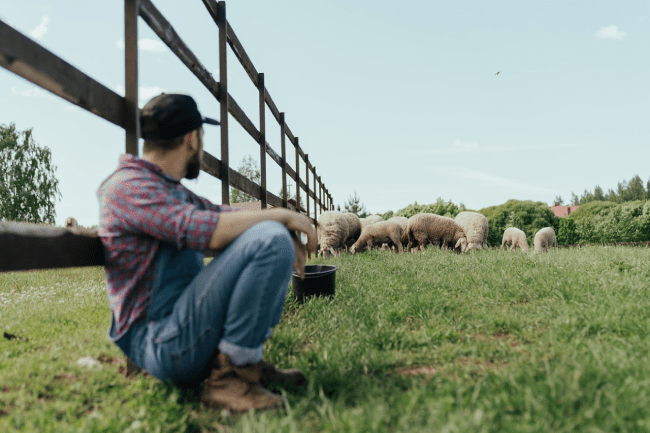 HIGH-END OPTION: CARHARTT MEN'S RUGGED FLEX RIGBY BIB
Cost: $89.95 - $99.99 (as of 09/13/2020 20:09 EST- Details*)
Carhartt has designed these overalls with Rugged Flex durable stretch technology for ease of movement. It also offers wearers different pockets to help you store and carry more items with you, including a hammer loop.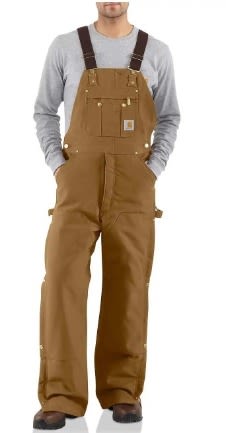 Photo by Carhartt.
Made of 98% cotton/2% spandex canvas, the overalls come with:
Adjustable and elastic suspenders
Zippered bib pocket
Two additional pockets, one with pen stall
Zippered fly
Two large, lower-front pockets
Hammer loop on the right leg
Secure cellphone pocket on the right leg
Two reinforced back pockets
Get these on Carhartt in brown or gravel colors and enjoy the comfort and durability they offer. Keep an eye on the size though, to make sure they'll fit perfectly.
ON A BUDGET OPTION: DICKIES MEN'S SHORT-SLEEVE COVERALLS
Cost: $28.88 - $55.60 (as of 09/13/2020 20:09 EST- Details*)
Providing more freedom to move with elastic in the waist and a bi-swing back, these Dickies' short sleeve coveralls are made of poly/cotton, and provide super wrinkle resistance.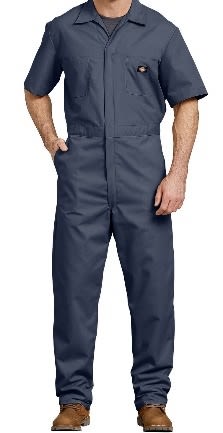 Photo by Dickies.
Available in 11 different colors, the coveralls delivers:
Comfy fit in the chest and shoulders
Concealed snaps at waist, neck and chest pocket for secure fit
2-way front zipper secured with concealed snaps to prevent snags
Roomy chest and back pockets
Resists fading, wrinkles and stains
The great advantages of these short sleeve coveralls is that they cover all your clothes (a very literal name). So you can put them on over whatever it is you're wearing and your clothes will be safe from getting dirty with mud, clay, grease or paint.
CARHARTT OVERALLS: CARHARTT MEN'S NEW R01 UNLINED DUCK BIB OVERALLS
Cost: $79.99- $89.99 (as of 09/13/2020 20:09 EST- Details*)
Based on consumers' feedback, the company introduced this new model as the updated version of the Carhartt classic R01 bib. Made of 100% ring-spun cotton duck, these bibs offer multiple pockets to keep your items close, and a 360° kick-panel, among others.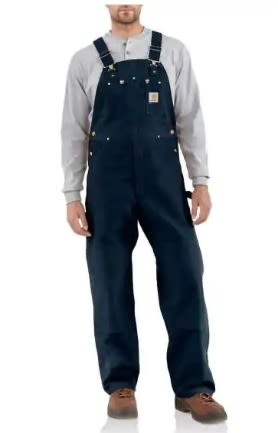 Photo by Carhartt.
You can find these in colors of black or Carhartt brown, providing you with:
Adjustable closure
Adjustable front-elastic suspenders
Bib pocket with zipper closure which holds electronics in a secure way
Two additional storage pockets, one with pen stall
Hammer loop
True fit construction
One of the new features is the true fit. Now you can buy your usual pants size in your waist and inseam. It also comes with side panels to get you a better fit. The overalls were built for tough jobs, so they come with a double-front and clean-out opening for knee pads for higher resistance.
DICKIES OVERALLS: DICKIES MEN'S BIB OVERALLS
Cost: $32.89 - $62.99 (as of 09/13/2020 20:09 EST- Details*)
Dickies is back on the list! This time with a different offer, bib overalls that come with plenty of pockets, seams, and adjustable loops.
Photo by Dickies.
Choose from one of 5 different colors, these overalls also feature:
100% cotton denim
Triple-stitched seams.
A watch pocket.
A hammer loop.
Dual pocket for cell phone, pliers, ruler, etc.
Large bib pocket with pencil pocket.
Cross-over, high-back shoulder straps.
Dual buttonholes in the bib.
Snag and tear-resistant.
Breathable.
With this other option from Dickies, now you can pick whichever fits you better (or both), from a popular brand that is trusted because of its enduring quality along with their broad range of different products.
BIB OVERALLS: DICKIES MEN'S PAINTERS BIB OVERALLS
Cost: $32.10 - $41.89 (as of 09/13/2020 20:09 EST- Details*)
If the third time's the charm, then Dickies just charmed this list. On this occasion, the brand presents painters bib overalls, which also offer the classic features of the two previous models.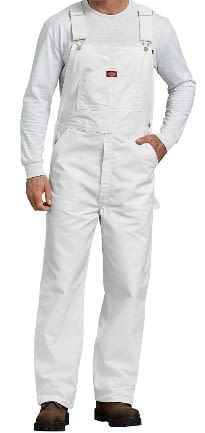 Photo by Dickies.
Made of a 100% cotton denim, these 0.7" high and 14" wide overalls come with:
Triple stitched seams
Large fit bib with practical pocket
A hammer loop
Dual tool pocket, plus multiple other pockets
Built for hard work and equipped for comfort
Two-button closures at sides
Traditional dual watch fob openings
Straight legs that can fit over boots
These bib overalls can be used for more than the original purpose. You could take advantage of the white color of these bibs to customize them for different costumes for events from Halloween or a Christmas play, to a homecoming game! There are no limits to the creative solutions these overalls offer, so use them for anything else you might need.
Take them on a trip with you for extra cover, resistance, and comfort. They'll be more than just work clothing, teaming up with you for different activities and events.
LIBERTY OVERALLS: LIBERTY MEN'S STONEWASHED DENIM BIB OVERALLS
Cost: $36.74 - $63.00 (as of 09/13/2020 20:09 EST- Details*)
Established in 1912, Liberty garments have passed down by many generations, and recognized for its accents and design, selling over 25 million bibs. The brand counts Bruce Mitchell, Vince Wilfork, and Earl Dibbles Jr as ambassadors.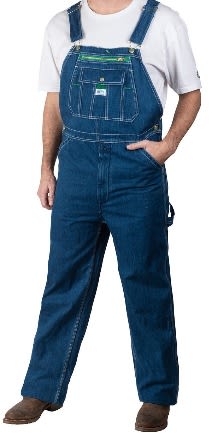 Photo by Liberty.
Besides being made of 100% cotton, the bib also delivers:
Adjustable bib straps
Reinforced bartacks
Classic triple-needle stitching for durability
Signature liberty green accents
These classic-looking bibs are backed up by over 100 years of history and long-time users that have chosen Liberty for their quality and durability.
ROUNDHOUSE OVERALLS: ROUND HOUSE MEN'S BLUE CLASSIC OVERALLS - 966 (28-42)
Cost: $48.44 - $99.95 (as of 09/13/2020 20:09 EST- Details*)
Designed by Round House to protect your clothes from debris, muck, and other stains or dirt you may be exposed to while working, these overalls are made from pre-shrunk cotton denim.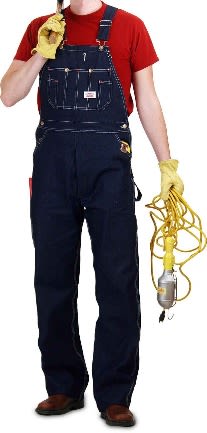 Photo by Round House.
Available in denim and blue, the overalls also offer:
Button fly
Pockets to store rule, pliers and cellphone
The fact that Round House uses pre-shunk cotton denim is great because it means that you'll be able to easily move, bend, and twist. The brand also manufactures big sizes, ideal for anybody who's a couple more inches tall or wider than others.
Conclusion
Use them for work or just as a fashion garment, overalls deliver comfort, practicality, resistance, and durability. Which is why we researched to bring you the best of them on online e-commerce sites.
On iVisa we specialize not only in providing all the information, guidance, and documents you would need for any overseas adventure, we also specialize on delivering the best products for you to use wherever in the world you want to go.
Have a great voyage!
* Product prices and availability are accurate as of the date/time indicated and are subject to change. Any price and availability information displayed on the linked site at the time of purchase will apply to the purchase of this product.