Oh, rainy days. Who doesn't love them? Rain is often associated with romantic settings and an inherent nostalgia that makes you long for better days. And what better way to improve your day, your week, your month, or even your year than planning for your next trip!
Some of the best places in the world have rainy weather. Think of Cologne, Germany, for instance, chances are you'll encounter more than a little drizzle in your visit. However, this certainly doesn't mean that you'll be stuck wistfully staring out of your Airbnb window, waiting for it to stop. There's actually plenty of things you can do to weather the storm, like head to its Chocolate Museum to learn all sorts of things about cocoa (and dive into its free chocolate mountain!) tour the historic Fragrance Museum, where Italian perfumer Johann Maria Farina invented the world-famous Eau de Cologne, and end your evening with a concert at the fashionable Studio 672, which is right in the city's creative and multicultural Stadtgarten.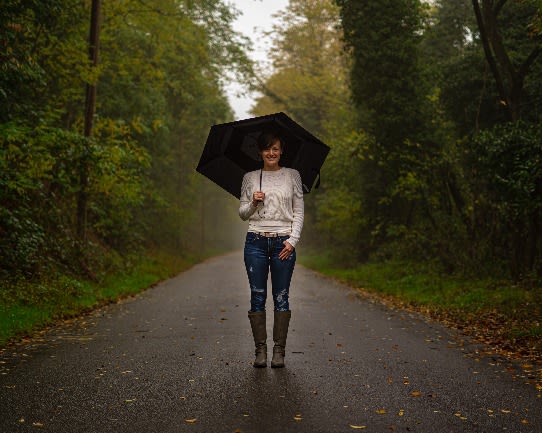 No matter what you choose to do though, you will need to think about the tour gear you'll take if you've chosen to visit a rainy destination. This will help you enjoy your trip every step of the way, preserve your outfits, and avoid annoying air travel colds.
Positively, one of the best ways to do all of the above is by wearing a Rain Poncho. They can really make the difference between a good and a bad time. Nonetheless, you're probably too busy to search through dozens and dozens of options online or scroll down to read hundreds of reviews that can or cannot provide you with the kind of information you're looking for about this product in particular. But, say no more, we'll love to do it for you. Actually, we just did! So, get your reading glasses along with some coffee, and take a look at the quick guide we've created to find the best rain poncho for you to wear in that aphrodisiac rainy place that you so much want to visit.
HIGH-END OPTION: MIL-TEC RIPSTOP RAIN PONCHO
Cost: $33.95 (as of 08/07/2020 14:11 EST- Details*)
Based on hundreds of reviews from e-commerce retail sites, we've picked the Mil-Tec Ripstop Rain Poncho as our favorite alternative. This multi-purpose rain poncho is perfect for a vacation in Portland or Seattle, two well known rainy American cities. Wear it on your way to a movie night at the Bagdad Theatre, Cinema 21, or the Laurelhurst.
Made of 100% polyester waterproof ripstop, the Mil-Tec Rain Poncho will always keep you safe. You can actually use it as a sleeping bag, a cover, or an emergency shelter tent as well.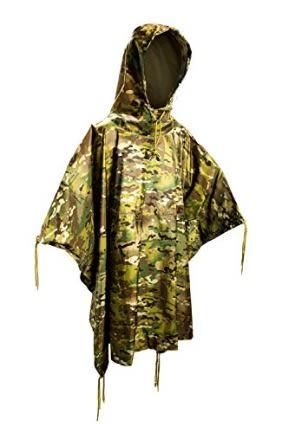 Photo by Desertcart.
This multi-use rain poncho features:
Military designed material weave used in many fabrics and applications
Lightweight
Eyelets on the hem
Press stud poppers on the sides
Polyvinyl Chloride Coat
This rain poncho would be great for a trip to Rotterdam, Europe's largest port, and the second-largest city in the Netherlands. Wear it to start your rainy day with a visit to the gargantuan Markthal indoor food market, where tens of stalls of farm-fresh food and delicious bites are set under a boldly psychedelic tiled roof painted in bright colors with incredibly large fruit, greens, and even a bug or two!
If you are thinking about traveling to the Netherlands, you can start your travel process by registering your trip with the Embassy through iVisa.
ON A BUDGET OPTION: TOTES PULLOVER RAIN PONCHO
Cost: $9.94 (as of 08/07/2020 14:11 EST- Details*)
If you're more into backpacking, hiking, mountaineering, camping, or cycling, and want to keep your travel gear on a budget, the totes Pullover Rain Poncho is meant for you.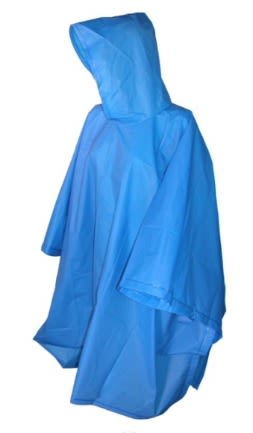 Photo by Walmart.
With the perfect blend of cost and benefit, this hooded pullover rain poncho is:
Made of Vinyl
38 inches long
One size fits most
Has side snaps
BEST MEN'S RAIN PONCHO: SAPHIROSE RAIN PONCHO
Cost: $19.99 (as of 08/07/2020 14:11 EST- Details*)
Numerous customer reviews testify to the high quality of this men's rain poncho. The SaphiRose rain poncho is eco friendly, extremely water-resistant, and dries really quickly. It's perfect for a trip through the urban and natural wonders of British Columbia where you'll live a travel experience that'll allow you to feel the wind in your hair and the mist on your face as you skim waves and mountaintops in a montage of Western Canada's most beautiful sights while keeping it dry.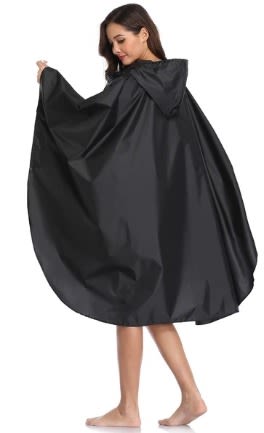 Photo by Saphirose.
This men's rain poncho also features:
Loose sleeve and light texture
Super waterproof and breathable material
Portable and compact
Waterproof backing with heat-sealed seams
Big hooded cap
If you're a business person with frequent travel affairs in London, Vancouver, or Seattle, you're probably looking for something more reliable than a rain jacket and that can fully protect you and your professional outfits from the rain. So, if you're a CFO traveling to Edinburgh for that annual budget meeting, you can rely on the SaphiRose Rain Poncho to keep you sharp and dry.
BEST MILITARY RAIN PONCHO: ARCTURUS RAIN PONCHO
Cost: $19.97 (as of 08/07/2020 14:11 EST- Details*)
After scrolling through dozens and dozens of military rain ponchos, we found the Arcturus Rain Poncho to be the winner. Besides being super light and amazingly compact, its extra-large hood will fit most sizes while being especially comfortable. This rain poncho is great for backpackers due to its inside survival kits. It can also be used as a tent, lean-to shelter, or ground tarp. If you're thinking about traveling the Amazon, this rain poncho was made for you!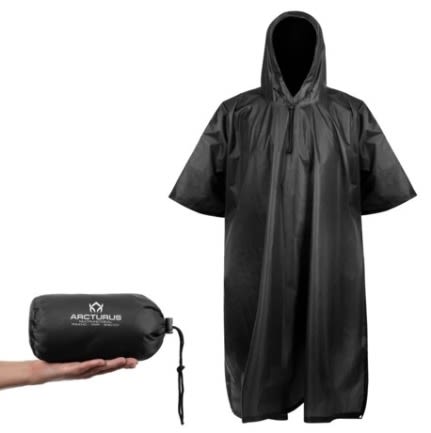 Photo by Arcturus.
The Arcturus Rain Poncho also features:
Large hood and head opening
54" wide x 48" long
Made from 210T Ripstop Taffeta
Coated with 2 layers of waterproof polyurethane coating
Steel grommets in all 4 corners for easy tie-down
Whether you're traveling for business or pleasure, portability is certainly a must for any kind of travel gear. As a tourist, you want -and need- everything to be easy to carry. So, choosing a rain poncho that is light and that can be easily folded when necessary, is extremely relevant for you to focus on catching a cab on a New York rainy day, hiking on the Camino de Santiago de Compostela in Spain, or enjoying an outdoor festival in Buenos Aires.
BEST STYLISH RAIN PONCHO: FOXELLI RAIN PONCHO
Cost: $22.97 (as of 08/07/2020 14:11 EST- Details*)
Who says rain ponchos all have to look the same? If you work in the Fashion world or think of yourself as a trendy working girl, the Foxelli Rain Poncho could be your weapon of choice for those rainy mornings full of client visits and coaching sessions. But that's not all, this light-weight, multi-use, reusable rain gear is also perfect for camping, fishing, and even sports events. If you unfold it you will be able to use it as a picnic mat, a sleeping bag cover, a rain tarp, an emergency shelter, or a sunshade. You can't go wrong with this one!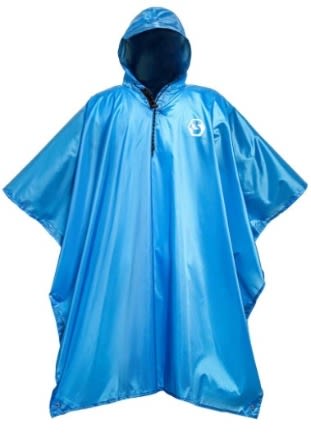 Photo by Foxelli.
Besides providing ultimate protection, this rain poncho also features:
Comfortable coverage
The best protection in heavy rain and winds
Supreme durability
Built-in cord adjuster in the hood
Long size L 95" x W 55"
This stylish rain poncho is pretty much perfect for everything, especially for sports or music events in which a lot of people have to see you!
So, if you have a concert ahead or an NFL game in your plans, the Foxelli Rain Poncho is most certainly what you're looking for.
Conclusion
After browsing through lots of retail e-commerce sites for top-reviewed rain ponchos, the Foxelli Rain Poncho is definitely the perfect mix of size, waterproof material, and style. You will unquestionably be able to enjoy the great outdoors to the fullest by wearing it. Its inherent versatility and correct amount of lightness, make this rain poncho just right for any kind of travel activity. Whether it's business, pleasure, or adventure, this rain poncho's supreme durability will also make you save up some cash because you will be able to use it pretty much on any rainy occasion.
As an online visa processing company, iVisa is thrilled about helping you in each and every step of your voyage. Solving your travel process with helpful tools like our Online Visa Checker and user-friendly digital forms is simply our number one mission. iVisa will also make your visa application process a convenient and reliable one through its highly secured platform, which is extremely safe and easy to use. Due to all of this, we'll always be keen to help you find the right travel gear for you to use in all of your touring adventures, outdoor festivals, or international business trips.
Enjoy the journey!
* Product prices and availability are accurate as of the date/time indicated and are subject to change. Any price and availability information displayed on the linked site at the time of purchase will apply to the purchase of this product.