Paddleboarding was documented in a 2013 report as being the outdoor sporting activity with the most first-time enthusiasts in the United States that year, and since this sport that was born from surfing looks like so much fun, we couldn't wait to bring you a list of the best stand up paddleboards.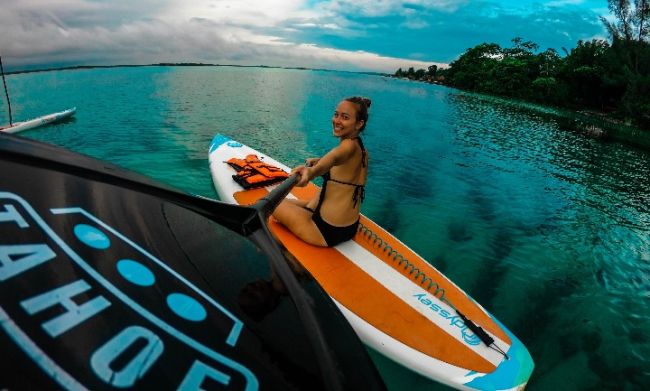 Either you're a newbie or someone more experienced on the board, take a look at the list and see the best SUP we found you on the online marketplace.
HIGH-END OPTION: SERENELIFE INFLATABLE STAND UP PADDLE BOARD (6 INCHES THICK) WITH PREMIUM SUP ACCESSORIES & CARRY BAG
Cost: $599.99 (as of 08/11/2020 12:27 EST- Details*)
This SUP is perfect for exploring, touring, fishing, or even yoga! Nothing is as comforting and relaxing as being in the ocean, and with the SereneLife inflatable board, you can easily take it wherever you like.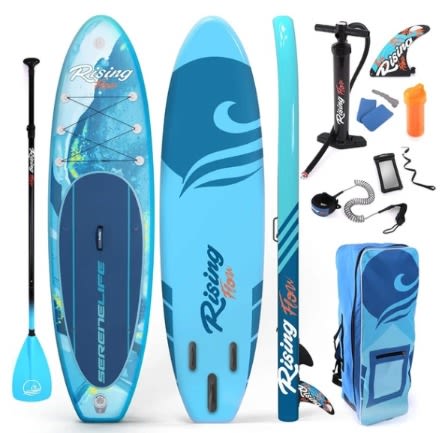 Photo by SereneLife.
Although the fact that is inflatable is a wonderful thing, the board comes with other great features such as:
Upgraded wide SUP design for better balance
Soft, stable and anti-slip top deck
Triple bottom panel fins
100% percent travel friendly
Coiled ankle cuff
Safety leash
Upgraded aluminum paddle
Patch repair accessory kit
Air pump with gauge
Measurements are: 10'6 feet long and 32 inches wide
The board has a maximum weight capacity of 275+ lbs and a maximum inflation pressure of 15+ PSI. It presents a UV resistant coating, composite dropstitch, as well as a PVC military-grade construction.
ON A BUDGET OPTION: UENJOY INFLATABLE PADDLE BOARD
Cost: $289.99 (as of 08/11/2020 12:27 EST- Details*)
Suitable for activities like fishing, cruising, and fitness or just to relax and have an awesome time, this 30" wide board offers stability and balance when you're standing on the water.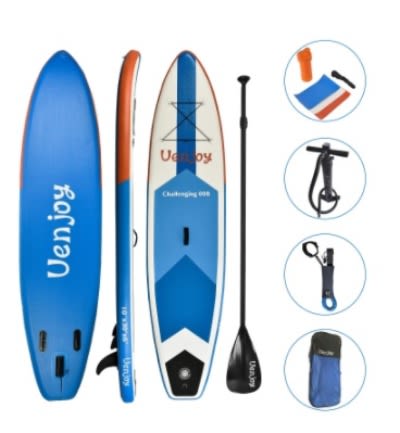 Photo by Desertcart.
With a maximum weight ranging between 242.5 pounds for a size 10' and 286.6 pounds for a size 11', let's see what else is included with this board:
4 different colors to choose from
Sizes 10' and 11'
Thickened military-grade PVC on the top and bottom
Non-slip handle design
Non-slip deck
It comes with a pump, three fins, backpack, length adjustable paddle, patch kit for emergency, quick inflation and deflation air valve.
This board is ideal for beginner and advanced riders, and thanks to its portability, you can take it anywhere with you, like on a trip to Australia, a popular paradise for water sports. Australia has great places for paddleboarding, like Forster Island, where you'll find various islands surrounded by rivers, lakes and the sea. At Forster Island, you can also take part in the Paddle Festival, which has a 5km and a 10km race, and a battle of the paddles! Doesn't that sound awesome?!
Rottnest Island is another wonderful place to paddleboard, especially since its the home of the Quokkas, the cutest and happiest looking marsupial, if you haven't seen one yet, you have to Google it and then you'll want to visit Australia just to see them in real life. Also Dove Lake, a national park covered with beech trees and pines that create an oasis-like feel with beautiful clear waters.
TOWER PADDLE BOARDS: TOWER ADVENTURER 1 INFLATABLE 9'10" STAND UP PADDLE BOARD
Cost: currently unavailable (as of 08/11/2020 12:27 EST- Details*)
The Adventurer 1 is packed with a pump, diamond grooved deck pad, a removable center fin, a handhold strap, and a roll-up carrying strap, and it's ready for you to fish on it, tour, do yoga or just sunbathe. Plus, it's a great way to share some family time, or to use as part of your workout.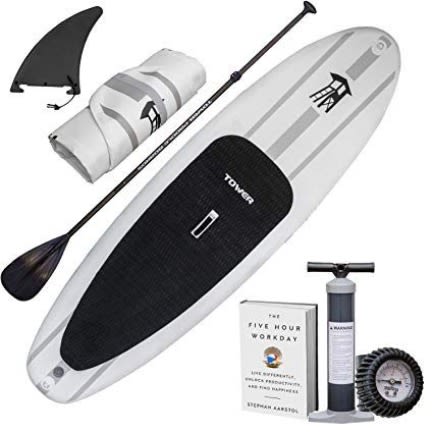 Photo by Pinterest.
Ideal as an EPS/Epoxy board alternative, the Adventurer offers:
Large single bottom fin
6" Thick Military-Grade PVC material
Drop-Stitch construction
It quickly inflates or deflates
Easy storage
3-PC Fiberglass Paddle
High-pressure SUP pump
Paddle Board is 9'10" long, with a deck width of 32"
2-year manufacturer's warranty (does not apply to included paddle or accessories)
This is another wonderful option to have fun floating in the water either by yourself, with friends, family, or your dog.
BEST STAND UP PADDLE BOARD INFLATABLE: ROCK INFLATABLE STAND UP PADDLE BOARD
Cost: $475.60 (as of 08/11/2020 12:27 EST- Details*)
Listed as the best stand up paddleboard inflatable, Rock provides a board that is 10' tall, 32" wide and 6" thick, weighing 17.5 lbs, with a capacity to carry 275lbs.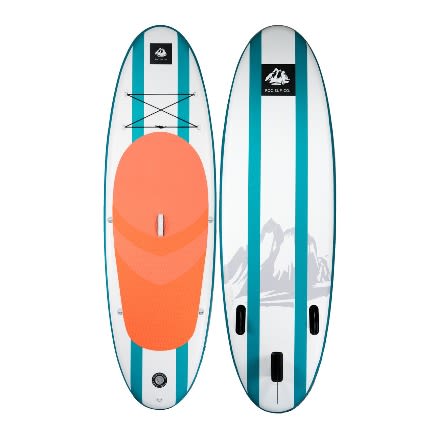 Photo by ROC SUP Co.
Available in four different colors, the paddleboard includes:
Made of high-quality military-grade material
20% lighter than other boards
The pack includes: board, collapsible aluminum paddle, safety leash, hand pump, waterproof bag, and an upgraded backpack to hold everything
1-year manufacturer's warranty at no additional cost
It's durable construction, using quality materials to provide a better experience for paddlers, put this board on the list as the best inflatable SUP. Ideal for beginners, it is light, firm, steady, and resistant to bumps or falls.
LIFETIME PADDLE BOARD: LIFETIME FREESTYLE MULTI-SPORT PADDLEBOARD
Cost: $523.00 (as of 08/11/2020 12:27 EST- Details*)
The Lifetime Freestyle board is nice for flat water or surf, providing stability in both cases. Its High-Density Polyethylene (HDPE) construction with UV protection and EVA deck cover, make this paddleboard strong, resistant, and durable.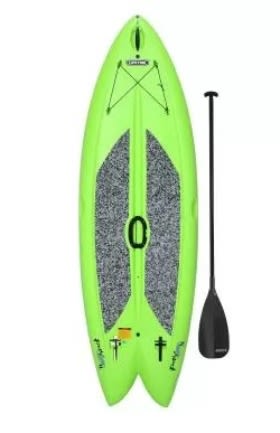 Photo by Lifetime.
Featuring a fish-like design, the paddleboard gives you:
Two adjustable fins for surf or flatwater paddling
The UV protection means that it will not fade, crack or peel
108 inches Long
35.5 inches Wide
6 inches Thick
Adjustable stand-up fiberglass paddle included
5-year limited warranty
With firm and resistant construction, this board is ideal for anybody who wants to learn how to stand paddling, for kids, or for anybody who wants to have a fun time on the water exploring and exercising.
BEST ALL-AROUND PADDLE BOARD: FREE STAND UP PADDLE BOARD
Cost: $489.99 (as of 08/11/2020 12:27 EST- Details*)
The Freein board comes with an exciting addition… a Kayak seat! That makes the board a little more flexible when it comes to the different uses you can give it, not that you can't sit without the kayak seat being included, but it adds more comfort and a cool look too.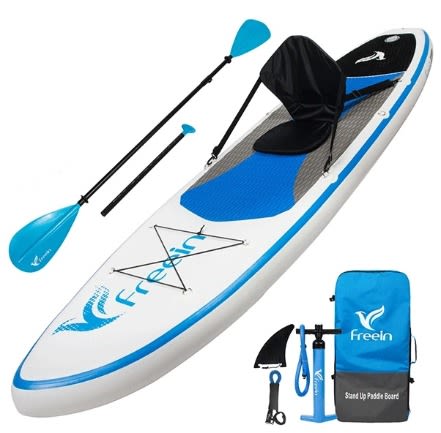 Photo by Freein.
Let's see what else this SUP has to offer:
Lightweight and portable
10' long
6" thick
31" wide
Accessory kit includes: a convertible single/dual blade floating paddle, kayak seat, double action hand pump, travel backpack, 10' coiled ankle leash, and repair kit.
If you want to convert it to Kayak, all you have to do is clip the seat to the pre-installed anchors, then swap out the paddle handle for the second blade. This would be a nice thing to take with you on vacation or for an excursion to an island getaway like Hawaii.
Modern stand-up paddleboarding was born in Hawaii, which is why this would be the perfect place to explore and practice the sport. Paddle through the magical waters past ancient heiau (sacred temples), rocky lava cliffs or the Captain Cook Monument. You can also visit the protected waters of Kailua Bay, Kahaluu Beach, Keauhou Bay, and Hilo Bay, great spots for SUPing in the island.
Conclusion
We already had so much fun making this list, and we're not even on the SUP yet! So why don't you take the chance, pick the one you like the most online, and let us know about all the incredible times you had using one of these paddleboards. We've love to hear about it, just as much as we'd love to help you get away to any of the many amazing locations where you can enjoy your paddleboard.
iVisa.com makes it easy for you to find all the information you need to get off to a flying start.
Have an amazing voyage!
* Product prices and availability are accurate as of the date/time indicated and are subject to change. Any price and availability information displayed on the linked site at the time of purchase will apply to the purchase of this product.