When you want to travel smart a SwissGear backpack is your best bet for a top-quality backpack at a price you're willing to pay. The folks at SwissGear have been proving their worth for decades by producing long-lasting and stylish bags in a range of sizes and shapes. There's something for everyone from hip solo travellers to smart professionals and family-sized holiday bags with plenty of room for flip flops, sunscreen and insect repellent.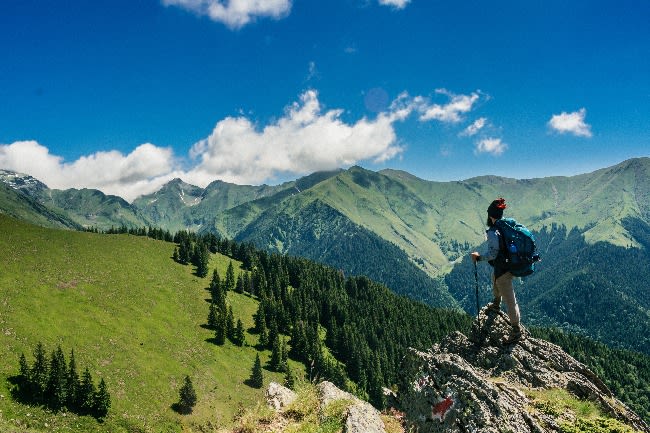 Reference image.
SwissGear guarantees to be with you when you need them most so you can rest assured that their bag will always have your back. You can trust the hard-wearing high quality of this popular brand and to back it up they also provide a limited 3-year warranty on travel products. This gives you peace of mind that your money will always be well spent on a Swiss Gear bag that can support you on a business trip to Bogota or perhaps even become your second home on a West Coast road trip from San Diego to San Francisco, without a doubt that it will be with you every step of the way. Remember to keep your receipt for proof of purchase and in the unlikely event that your Swissgear bag or suitcase has a defect, it will be replaced or repaired.
When you're looking for the perfect bag, it's easy to feel overwhelmed by the vast array of brands, colours and sizes available. To save you all that hard work, we have sorted through hundreds of products to find you the most desirable SwissGear bags at such an outstanding price you'll find hard to believe. We read countless reviews of bags in all shapes and shades. The result is this dazzling lineup of our favourites. Check it out and let us know which one you'll be bringing on your next journey.
HIGH-END OPTION: SWISSGEAR 1900 SCANSMART LAPTOP BACKPACK
Cost: $74.99 (as of 07/31/2020 11:23 EST- Details*)
Based on thousands of reviews, we chose the SWISSGEAR 1900 ScanSmart Laptop Backpack, recognised as a traveller's classic, as the high-end option that's worth splashing out on.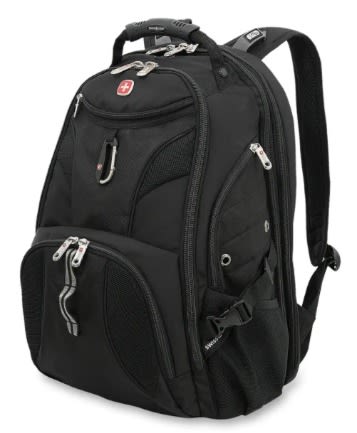 Photo by SwissGear.
If you're in the market for a bag that combines style with useful features such as:
A high quality finish made with durable, weather-resistant 1200D ballistic polyester to withstand heavy use.
ScanSmart lay-flat technology protects up to a 17" laptop, opens quickly at airport security, and ensures a hassle-free laptop-in-bag TSA scan.
Easy access laptop and iPad compartment separate with a front organizational pocket for all of your writing utensils, pocket notebooks, and keys.
Front, large, U-zip pocket for quick access essentials.
Two, breathable, side compartments for an umbrella, oversize water bottle, or a change of clothes.
Contoured shoulder straps with mesh fabric and adjustable side compression straps. Padded back panel with Airflow ventilation technology for added support and comfort.
The dimensions of the bag are 18.5 inches x 13.5 inches x 9 inches on the exterior; Laptop Compartment — 14.5 inches x 11 inches x 1.5inches; Tablet Pocket Capacity — 10 inches x 7 inches.
The bag can hold 31 litres.
This bag is the height of technology with its useful Airflow ventilation to avoid a sweaty back on those stuffy afternoons and ScanSmart added laptop security which is TSA approved to ensure rapid transit through the airport. SwissGear 1900 ScanSmart Laptop Backpack is our top recommended bag for island-hopping digital nomads who bring their office to the sandy beaches on the beautiful coast of Thailand, where they can safely store their laptop in its easy to access compartment and relax with a tropical cocktail after a day of calls.
ON A BUDGET OPTION: SWISSGEAR SA3183 BLACK WITH RED LAPTOP BACKPACK
Cost: $43.28 (as of 07/31/2020 11:23 EST- Details*)
As hundreds of confident backpack owners can confirm, SwissGear don't cut corners. So although this is the least expensive backpack on our list, that's not to say the quality is compromised by the price. This budget version packs a lot of punch with many of the same features that define the Swissgear brand such as Airflow technology and a fully padded laptop compartment.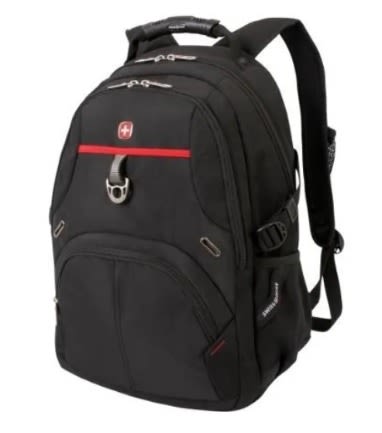 Photo by Mercado Libre.
The SwissGear SA3183 Black with Red Laptop Backpack also offers additional features such as:
Made from Nylon & Polyester Fabric.
Secure velcro strap closure.
Contoured shoulder strap system with added padding for comfort and control.
Extra large zippered main compartment with padded tablet sleeve.
Audio & media port for MP3 players with an external headphone port.
Zippered organizer pocket with removable key fob.
Sunglass holder and cell phone pocket on shoulder straps.
Two side water bottle pockets feature elasticized mesh which expands to secure various size water bottles.
The dimensions of this backpack are 13 inches x 6.5 inches x 18 inches.
The weight of the bag is 2 pounds.
This bag is perfect for a business trip in hip Berlin where you will blend seamlessly into the smart business crowd grabbing a quick lunch between meetings. All work and no play makes a very boring weekend though, so follow the crowd and relax in a cobbled European courtyard after a hard day with a jug of German beer and a tasty sausage.
BEST SWISSGEAR LAPTOP BACKPACK: SWISSGEAR 5505 LAPTOP BACKPACK
Cost: $49.99 (as of 07/31/2020 11:23 EST- Details*)
We were blown away by the effortless chic of the SwissGear unisex 5505 backpack. Whilst other contenders that made this list are applauded for their classic Swissgear black and red tone, with the 5505 you can take the opportunity to express yourself and choose between five different colours to match your unique individual taste.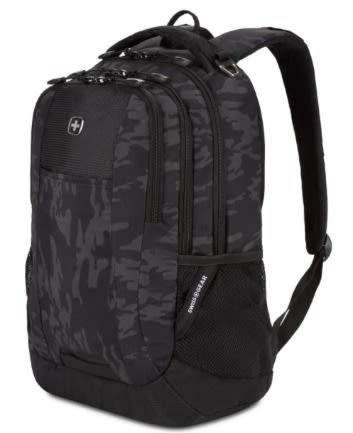 Photo by SwissGear.
Other features this stylish bag offers include:
Built-in longevity as this bag is crafted from tough 600D Ripstop Polyester.
Three large compartments to store everything from small classroom essentials to an extra jacket.
Interior 15" laptop compartment and padded laptop pocket. Side stretch pockets accommodate water bottles and also it has a quick-access organizer pocket.
A ventilated back system allows better breathability and absorbs the weight of a heavy load. A padded top grab handle lets you easily grab and go.
This bag's dimensions measure Exterior - 18 inches x 13 inches x 6 inches; Laptop Compartment – 13.25 inches x 11 inches x 1 inches; Tablet Pocket - 10" x 7".
The bag holds 27.3 litres.
The SwissGear 5505 is ideal for those travellers who make it easy to look good on the go. Your forward-thinking fashion sense will fit right in with the young creatives in Los Angeles who rush from movie auditions to coffee shops without skipping a beat. The mesh side pockets on this bag are perfect for stashing a breakfast juice with room for a water bottle too. You'll need it after a hot and dusty hike to the Hollywood sign for an Insta perfect shot of your time in the city of the silver screen.
BEST SWISSGEAR BACKPACK FOR TRAVEL: SWISSGEAR 1186 BUNGEE LAPTOP BACKPACK
Cost: $54.99 (as of 07/31/2020 11:23 EST- Details*)
Travelling isn't always fun. It's not all about express check-in and extra legroom, however, with a bag like the SWISSGEAR 1186 Bungee Laptop Backpack, you are guaranteed to arrive with a smile. We chose this bag as our number one traveller's choice thanks to its durable polyester fabric and bungee -cord system which can hold additional items and added bonus of high visibility reflectors to help keep you safe on the road at night.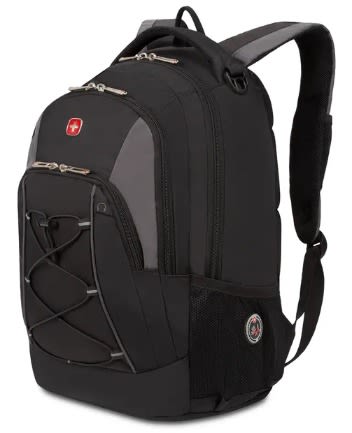 Photo by SwissGear.
This special edition backpack also includes:
Spacious compartments to water bottle pockets and individual organizer pockets, consolidate and organize your everyday carry inside this pack.
Padded 13" laptop sleeve while a front organizer compartment includes a padded tablet pocket that fits your iPad.
Quickly reach for accessories inside a small exterior compartment and from two side water bottle pockets.
Contoured, padded shoulder straps integrate air mesh padding for better air circulation while an Airflow back panel delivers breathability via padded, mesh panels. The shoulder straps' thumb-ring adjusters let you adjust and hoist the pack comfortably on your back while a padded top handle is perfect to grab-and-go out the door.
This bag measures 17.75 inches x 13 inches x 7 inches; Laptop Compartment measures 13 inches x 10.75 inches x 1 inches; Tablet Pocket Capacity is 10 inches x 7 inches.
The bag holds 26 L.
The SWISSGEAR 1186 Bungee Laptop Backpack is perfect for those who love the outdoors. For those who crave an office with a view, we recommend you slip your laptop into this little number and go off the beaten track on a bike trip across India. Experience sights and smells to dazzle your senses during Holi, known as the festival of colour. We promise you'll fall in love with this beautiful country which celebrates its culture awash with colour each year.
BEST SWISSGEAR TRAVEL BACKPACK: SWISSGEAR TRAVEL GEAR 5977
Cost: $60.32 (as of 07/31/2020 11:23 EST- Details*)
Travelling light might be easy for some people, but if you're like me and you can't leave home without a stash of essentials that require at least two sturdy straps then this bag is definitely the one for you. We love the SwissGear Travel Gear 5977 because it gives you extra room for a change of clothes, or two, as well as thoughtfully placed dividers for office documents and paperwork.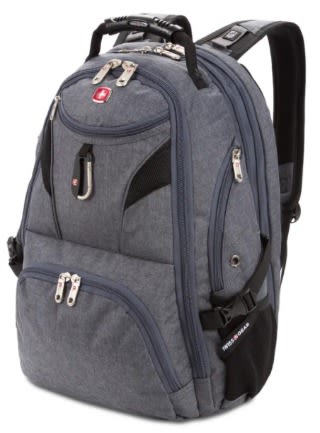 Photo by SwissGear.
It also features:
Durable polyester fabric.
A multi-compartment design with a molded plastic handle.
Airflow back panel and padded shoulder straps that make it comfortable to carry.
This bag measures 8.5 inches x 17.5 inches x 13.5 inches.
The bag weighs 2.75 pounds.
The SwissGear Travel Gear bag is perfect for a hiking trip to New Zealand. Escape the city to clear blue skies and lush peaks around Mount Cook. Or why not stock up on water and snacks and take a remote trek to blow away those cobwebs. Adventurers can see glaciers, volcanoes, and hot springs in this awe-inspiring country or soak up the culture with a glass of locally produced wine in Queenstown after a day in the outdoors.
BEST SWISSGEAR COMPUTER BACKPACK- SWISSGEAR 3258 LAPTOP BACKPACK
Cost: $69.99 (as of 07/31/2020 11:23 EST- Details*)
We chose this backpack as the best computer backpack above all others in the SwissGear range because it is a clear winner when it comes to looking after your electronics. Running to make an important meeting isn't such a tough task when you are feeling confident that your laptop is secure in its own padded section. This bag caters for computers of all shapes and sizes with a generous 17-inch compartment and a sturdy water-resistant polyester lining.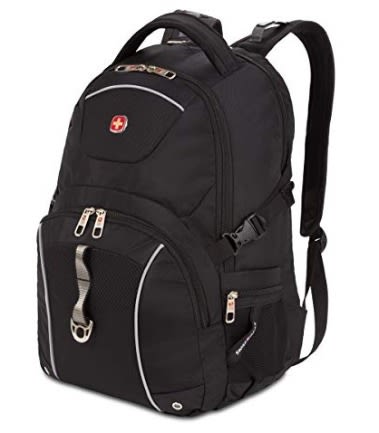 Photo by Desert Cart.
Other features include:
A separate tech compartment features a hook-and-loop closure strap to protect your device. Store your tablet inside a padded tablet sleeve located in the main compartment.
A front organizer zip pocket provides quick access to essentials while a spacious main compartment provides plenty of space to store binders, books or other bulkier items.
Contoured, adjustable, air mesh shoulder straps feature a sunglasses tab, accessory pocket, and built-in suspension to absorb the weight from a heavy load.
A signature Airflow back panel includes air mesh panels that deliver all-day ventilation.
Crafted from durable polyester.
Measures 18.5 inches x 12 inches x 7 inches; Laptop Compartment measures 14 inches x 10.75 inches x 1.5 inches; Tablet Pocket Capacity is10 inches x 7 inches.
Holds 30.1 L.
The SwissGear 3258 computer bag is ideal for the busy professional who takes pride in their appearance and also appreciates the inherent functionality of a laptop bag that combines sophisticated style with long-lasting quality and design features that support your work on the go and also carries you into the weekend with flexible functionality inside and outside the office.
Conclusion
After scrolling through mountains of reviews and comparing the features of the best travel backpacks, the SWISSGEAR 5505 Laptop Backpack is our number one pick of the superb SwissGear range. We love the choice of colours available and combined with the high quality for which this brand is known and ample sized padded laptop department, this backpack ticks all the boxes for us. But don't just take our word for it. Try out SwissGear for yourself. We're sure you won't regret it.
iVisa is an online visa processing company which aims to make your travel dreams a reality by providing convenient tools such as the online visa checker and easy to fill forms to make the visa process as painless as possible before you arrive. We are delighted to help you find the right travel bag to make your next business trip or adventure comfortable, convenient and enjoyable.
Bon Voyage on your next journey!
* Product prices and availability are accurate as of the date/time indicated and are subject to change. Any price and availability information displayed on the linked site at the time of purchase will apply to the purchase of this product.