Probably one of the most important things about embarking on a new journey is luggage. For some, traveling is a blessing, for others is a challenging experience, and part of the challenge starts at the airport. Having luggage with the right dimensions, a nice wheeling system, comfortable handles, materials resistant to all the bumps, and trouble the luggage goes through is paramount.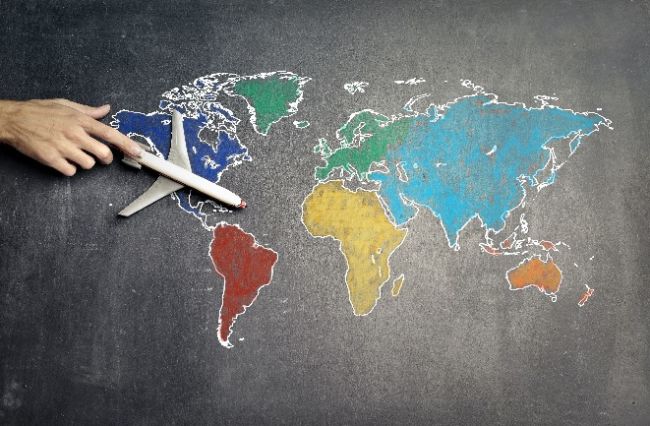 In order to make the process of picking the best traveler's choice luggage sets a bit easier, we've created a list of the best products for this purpose found (as of 08/07/2020 14:36 EST- Details*). Discover the characteristics these sets have to offer and enjoy the shopping experience.
HIGH-END OPTION: DELSEY PARIS HELIUM AERO HARDSIDE EXPANDABLE LUGGAGE WITH SPINNER WHEELS, BRUSHED CHARCOAL, 3-PIECE SET (19/25/29)
Cost: $443.19 (as of 08/07/2020 14:36 EST- Details*)
Helium Aero is Delsey's best-selling collection, featuring a 3 piece set in the following dimensions: a 19" carry-on bag, and a 25" and 29" check-in bags. The three of them are expandable and come with a handle system that locks into two positions to make them easier to use.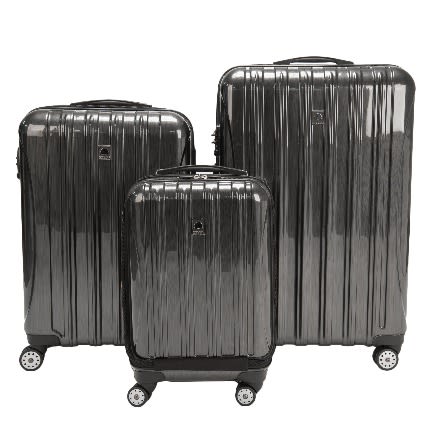 Photo by Yoybuy.com.
This set comes in 12 different colors for you to choose your favorite option, and it also features:
Polycarbonate shell
Four spinner wheels system
Integrated combination lock
Multiple pockets
"One-button" locking handle system
10-year limited warranty for these Helium Aero models
Resistant to the harsh treatments at airports, these DELSEY Paris Helium Aero Hardside Expandable Luggage have proven to stay still after years of use for various domestic and international flights. All cases feature an integrated recessed lock that's TSA-accepted to give a maximum level of security during your trips. Also, the double spinner wheels -included on all three sizes- provide better maneuverability with zero weight on your arm, which is great for those long walks from one side of the airport to the other, or while getting around at the hotel.
ON A BUDGET OPTION: MURTISOL TRAVEL 3 PIECES ABS LUGGAGE SETS TSA LIGHTWEIGHT DURABLE SPINNER SUITCASE ALUMINUM RETRACTABLE HANDLE 20" 24" 28", 3PCS ROSE GOLD
Cost: currently unavailable (as of 08/07/2020 14:36 EST- Details*)
Available in sizes of 20", 24" and 28", these luggage sets will take care of your traveling needs. The sets can also be stored inside each other for a greater saving of space. Although it is very lightweight, the luggage sets can surprise how strong they actually are.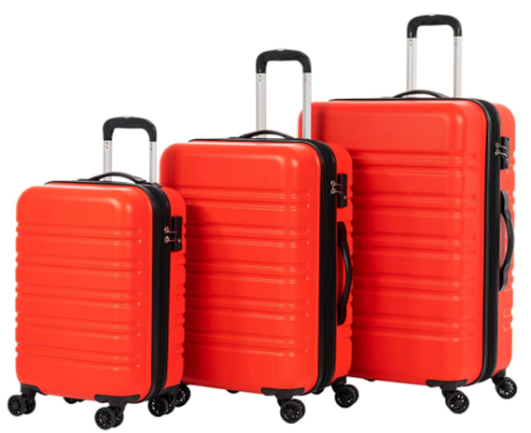 Photo by Walmart.
Made of premium ABS, these luggage sets cases also present:
Zippered curtain to keep and protect your private documents
They all are heat-resistant, pressure-resistant, and waterproof.
Four double lightweight spinner wheels for a 360° mobility in any direction
Replacement service to cover all manufacturing defects
24 hours of customer service
Moving around with a luggage will be like a breeze of fresh air with the Murtisol Travel 3 Pieces ABS Luggage Sets, all thanks to the 360° spinner double silent wheels, the spacious interior design, plus a 3 digit combination lock, that facilitates the security check. These features provide three essentials for every case: comfort, space, and safety. Whether you take it on a business trip, or for a long vacation, Murtisol luggage sets will cover all your needs.
BEST LUGGAGE SETS FOR INTERNATIONAL TRAVEL: SAMSONITE OMNI HARDSIDE LUGGAGE NESTED SPINNER SET OF 3 TEAL WITH TRAVEL KIT
Cost: $249.00 (as of 08/07/2020 14:36 EST- Details*)
This line has been improved to stay with you for a longer time, showcasing an enhanced polycarbonate shell design that focuses on making the exterior stronger, lighter and more appealing, while also delivering a scratch-resistant texture.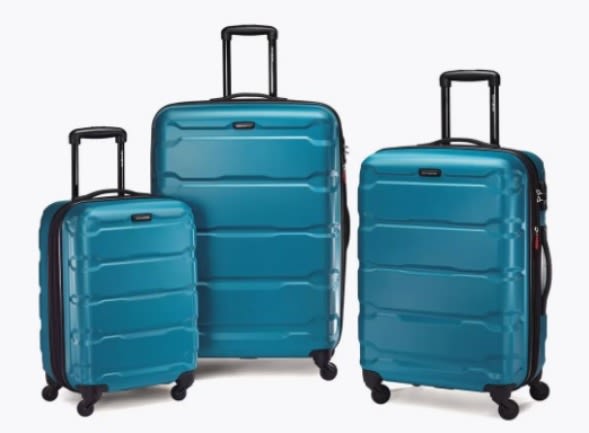 Photo by Samsonite.
Listed as the best luggage sets for international travel, here you have its features:
5 different color options (price may change)
Full Samsonite USA warranty included with Samsonite authorized dealer
The set of 3 includes: 20" New Omni 6lbs 2 oz, 24" New Omni 8lbs 2 oz, 28" New Omni 10lbs 6oz
Travel kit includes: Samsonite Deluxe Neck Pillow with Travel Pouch and a Samsonite Portable Luggage Scale.
According to customer reviews, the enhanced shell has really shown to be sturdy, resisting the challenges of a ski trip, a travel around Europe, exhausting airport use, among others, which is definitely a good sign of a long-lasting use through many adventures.
Whether road tripping around and discovering the excitements of being on the road, flying to another continent, taking it to a snowy quest or on a cruise, the Samsonite Omni Hardside Luggage Nested Spinner Set of 3 will be a tough player. Although the warranty is a great addition just in case you want to feel more calmed and confident with your new purchase.
And since we mentioned traveling around Europe and taking this luggage to a ski trip, why not visit France? At Courchevel, you can start practicing the sport in case you never tried before, or if you want to improve your skills, since 23% of Courchevel's pistes are perfect for beginners and 35% are just great for intermediates. How about Chamonix? Here were held the first Winter Olympics, and although is known for its expert terrain and off-piste skiing, it also has space for every kind of skilled skier. Or maybe Serre Chevalier, located close to the Italian border in the Hautes-Alpes, and a less pricey option for skiing and staying.
BBEST LUGGAGE SETS UNDER $100: BAHOM 3 PIECE LUGGAGE SETS WITH SPINNER WHEELS, TSA LOCK SUITCASE SET OF 3 WITH HARD SHELL FOR WOMEN, MAN, BOYS AND GIRLS, 20/24/28 INCH (RED)
Cost: $79.99 (as of 08/07/2020 14:36 EST- Details*)
BAHOM sets passed various endurance tests including rolling, drop, oscillation, impact, walking, and fatigue, all with the idea of providing customers with sturdy luggage for an affordable price.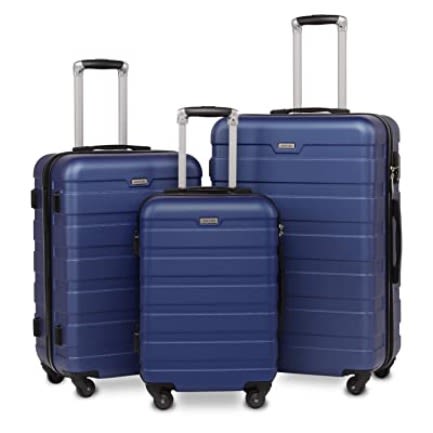 Photo by Ubuy.
Presenting soft and flexible material to protect your finger, the set also offers:
Lightweight ABS material and a scratch-resistant finish
Waterproof and easy to clean surface
360° rotating wheels
Adjustable telescoping handle
TSA compatible code lock
Available in 3 sizes of 20", 24" and 28" suitcases
BAHOM provides a 2-year return validation from the date of purchase for any quality issues.
The construction of the sets is ideal for business and personal travel, resisting bumps, scratches, and other challenges during your journey. Although is not expandable, it offers plenty of room for packing. Its lightweight construction and the easy mobility provided by the wheels even on grass or carpet at hotels prove that it can seamlessly roll on any floor. Either as a gift for a friend, a family member, or for yourself, the BAHOM 3 Piece Luggage Sets with Spinner Wheels will be a nice acquisition.
BEST LIGHTWEIGHT LUGGAGE SET: KENNETH COLE REACTION OUT OF BOUNDS 3-PIECE LIGHTWEIGHT HARDSIDE 4-WHEEL SPINNER LUGGAGE SET: 20" CARRY-ON, 24", & 28"
Cost: $167.38 (as of 08/07/2020 14:36 EST- Details*)
Available in 14 colors to choose from, this 3-piece includes a 20" carry-on, a 24" checked and a larger 28" checked, all packed with a spacious interior, 4-wheel spinners with a 360° rotation, corner reinforcements, and a molded side feet so it can stand on its side.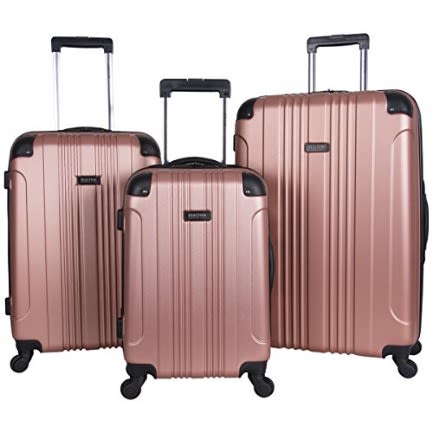 Photo by Desertcart.
Offering style and functionality, the set also deliver:
Retractable push-button telescoping handle with two lock positions
Two spacious compartments for double-sided packing
Large interior zipper pocket
Restraint straps to hold everything in place
Lightweight and water-resistant hard shell
Easily to clean
Molded corner reinforcements for maximum impact resistance
Construction adheres to airline weight restrictions to avoid unneeded airport fees
10-year limited warranty
One of the best features in the set is the U-shaped zipper pocket in the front lid, which allows double-sided packing to store the dirty clothes away from the clean or to take special care of a delicate garment. The interior is also very spacious and the restraint straps will keep everything in place. You can pack all you need for an excursion in Jamaica, a cruise, a weeklong trip to Europe in the winter, and more!
Have you thought about cruising to the Maldives? There are many lines operating cruises to this gorgeous place located in the Indian Ocean, where you can relax by the white-sand beaches with clear blue waters, or enjoy a romantic getaway in overwater bungalows.
BEST LUGGAGE SETS FOR COLLEGE STUDENTS: CARRYONE LUGGAGE 3 PIECE SET WITH SPINNER WHEELS HARDSHELL LIGHTWEIGHT SUITCASE 20 24 28 INCH TD2 (GREY)
Cost: $79.97 (as of 08/07/2020 14:36 EST- Details*)
Made with ABS and available in a red, blue and grey finish, the young brand CarryOne, provides luggage set to make your travel easier, including adjustable handles, 8 silent spinner wheels with a 360° rotation, and a hard shell lightweight construction to make it a suitable companion for a camping or fishing trip, vacations on a beach paradise, or exploring the world.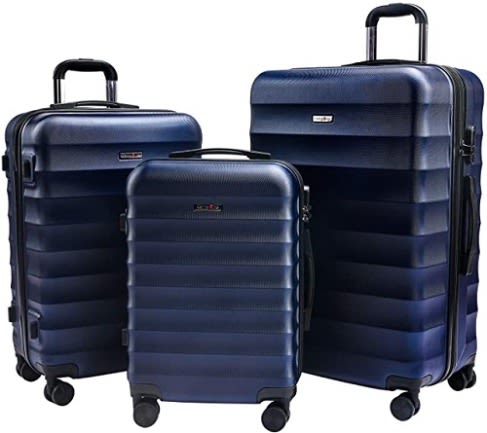 Photo by Harpmore.
With a cost-effective price, the set features:
The set comes in 3 sizes: 20", 24" and 28"
Can store each suitcase inside one another
3-digit combination lock
Two large compartments and organizational pockets
2-year worldwide warranty.
Affordable, light, resistant, spacious, safe, and backed up by a 2-year warranty, this set is a great companion for students who need to travel between home and college, for vacations, or on a student trip.
Conclusion
On this list, the main focus was on hardshell cases that were equally light and resistant, as well as feature the right dimensions to smoothly go through airport control. We selected sets that provide 360° spinning wheels -making them easier to roll around different types of floors- TSA compatible code locks, warranties, plenty of storage room, zipped pockets, and one of them even included a travel kit. We gathered the best traveler's choice luggage sets found on the online marketplace to help you with your selection for this important travel implement.
As an essential on the guiding process for your new escapade, on iVisa, we want to make sure that you're always covered with everything you may need, from visa to health document, all the way to the different products that will become part of your adventure.
Have a wonderful voyage!
* Product prices and availability are accurate as of the date/time indicated and are subject to change. Any price and availability information displayed on the linked site at the time of purchase will apply to the purchase of this product.