The next list will be focused on the best Travelpro luggage, exploring some of the greatest options the brand has to offer. Some people love to stick to a single brand because of its quality, price, models, and extra features, as well as for good customer service and warranty policy.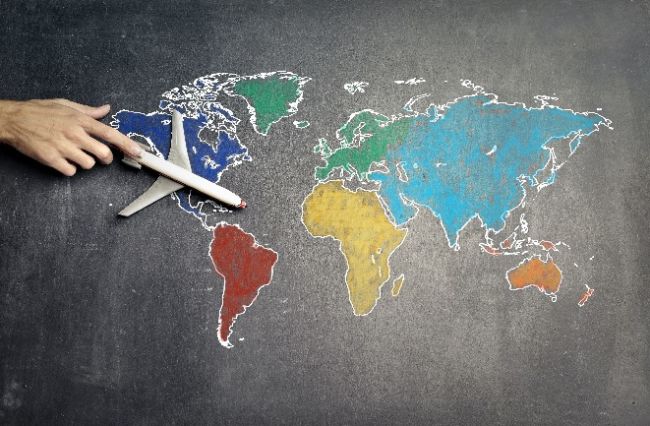 Whenever you need luggage for a holiday trip, a romantic getaway, a weekend with the family, or for a business voyage. Here you'll find the right model for every occasion, making sure that you have plenty of storage space, comfort, great mobility, long-lasting material, and more.
HIGH-END OPTION: TRAVELPRO PLATINUM MAGNA 2 - SOFTSIDE EXPANDABLE SPINNER WHEEL LUGGAGE, OLIVE, CARRY-ON 19-INCH
Cost: $248.37 (as of 08/11/2020 13:03 EST- Details*)
Ideal for frequent business and personal trips, the Travelpro Platinum Magna 2 is made with durable material and innovations on its design. This expandable carry-on suitcase holds a lifetime limited warranty that covers the cost of repair for damage for as long as the bag lasts after registration under the trusted companion promise.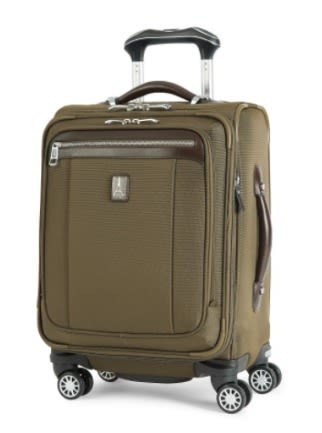 Photo by Desertcart
For comfort and control, the case comes with a cushioned Contour Grip, among other features:
Self-aligning magnetic dual 360° wheel spinners MagnaTrac (Patent-pending)
PowerScope aluminum handle
Ballistic nylon fabric with DuraGuard coating
The leather on top and side carry handles
Built-in accessory pockets
SUPRA zipper heads
Tie-down system
Up to 2" expansion
Offering plenty of space for packing, the interior features a hold-down system that includes a mesh and wet side pockets, plus accessory pockets to keep everything tidy. It also has a full-length lid pocket. The main compartment can expand up to 2".
This luggage has a stylish look that will go great for a business trip or a couple of weeks-long trips. The magnetic system in the wheels makes them easier and smoother to roll, keeping them in line without you battling to move it.
ON A BUDGET OPTION: TRAVELPRO MAXLITE 5-SOFTSIDE EXPANDABLE SPINNER WHEEL LUGGAGE, BLACK, CARRY-ON 21-INCH
Cost: $100.81 (as of 08/11/2020 13:03 EST- Details*)
Max. Lite 5 might be the lightest collection made from the company, introducing a pack of characteristics that will make this suitable for different travels, especially because the lightweight design allows you to pack more items, so be careful about not exceeding the limits on the airlines.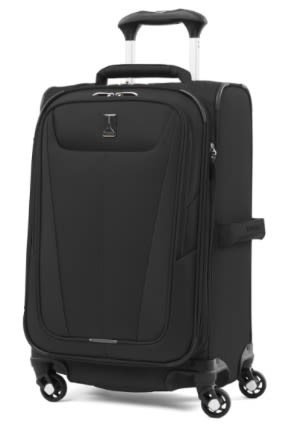 Photo by Travelpro.
With 9 different colors to choose from and weighing 6.1 lbs, the luggage also offers:
4 wheel spinners with a 360° rotation
PowerScope handle
Contour grip
Rubberized touchpoints for easy guiding.
Bottom tray design for more durability
Carry handles on top, side and bottom carry
Two exterior compartments
Full-length interior lid pocket
Side accessory pocket
Adjustable hold-down strap
Made with water and stain-resistant Duraguard coating, the case will have a flawless presence in all your journeys. Plus the limited lifetime warranty coverage will also assure that it stays in the best shape.
This is how the warranty works: The Limited Lifetime Warranty Coverage lasts for the period the product is owned by the original purchaser or gift recipient, covering defects in materials and workmanship for wheels, zippers, extension and carry handles. Repairing or replacing at Travelpro's discretion.
The New Trusted Companion Promise -which activates upon product registration- is valid for the first (1) year of Limited Warranty Coverage. This covers shipping cost in case the product needs to be shipped to one of the company's facilities, and it also covers the cost of repair for damage caused by an airline or other common carrier.
You can also get additional coverage if you register within 120 days of purchase or gift receipt.
The different warranties definitely provide a worry-free state of mind when traveling, especially if you're taking a long flight to places like Australia, New Zealand, Japan, or Papua New Guinea.
An expedition to New Zealand will take you to incredible places like the Bay of Islands, where you can fish, sail, and practice other watersports. If you love wine, then Waiheke Island will be the perfect place to check out since is home to a lot of vineyards. How about being amazed by the Waitomo Glowworm Caves and the thousands of glowworms that naturally illuminate the place?
BEST TRAVELPRO PLATINUM ELITE: TRAVELPRO PLATINUM ELITE-SOFTSIDE EXPANDABLE SPINNER WHEEL LUGGAGE, SHADOW BLACK, CARRY-ON 21-INCH
Cost: $155.74 (as of 08/11/2020 13:03 EST- Details*)
Fashionable, modern, practical, spacious, easy to roll around. This Platinum Elite luggage was designed to cover all your needs for short to medium-length trips, giving attention to details that professionals will appreciate while traveling with this case for business trips.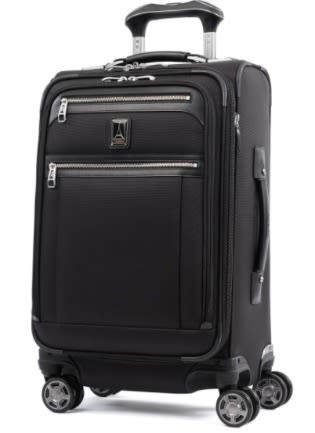 Photo by Travelpro.
Featuring 6 colors to pick from, the best Travelpro Platinum Elite luggage includes:
Expandable interior
External USB port
Dedicated power bank pocket (Powerbank is not included)
Precision glide system
Contour grip
PowerScope handle adjustable on 4 stop
Magnatrac spinner wheels
Fold-out suiter for wrinkle-free packing
Tie-down system includes built-in accessory pockets and removable quart-sized wet pocket for toiletries
Limited Lifetime Warranty Coverage and New Trusted Companion Promise
Visiting Spain can be an unforgettable experience, starting with the Alhambra in Granada, an impressive castle that was consistently enhanced and altered by successive rules until becoming the historic treasure it is today. You can also soak up the sun at the Canary Islands composed of different wanders with unique things to offer in their own way.
BEST TRAVELPRO CARRY ON: TRAVELPRO CREW 10 - SOFTSIDE EXPANDABLE ROLLABOARD LUGGAGE, NAVY, CARRY-ON 22-INCH
Cost: $79.99 (as of 08/11/2020 13:03 EST- Details*)
As its name says the Travelpro Crew 10 has been selected as the best Travelpro carry on for flight crews and frequent travelers as well. For a brand founded by a pilot, creating a series with flight crews in mind was a nice wink. Comfort and practicality are two of the main features in a case designed for frequent travelers who spent many hours within many days constantly on the move.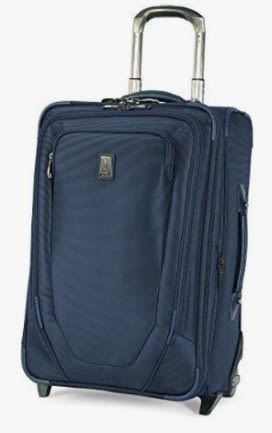 Photo by Pinterest.
This expandable rollaboard suiter features:-
Durable wheels
Corner protectors
Powerscope handle
Main body expansion
Full lid pocket
Suiter to keep clothes wrinkle-free during travel
Available in 3 colors
Overall, this case is very suitable for those who practically live on the road, offering a spacious interior with organizer pockets to keep everything in place, plus the suiter that will allow you to keep your suits or cocktail dresses wrinkle-free.
BEST TRAVELPRO CREW: TRAVELPRO CREW 11-SOFTSIDE EXPANDABLE LUGGAGE WITH SPINNER WHEELS, BLACK, CARRY-ON 21-INCH
Cost: $324.96 (prices variy based on color) (as of 08/11/2020 13:03 EST- Details*)
Exploring a little more the Travelpro Crew series, it's time to see what the Travelpro Crew 11 luggage has to offer. Showcasing modern features, this suitcase is described as the civilian version of the bag dedicated to professional flight crews.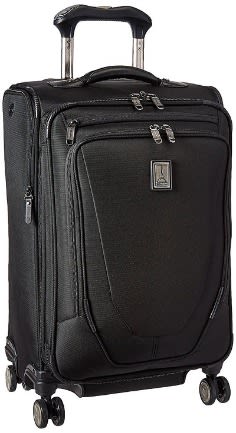 Photo by Pinterest.
This fully expanded carry-on delivers:
An external USB port
Dedicated charger pocket (The battery pack is not included)
Ballistic nylon construction
DuraGuard coating resistant to stain and scratch
Damage resistant Supra zipper heads
Leathered top and side handles
Full-length interior lid pocket
Side mesh
Wet pockets
Adjustable straps
Removable hanging garment bag
8 self-aligning magnetic 360° dual spinner wheels
PowerScope extension handle
Backed by the Limited Lifetime Warranty Coverage, as well as the New Trusted Companion Promise, one of the differences in this aspect with the previous luggage on the list, is that the New Trusted Companion Promise is valid for the first 3 years of limited warranty coverage after registration.
Conclusion
Travelpro is known as one of the main luggage brands, being applauded on its durability, interior design, modern features, and innovation in their newest products. This list has included the best Travelpro luggage on the online marketplace, covering carry-on size luggage with certain differences in design and extra features, yet offering the same quality the brand is notorious for. The warranty is a great plus, just double-check for how many years the New Trusted Companion Promise is valid for, since it may vary depending on the case.
Once again, it was a joy to present you with a list with the best Travelpro luggage for you to consider on your next trip. Remember that iVisa is happy to help with any visa requirements or information you might need.
Have a wonderful voyage!
* Product prices and availability are accurate as of the date/time indicated and are subject to change. Any price and availability information displayed on the linked site at the time of purchase will apply to the purchase of this product.