For the following list, we're going to focus our attention on the best underseat luggage, that carry-on-bag that sometimes you protect fiercely because it has the important documents, devices, and essentials you need for that long flight, or on a road trip, a ferry, or a train. This might be the most important piece of luggage on any trip because it holds everything that comes handy or the things you might need for an emergency.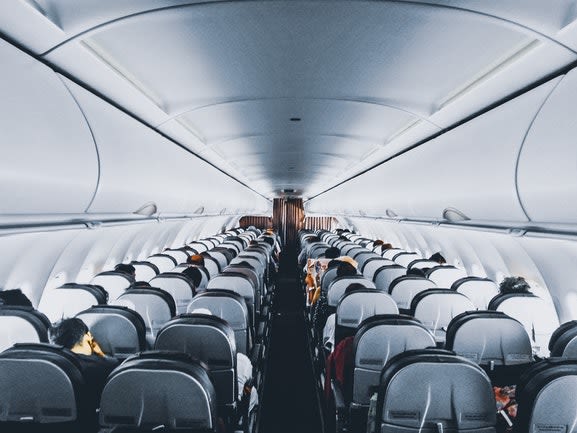 We built this list of the best underseat luggage with six different models found on e-commerce retail sites, to satisfy different needs and preferences among users, covering luggage with and without wheels, and also backpacks.
HIGH-END OPTION: HANDMADE LEATHER DUFFEL BAGS FOR MEN - AIRPLANE UNDERSEAT CARRY ON LUGGAGE BY RUSTIC TOWN
Cost: $129.45 (as of 07/16/2020 14:36 EST- Details*)
Crafted using traditional techniques by skilled artisans of Rajasthan, India, this handmade leather bag by Rustic Town uses 100% handcrafted methods.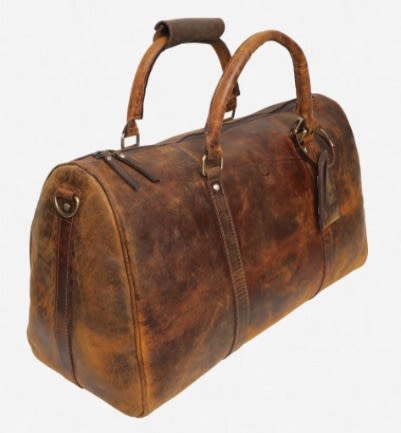 Photo by Rustic Town.
You can find this in brown and mulberry finish, featuring:
Handcrafted by Indian artisans
It has a break-resistant YKK zippers
4 card slots
3 pen loops
A pocket for your mobile
Inner zip pocket
Rustic Town is connected with a number of Organizations within India aimed to bring employment to artisans and to keep their traditions alive.
With a sturdy yet elegant and manly look, quality materials, top handcrafting, and the right room for packing for three days, to a whole week trip, this bag has greatly surprised many users, who praised the looks, durability, and storage space. Listed as the best underseat luggage, it can be a great companion for a party bus tour, a business trip, a camping excursion, or for a mini-vacation.
ON A BUDGET OPTION: GENERIC E-COMMERCE BRAND UNDERSEAT, CARRY-ON ROLLING TRAVEL LUGGAGE BAG WITH WHEELS, 14 INCHES
Cost: $64.17 (as of 07/16/2020 14:36 EST- Details*)
With a very compact size, this luggage can easily fit into overhead compartments or under the seat for easy access during your flight. The generic e-commerce brand Underseat Luggage Compact provides storage space divided into compartments for a better organization of your belongings and is adequate for a business trip, a short family vacation, or a weekend get-away.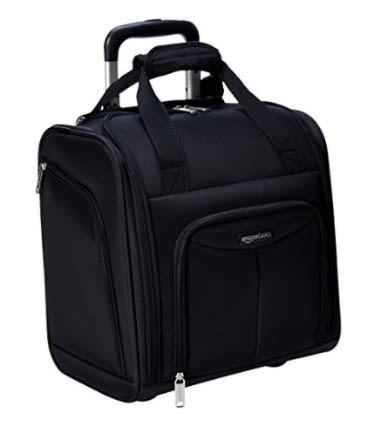 Photo by Desert Cart.
Coming in 10 different colors, this luggage also offers:
Made of durable 600D polyester
22 Liters of interior capacity
The main compartment can store clothes and a pair of shoes
Interior pockets for smaller items
Front organizer for items like a plane ticket, a book, or a magazine
Push-button handle
Perfect for a short trip either for business or pleasure, the bag features the compartments, pockets, and room to store all you may need for a 5-days voyage. Although it comes with 2 fixed wheels, they are smooth and easy to roll thanks to their rollerblade style, which also makes them more durable than some of the plastic wheels found in other luggage.
BEST SAMSONITE UNDERSEAT LUGGAGE: SAMSONITE UPRIGHT WHEELED CARRY-ON UNDERSEATER LUGGAGE, BLACK, SMALL
Cost: $57.36 (as of 07/16/2020 14:36 EST- Details*)
Combining Polyester and Nylon fabrics for durability, along with polyurethane inline skate wheels, this Samsonite Wheeled Underseater Small designed to last and resist the challenges of traveling.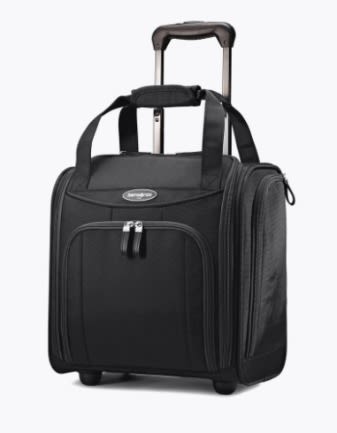 Photo by Samsonite.
With 12.5 x 9 x 14 inches dimensions and weighing 5.07 pounds, the luggage provides:
4 different finish colors
Inline skate wheels with ball bearings to minimize frictional resistance
Push-button locking handle
Wetpak zippered compartment, to separately pack damp or soiled items
Stash exterior pockets
Sleeve On Back
The idea of the perfect underseat luggage is that it is small enough to actually fit under the seat, as well as in overhead cabins, but at the same time, offers plenty of space to carry everything you need for your business, school, or weekend trip. This luggage marks the boxes and will allow you to happily pack and roll through different places.
BEST UNDERSEAT BAG WITHOUT WHEELS: 16 INCH CARRY ON HAND LUGGAGE FLIGHT DUFFLE BAG, 2ND BAG OR UNDERSEAT, 19L (BLACK + PLUM)
Cost: $24.99 (price may vary based on finishes) (as of 07/16/2020 14:36 EST- Details*)
Light, compact, and resistant, this bag is great to carry your personal items along with your checking luggage, making it a nice complement that can easily slide under the seat of all airlines.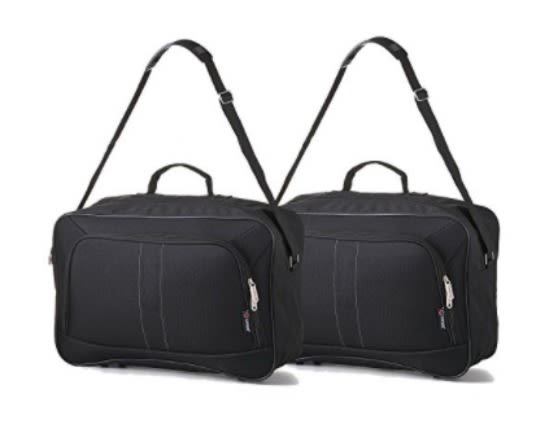 Photo by Desert Cart.
Weighing 1.1 pounds, with a capacity of 19L, this bag also includes:
Adjustable shoulder strap
Extra zip pocket on the front for small items
Robust heavy duty zippers on the main entry
Key padlock
Backstrap to slide down the handles of other cases
A plus on the 16 Inch Carry On Hand Luggage Flight Duffle Bag is that it was designed specifically as Approved Personal Item size on different airlines like American Airlines, Delta Airlines, Southwest Airlines, United Airlines, Sun Country, which means that you won't have to pay extra money to have it with you in the airplane.
Now that Ireland was previously mentioned, a tour to the incredible Ring of Kerry, a visit to the Little Museum of Dublin, enjoy a picnic at St. Stephen's Green or walk around Grafton Street and submerge into the different cafes and be entertained by buskers and performance artists.
BEST UNDERSEAT BACKPACK: MARK RYDEN 40L CARRY-ON TRAVEL BACKPACK UNDERSEAT FLIGHT BAG FIT 17.3 LAPTOP
Cost: $58.99 (as of 07/16/2020 14:36 EST- Details*)
Ready to take a plane, get on a train, or travel by bus? This backpack hosts special compartments, multiple pockets, a spacious main compartment, velvet sleeves to protect your laptop and tablet, and even a USB charging port so you don't have to plug your devices away from you or stand while waiting for them to charge.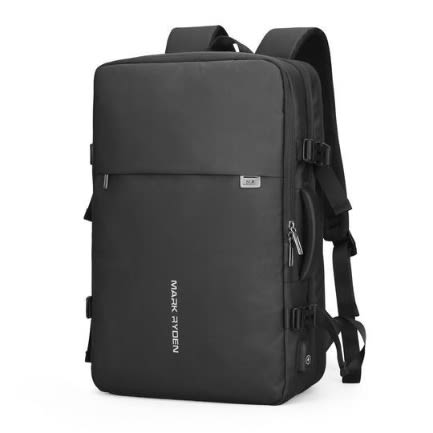 Photo by Mark Ryden.
With the capacity to adjust its capacity from 25L to 40L, the backpack also offers: Space for a 17.3 laptop
1 Internal USB cable
Design to fit the allowed maximum size of an IATA flights
The compressed capacity of 25L with a full-expansion zipper that gives 30% more packing space—40L.
Three main pockets which include 7 compartments inside
Anti-theft backside pocket.
Add-a-bag sleeve
Water-proof polyester
Strap for back and shoulder with a special cushion
Airflow Design
Built-in charging cable
The looks, construction, waterproof quality, multiple pockets, the padded sleeve for your laptop, and the USB charger, definitely make this the best underseat backpack. Climb, hike, explore, and keep your things safe under the rain with this backpack.
As one of South America's great destinations, Argentina would be a wonderful place to explore with your Mark Ryden 40L Carry-on Travel Backpack. You could visit the Iguazu Falls, one of the seven natural wonders of the world, or the Nahuel Huapi National Park, filled with lakes, wildfire, and a dormant volcano at the Bariloche area of Patagonia, where Bariloche is known for its chocolate, craft beer, and skiing. And if you are into dinosaurs, then you can't miss Valle de la Luna, a large protected area that contains unique rock formations and dinosaur remains, which according to Unesco, contain the most complete continental fossil record known from the Triassic Period (245-208 million years ago).
WOMEN'S CARRY ON BAG: WEEKENDER BAG FOR WOMEN - OVERNIGHT TRAVEL TOTE - UNDERSEAT CARRY ON LUGGAGE
Cost: $49.99 (as of 07/16/2020 14:36 EST- Details*)
Having comfort in mind, the Sienna bag is designed to carry all yours belonging without weighing you down. Since it was designed by a frequent traveler, the bag comes with different features that will make it extra helpful. It's even described as a perfect bag for your hospital essentials as pregnancy, labor or delivery bag, thanks to the spacious interior to pack everything for mom and baby, and the different pockets that will help keep everything organized.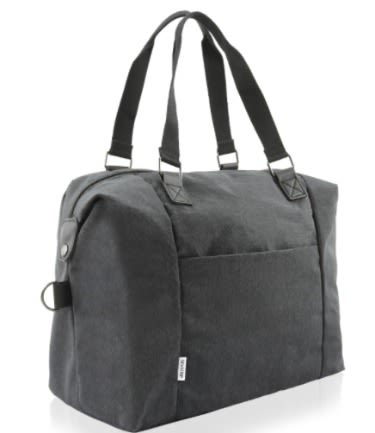 Photo by Silvatrip.
Featuring a light-colored lining that will help you find things easily, this Weekender Bag for Women also delivers:
It meets the carry-on size guidelines for all airlines, even qualifying as a personal item for most carriers (American Airlines, United, Delta, Spirit, Southwest, JetBlue, Alaska, Virgin America, Frontier, Skywest, Express Jet, and Hawaiian).
The bag is waterproof
Includes a padded 15.6-inch laptop pocket
Has space for a tablet/e-reader
Key leash
Internal and external zipped pockets
Shoe/laundry bag
Adjustable shoulder strap
A trolley sleeve with integrated pocket
The bag folds almost flat when empty.
Ideal for short trips, carry-on bags, mommy's bag, shopping, or for work, this bag has been praised for its roomy interior and multiple pockets that help organize everything and make things easier to find. The WetnDry Compresspack is a wonderful addition since it allows you to store the sweaty gym clothes, dirty laundry, a wet umbrella, heels, muddy shoes, or damp swimwear.
Conclusion
To summarize, thinking about practicality while traveling, we made a list of the best underseat luggage that are compact, spacious, comfy, easy to handle, some with nice surprises and others specifically designed to meet the airlines' requirements on sizes, to the point that you can get these bags in, as a personal item, which means that you'll also save money while traveling with them, isn't it awesome?
Once again it was a pleasure for iVisa to be by your side during the selection of the best underseat luggage available online, for those short trips within your own country, or overseas. It's also wonderful for us to help you get the documentation needed to visit exotic places around the world.
Have a wonderful voyage!
* Product prices and availability are accurate as of the date/time indicated and are subject to change. Any price and availability information displayed on the linked site at the time of purchase will apply to the purchase of this product.