Wheeled duffle bags are the best equipment for those adventurous spirits who also like to count on some comfort during their trips. The best thing about the wheeled duffle bags for travel is the unlimited places you can take them to, knowing they'll have your back through rain, snow, wind, sand or even fire (well close to it if you get close to a volcano). So let them be part of your quests through Switzerland at the Swiss Alps, get around the Himalayas in India, and discover Table Mountain in South Africa, or sightsee the South American beautiful scenarios from Cerro Torre, located between Argentina and Chile. The world is yours to explore and with a great wheeled duffle bag by your side, there's no limit on what you can experience.

Since we like to put your comfort on top of our list, we've gathered a couple of suggestions that might come in handy for any occasion. We found the best items on the online marketplace and we'd love to show them to you here! Our choices range from more expensive to a more cost-effective option, plus some extra surprises.
HIGH-END OPTION: VICTORINOX VX TOURING WHEELED WATER REPELLANT DUFFEL BAG
Cost: $310 for Checked, Medium 26" (as of 07/14/2020 14:36 EST- Details*)
The Victorinox VX Touring takes the number one position on our list of best wheeled duffle bags, coming also in medium size and offering a Beetroot finish on both sizes. Thanks to its new abrasion resistant rips top fabric, the bag provides a water repellent coating.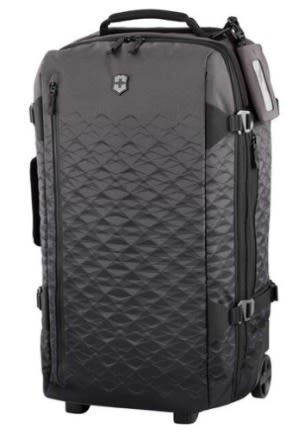 Photo by Victorinox.
With a capacity of 69L, this 8.58 pounds wheeled duffel bag features:
A padded front compartment
A zippered quick-access side pocket and two rear,
Easy-to-clean,
Wet/dry pockets ideal for storing running shoes or dirty clothes
With an identity focused on an active lifestyle, and offering products that meet the needs of the modern traveler, VX Touring has been Swiss-engineered for those seeking a world of adventure. Take it on the road with you, benefit from its expandable insides, multiple pockets and stripes that keep everything in place, and enjoy the comfort offered in this wheeled duffle bag.
ON A BUDGET OPTION: COLUMBIA 30" RED/BLACK DOG MOUNTAIN WHEELED DUFFEL BAG
Cost: $58.99 (as of 07/14/2020 14:36 EST- Details*)
Coming into our list of the best wheeled duffle bags as a brand new merchandise from the brand Columbia, this bags has a durable ripstop polyester construction with fully lined interior, and zippered mesh pocket.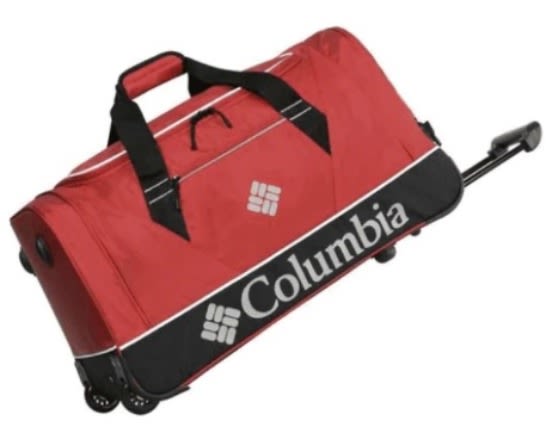 Photo by Overstock.
At 10 pounds and 30", the Columbia Dog Mountain wheeled duffel bag features:
In-line skate wheels
Push-button locking trolley handle
Double handles
Large shoe pocket
BEST WHEELED DUFFLE BAGS FOR TRAVEL: TRAVELPRO BOLD-DROP BOTTOM WHEELED ROLLING DUFFEL BAG
Cost: $157.41 (as of 07/14/2020 14:36 EST- Details*)
Listed as one of the best wheeled duffle bags for travel, Travelpro has arrived to show us why it would be the ideal bag for adventurers. The Travelpro Bold-Drop Bottom Wheeled Rolling Duffel Bag offers a durable, lightweight and versatile construction that goes great with different environments, and you know why? It's because it has water repellant high-density polyester fabric for greater stain and abrasion resistance, plus a lifetime warranty!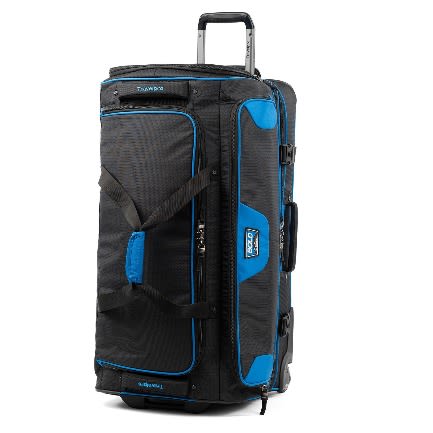 Photo by Travelpro.
With overall dimensions of 31x16.5x17 and weighing 10.9 pounds, it features:
Tough-built, lightweight, expandable rolling duffel bag
Drop bottom made of rugged, high-density polyester fabric
Water repellent coating for greater stain resistance
Reinforced wheel housings and skid guards that protect high wear points
Strong, telescoping Aircraft-grade aluminum handle stops at 38" and 42" for users of different heights.
High performance ball-bearing wheels that deliver a smooth roll
2" expansion provides additional packing capacity
Drop-bottom provides a separate compartment or opens to one large packing space.
Interior mesh pocket is built into the lid
Large, zippered exterior wet pocket, ideal for damp or dirty items.
This duffle bag seems to meet the needs of different travelers who trusted its capacities for their escapades, carrying diving gear (even for two people), being part of a cycling voyage, and exploring Italy and other places in Europe for over two weeks.
Maybe one of the perfect places for this would be Italy, where you can dive in Nerano, a lovely town nestled between the Sorrento Coast and the Amalfi Coast, which is a paradise of nature between Capri, Sorrento and Positano. Or take the road with your bicycle and check out Tuscany, Lake Garda, or Sardinia, a place for those attracted to mountainous and rugged landscapes.
BEST RATED WHEELED DUFFLE BAGS: TIMBERLAND WHEELED DUFFLE BAG - 30 INCH LIGHTWEIGHT LARGE ROLLING LUGGAGE TRAVEL BAG SUITCASE FOR MEN, BURNT OLIVE/BURNT ORANGE
Cost: $128.62 for size 30; $139.99 for sizes 26 and 22 (as of 07/14/2020 14:36 EST- Details*)
Hosting a large packing interior compartment, it also has a top pocket with a large mesh pocket that includes a double zipper, plus a secret zipper pocket built to keep your travel documents safe. Have you noticed how some wheels are really noisy and delicate? You won't have that problem with this Timberland Wheeled Duffle Bag, since it comes with two in-line skating wheels that make the glide smooth and easy, while they're also protected thanks to the bottom rubbers shock-absorbers.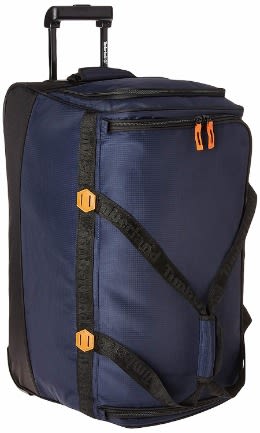 Photo by Desertcart.
The 30" and 9 pounds wheeled duffle bag features:
Two in-line rolling wheels
One top handle, one side handle and one push-button telescopic handle.
Sturdy and light structure
The Interior main compartment fully lined to protect your clothes and sensitive items.
Two elastic valet straps and one zipper pocket
One large mesh zipper
2 bottom bumpers,
2 sturdy straps around the case
Waterproof shell protection against wet conditions.
Used from a two week overseas multi-sport adventure trip, going through a Pacific Northwest 10 days trip, to driving around in limos and train, and getting around Europe and China, the bag has proven that its space, multiple pockets, and lightness are its top qualities. No wonder is one of the best rated wheeled duffle bags
BEST LIGHTWEIGHT WHEELED DUFFLE BAGS: REDCAMP FOLDABLE DUFFLE BAG WITH WHEELS 85L/120L, 1680D OXFORD COLLAPSIBLE LARGE DUFFEL BAG WITH ROLLERS FOR CAMPING TRAVEL GEAR, BLACK
Cost: $37.99 (as of 07/14/2020 14:36 EST- Details*)
As a professional outdoor equipment brand, REDCAMP tries its best to have your back (kind of literally) and provide their customers with a great outdoor experience and post-sales services. Let's go into the wild and enjoy nature!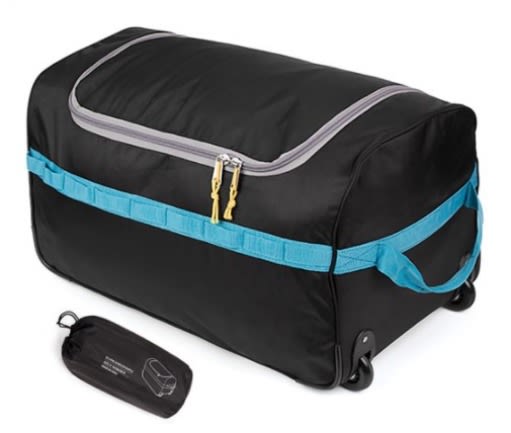 Photo by Walmart.
Being on the list as one of the best lightweight wheeled duffle bags, it's not a surprise that it weighs 3 pounds! Now it's time to see what else it offers:
Is made of high density waterproof 1680D PVC Oxford and 210D Polyester
Wear resistant and tear resistant.
Sturdy heavy-duty treaded rubber wheels in a protective wheel housing for smooth mobility and maximum durability.
Easily maneuvers through airports and hotels, as well as over unpaved, bumpy or muddy surfaces
Up to 85L with dimensions of 25.6 x 14 x 14 inches / 65 x 36 x 36cm (L x W x H).
It can be folded into a compact carry pouch of 7.9 x 15.7 inches / 20 x 40 cm (W x H).
Can be used as travel bag, shopping bag, luggage, gym bag, sports bag, hiking and camping bag, beach bag, season laundry bag, storage bag.
100% Money Back Guarantee: REDCAMP offers a 365-day full manufacturer warranty. If any piece breaks, contact them and they will replace the bag or provide a full refund.
Its lightweight and foldable capacities make the REDCAMP Foldable Duffle Bag with Wheels a great ally for all kind of uses, like the equipment that is used in sports and recreational activities such as hockey, baseball, boating, fishing, paintball, and skiing. If there's a place that offers the scenario for all these activities, that's Colorado in the United States! In Colorado, you can visit the water park Water World, ski and snowboard at Monarch Mountain, get an adrenaline rush at Castle Rock Adventure Park, or enjoy some family entertainment at DEFY Extreme Air Sports.
BEST WHEELED DUFFEL BAG LUGGAGE: EBAGS TLS MOTHER LODE MINI 21" WHEELED DUFFEL BAG LUGGAGE - CARRY-ON
Cost: $129.99 (as of 07/14/2020 14:36 EST- Details*)
A carry-on bag made it here as one of the best wheeled duffel bags to consider for your next voyage. It was recently updated to be more lightweight and user-friendly. With a hard shell on the backside coupled with the organization of soft side luggage on the front of the bag, this duffel embodies the best of both worlds.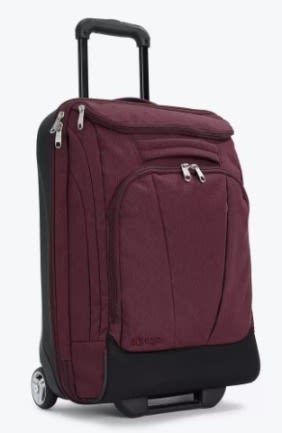 Photo by ebags.
Made with 840D & 900D Twisted Poly, the luggage features:
Telescopic handle adjusts to 3 heights
Easy-rolling wheels
Large shape with expandability and multiple pockets for storage
Easy access front zip compartment with compression straps and interior mesh zip pocket
Large main compartment, interior zip-around mesh panel pocket, 2 exterior quick-grab zip pockets and zip expansion for an extra 1.5"
This wheeled duffel bag features an innovative patent-pending backbone for riggity
Lifetime Warranty* that: protects against defects in materials and workmanship.
The bag delivers space, comfort, protection of your personal belongings, tip-proof qualities, and the right dimensions to accompany you as a carry-on bag on any flight. Take it with you for a 10 days trip to London, or maybe around New York, or why not Paris, or Buenos Aires. Have everything you need in hand rolling with you.
Conclusion
Knowing how important is to have a reliable bag that not only carries your belongings, but also protects them, while offering comfort and space while traveling, we wanted to provide the best options for different necessities found on e-commerce retail sites.
At iVisa we care about you, trying to facilitate all the information you might need for your next adventure, as well as guiding you through the process of getting a visa to a variety of countries.
Have a wonderful time on your next trip!
* Product prices and availability are accurate as of the date/time indicated and are subject to change. Any price and availability information displayed on the linked site at the time of purchase will apply to the purchase of this product.