There's never been a better time to hit the lake for a spot of fishing. We love warm summer nights spent at the water's edge as well as taking the boat out to sea in search of bigger fish to fry. Fishing is a relaxing hobby and a peaceful way to spend an afternoon, so the last thing you want is a bad case of sunstroke from sitting out in the heat too long.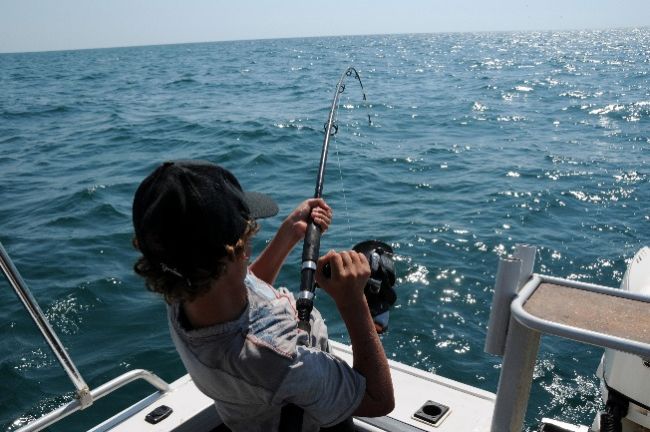 The solution is at your fingertips. Fishing shirts are made with the angler in mind and nowadays they are available in a variety of styles as well as offering handy features that are guaranteed to improve your waterward experience. Thanks to the internet, you don't need to take a trip to the outdoor store at the edge of town to check out fishing accessories anymore.
The online marketplace offers hundreds of different clothing options to suit fishermen of every size and shape so to help you find the perfect choice we narrowed it down to the best of the best and compared their fabulous features to get this winning line up. Whether you're potting lobster in the chilly Atlantic Ocean or spearfishing shrimp in clear Caribbean waters, we're sure one of our shirts will catch your eye.
HIGH-END OPTION: SIMMS SOLARFLEX FISHING SHIRT
Cost: $57.97 - $117.63 (as of 08/03/2020 11:46 EST- Details*)
Our high- end option in fishing shirts comes from industry leader Simms, who has 40 years of experience producing fishing gear. This top-end shirt offers a choice of six different camouflage colors that allow you to blend into your environment seamlessly. The Solarflex offers factor 50 protection from the sun which is essential for those who like to head out early in the morning and spend a full day to practice their skills.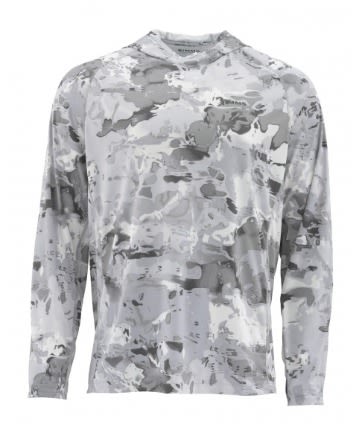 Photo by Simms.
Other features include:
100% Polyester design for quick drying
Flat seam construction and Raglan-sleeves for unrestricted movement
COR3 Technology fabric finish makes this shirt UPF rated and provides anti-odor and sweat-wicking properties for moisture management
UV protection designed with SolarFlex technology
High-backed collar for extra protection around your neck.
Easy-care material which will travel well and resist wrinkles
Fishing in warmer weather is certainly easier on your hands so if you're ready for a taste of the Mediterranean we recommend you get a pizza the action in Italy and see what your rod can produce. There's certainly no shortage of fish on the idyllic island of Sicily where the local markets teem with fish from sardines to prawns. So just in case your net is empty at the end of the day, there's always a tapas bar with a glass of wine and a plate of fishy snacks waiting for you.
ON A BUDGET OPTION: BASSDASH FISHING T-SHIRTS
Cost: $16.95 - $21.95 (as of 08/03/2020 11:46 EST- Details*)
Our budget option today is from Bassdash, who offer their long-sleeved shirt in 10 different colors. We love the bright colorful shades available and we think the price is unbelievable for the quality of the shirt. Bassdash doesn't cut corners in the production of this material which provides top protection with 84% Polyester and 16% Spandex fabric. The functionality of the shirt is what impresses us most as the design helps the wearer to stay cool under the sun.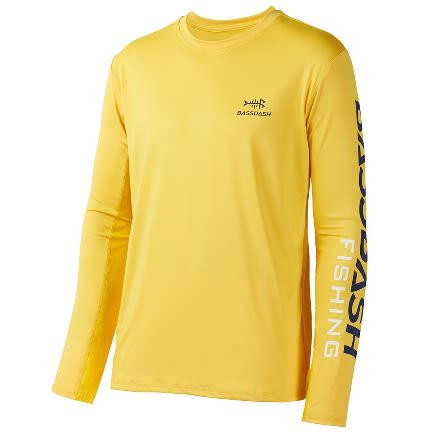 Photo by Bassdash.
Other features include:
Long-sleeve design and 50+ UPF protection
Moisture-wicking fabric manages the perspiration to keep you dry and comfortable
The elastic material allows for a full range of movement when casting or reeling in
Sizes range from medium to 4 XL
If you're on a budget, Vietnam is one of the top fishing destinations to visit on a shoestring. The Mekong River is home to some of the biggest, most frightening fish ever caught. Try your luck and see what you pull out, and if the river fish slip away from you then you can always take some time out to check out the ornamental koi in the fish park in Ho Chi Min city. Then if you've had enough fish for one day take a trip down one of the busy city center streets to sample tasty street food hot soup.
BEST HUK FISHING SHIRTS: HUK MEN'S PREMIUM FISHING SHIRT
Cost: $32.68 - $49.99 (as of 08/03/2020 11:46 EST- Details*)
The Huk Fishing Shirt is designed for professional fishing. We were blown away by the unique features of this shirt including stain release treatment to prevent stains and smells from oily substances as well as an anti-microbial treatment to stop odor in its tracks. Comfort comes first when you're wearing a Huk shirt and the lightweight material makes it the perfect layer to add on cooler days too. It comes in a choice of 9 colors with a camouflage material used on the arms to disguise you from the fish.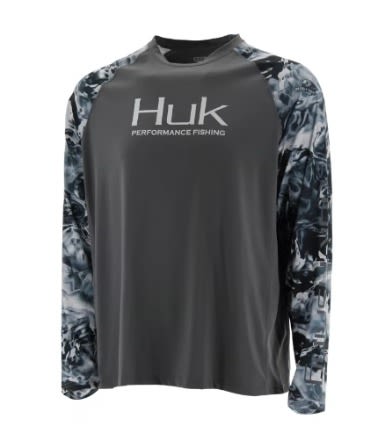 Photo by Bass Pro.
Other features of this shirt include:
Made using advanced sun-blocking +30 UPF materials to block both UVA and UVB rays
Huk performance shirts include special fibers that transport sweat away from the skin and synthetic materials that allow air to pass through to create superior breath-ability
Weighs 7 ounces
BEST FUNNY FISHING SHIRT: RATTLIN JACK FISHING SHIRT
Cost: $29.99 - $43.99 (as of 08/03/2020 11:46 EST- Details*)
When it comes to style and substance on the open sea, we went straight to Rattlin Jack for this snazzy number, which comes in 13 fabulous colors. The pirate skull logo reminds of the Caribbean for all the right reasons and the text written on the sleeve (Fishin's in My Bones) will appeal to the cool guys down at the river. You might not blend in but you'll be noticed for all the right reasons in this number.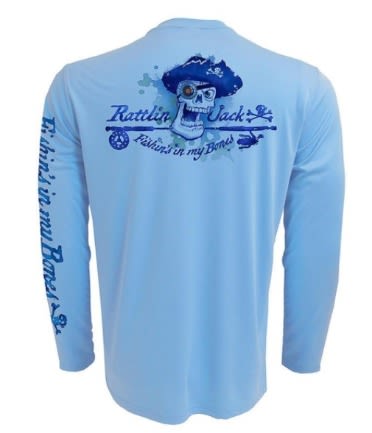 Photo by Etsy.
Additional features of the shirt include:
100% polyester
Crew neck and long sleeves;
UPF 50+; the highest UV sun protection rating on sport fishing shirts
Dye sublimation means fabric is breathable all over including the image which will not crack peel or warp
Active fit material. This is a close fit so you might need one size larger depending upon your fit preference
Fish is taken seriously in Japan every step of the way and it is the number one largest consumer of fish in the world. Now you can capture that passion in a Tokyo-based fish restaurant where customers are encouraged to catch their own meals. Choose between sea bream, lobsters and flounder then have your catch cooked and served up within minutes. When you've had your fill of fish take a stroll around one of the gardens and look for popular fish imagery. It's good luck to be gifted a koi fish and as most outlive their owners with a lifespan of 200 years it's easy to see why they cause such fascination.
BEST PERFORMANCE FISHING SHIRTS: KOOFIN GEAR PERFORMANCE FISHING SHIRT
Cost: $48.99 (as of 08/03/2020 11:46 EST- Details*)
We were blown out of the water by this adaptable hoodie style Koofin Gear Performance Fishing Shirt which comes in four different colors. If you work or frequently fish in challenging conditions battling wind and water then this shirt has your name on it. We love the drawstring closure to provide additional protection and the front zipper storage pocket is perfectly placed to allow convenient access. The detail and design on the shirt is modern and fresh so we can see why you might want to wear this all the time.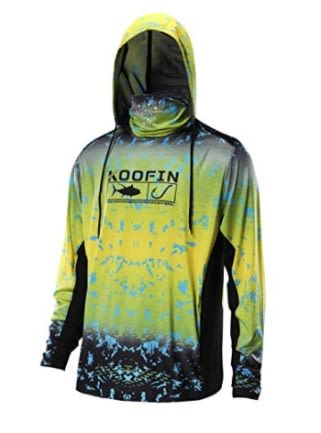 Photo by Desert Cart.
Other features include:
Part sun shirt; part hoody; part face mask; with drawstrings and pocket
Vented mesh hood and mesh side panels for ventilation
UPF 50+ Sun Protection
Quick-drying stretch-flex fabric
The Koofin Gear Performance Fishing Shirt is the perfect accessory for a fishing trip to Bali, where you can join a local fisherman in his boat and head out to sea for an authentic open water experience or you can try your luck in the clear waters surrounding the islands. Indonesia has been working hard to improve its commercial fishing standards and ethics and recently achieved a sustainability award in tuna fishing so there's never been a better time to visit.
Conclusion
After trawling through hundreds of fishing shirts online, our number one pick for anglers is the Huk Fishing Shirt. The winning combination was a mixture of impressive technology for dealing with strains and smells from fish guts and stinky spills as well as a unique and professional style for the ultimate sportsman at sea. The Huk Fishing shirt is reasonably priced and is recognized for its long-lasting material and strong sun protection. Snap up this shirt before you catch your next snapper, you won't regret it.
As an online visa company, iVisa is passionate about making it easier for you to travel, whether it is for work or play. With handy tools such as the online visa checker and easy-to-use online forms, iVisa makes the application process simple and quick. That's why we're delighted to help you find the perfect kit to make your next trip unforgettable.
Bon Voyage for your next journey!
* Product prices and availability are accurate as of the date/time indicated and are subject to change. Any price and availability information displayed on the linked site at the time of purchase will apply to the purchase of this product.