Business trips are certainly daily bread-and-butter for many of us out there. A tech summit in San Francisco, your first Ph.D. class in London, or maybe a company workshop in Rio de Janeiro that happens to take place during the same week of their fantastic Carnival. Whichever the case is, leather padfolios are the best way to stay organized while traveling. As millennial working professionals, the need for us to keep documents, passports, money, tickets, cellphone, tablet, drives, and business cards safe and handy, is no vanity, which is why you need to get the very best to avoid not being able to find anything in a cluttered briefcase full of non-business stuff.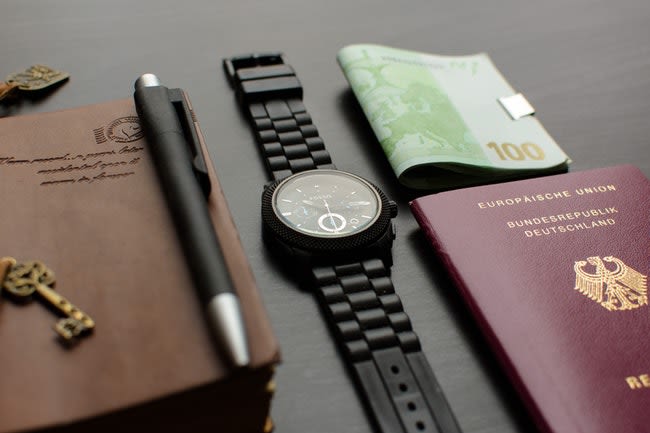 Nevertheless, we understand that you are probably too busy to browse through hundreds and hundreds of options online, and, even worse, scrolling down to read thousands of reviews that may or may not give you the information about the product's functionality, storage space, quality craftsmanship, design or closure. But no worries! iVisa's just done it for you. So, take a look at the guide we've created to find the top leather padfolio for business and pleasure that best suits your needs and style.
HIGH-END OPTION: MARUSE PERSONALIZED ITALIAN LEATHER PADFOLIO
Cost: $135.00 (as of 08/07/2020 14:28 EST- Details*)
Based on hundreds of online reviews, we chose the Maruse Personalized Italian Leather Padfolio as our number one choice. It would be perfect for an elegant lunch in Toronto or a fancy business dinner in New York, where you still have to carry around your MacBook or iPad Tablet to show that Return on Investment Report to your new boss.
Made with authentic full-grain leather from Tuscany, the Maruse Leather Padfolio will continuously get your coworkers' attention because, just like the most select wine, actual leather only gets better with age!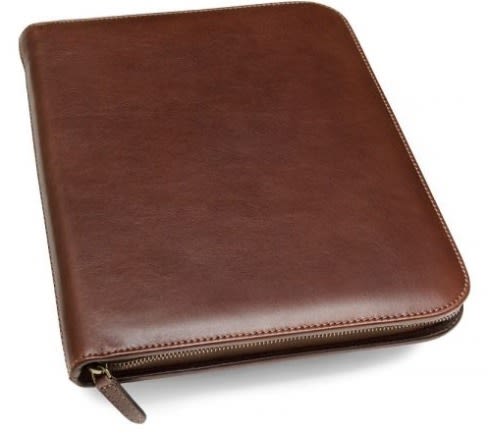 Photo by Maruse.
Both stylish and secure, this padfolio features:
Zip Closure and Writing Pad
Internal slots for credit and business cards
Pocket inside is designed for iPad up to 11," and the main compartment fits up to the iPad 12.9."
Elegant Lined Writing Pad Included (8.5-Inch x 11-Inch)
Monogram with your initials for a perfect gift
This padfolio would be perfect for a hip and chic business trip to Dublin, the historical Irish capital that hosts plenty of Europe's top travel, tech, and social media conferences. The best thing is, it would still be elegant and fashionable enough to duck in and out of trade shows and meetings you may have to attend. From taking a stroll on the city's lovely Georgian streets to hopping around its quirky cafes and unruly pubs, it will be very easy to shift from business to pleasure while carrying this leather padfolio.
Individuals who are interested in visiting Ireland can begin their travel process by getting an Embassy Registration with iVisa today.
ON A BUDGET OPTION: WUNDERMAX VEGAN LEATHER PADFOLIO
Cost: $18.99 (as of 08/07/2020 14:28 EST- Details*)
Are you an eco-friendly/vegan professional who's more concerned about making smart choices regarding the products you decide to buy? Then the Wundermax Vegan Leather Padfolio is the one for you.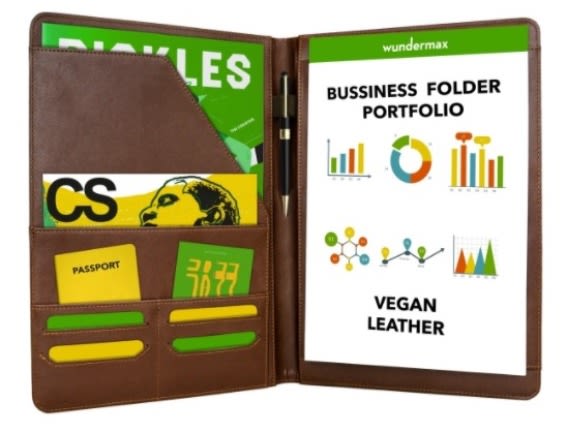 Photo by Wundermax.
This handcrafted, high-quality vegan leather padfolio highlights:
A 3-Way Notebook Holder
Just enough room with all the necessary pockets
Durability
Zippered Closure
Phone Holder
BEST LEATHER RING BINDER: TOPLIVE LEATHER PADFOLIO
Cost: Currently unavailable (as of 08/07/2020 14:28 EST- Details*)
This business leather ring binder is perfect for interviews, conferences, and presentations.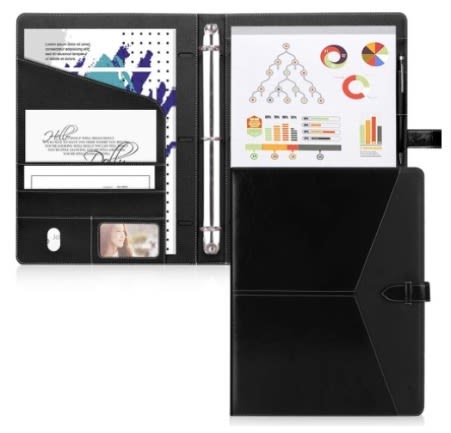 Photo by Lavaldem.
Besides keeping you well organized and with a sense of style on important occasions, this leather ring binder also features:
Cell Phone Pouch
Business Card Holder
Exterior Handle
Exterior Sleeve
3 Ring Binder
Many musicians who must constantly travel for different presentations abroad often find it hard to get a leather ring binder that looks the part at a concert in Buenos Aires or at an acoustic show in LA. So, whether you're a singer performing in a choir at a theatre in Chile or a guitar player looking to hold his scores in Paris, this professional-looking ring binder is your best choice.
BEST LEATHER BINDER PLANNER: AZXCG VINTAGE LEATHER PADFOLIO
Cost: $79.99 (as of 08/07/2020 14:28 EST- Details*)
After browsing through dozens and dozens of leather binders, we found the AZXCG Vintage Leather Padfolio to be the indisputable winner. Besides being meticulously made of a 27 time-honored handcraft technique by seven skilled artisans, they provide a one month without reason return or exchange service and a one-year protection service.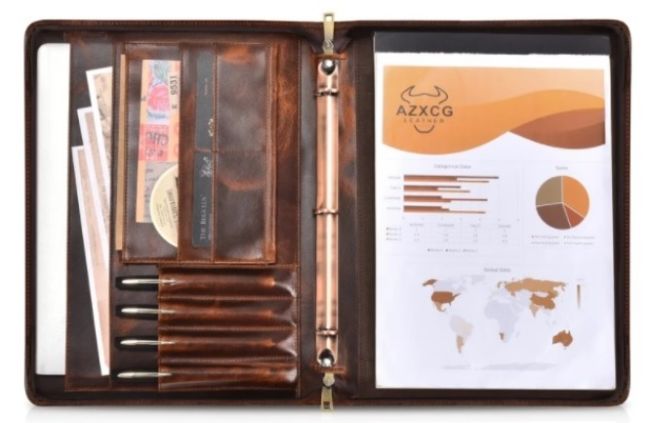 Photo by AZXCG.
Keeping your resume and work documents arranged has never been easier with this fashionable leather padfolio that features:
3 Ring Binder
Expandable Document Pocket
Pen Slot
Innovative Storage
When you study abroad, product durability is certainly one of the things to keep in mind, especially when buying a leather padfolio. And, if you're studying at a prestigious University such as Stanford, MIT, Yale, or Princeton in the US of A, a good look is also something you must surely take into account as well. Coming across as neat and organized is one of the best ways to accomplish a good first impression, especially at a famous worldwide college like The University of Cambridge, based in the United Kingdom.
BEST LEATHER PRESENTATION BINDER: HUSTLE LEATHER PADFOLIO
Cost: $29.99 (as of 08/07/2020 14:28 EST- Details*)
Being an entrepreneur is no easy job, especially when you always have to carry your electronic devices along with your tickets and credit cards everywhere you go. As you travel the world making business presentations and exploring new landscapes, you will need cost-effective travel gear to make you look fancy and keep you sorted out. For this exact same reason, we've picked the Hustle Leather Padfolio to be the very best choice when it comes to luxury and convenience.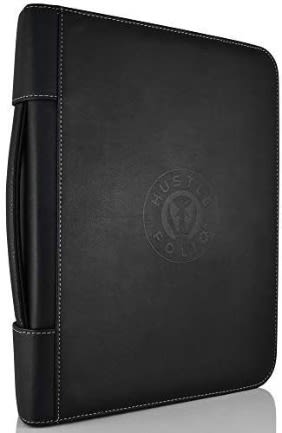 Photo by Qoo10.
Defined by its own creators as a luxury that you can indeed afford, this Italian designed leather presentation binder features:
The best quality materials to give you that professional, classy look
Versatile Storage
Professional Organizer Compartments
Three Ring Binder
Zippered Pocket
This leather padfolio is the handiest tool for job interviews. Plus, it already comes with a notebook inside so you can start taking notes and begin using it right away! So, if you're getting ready for your next job interview in Turkey or Thailand, but also want to enjoy the wonders of the Asian continent by looking classy and professional, this leather padfolio is the way to go.
BEST FAUX LEATHER BINDER: CAGIE BINDER LEATHER PADFOLIO
Cost: $18.99 (as of 08/07/2020 14:28 EST- Details*)
But, wait, who said you have to buy real leather to look professional? If you're one of those business travelers who are more concerned about saving up some cash to spend it visiting attractive places and gathering new experiences, then the CAGIE Binder Leather Padfolio is meant for you.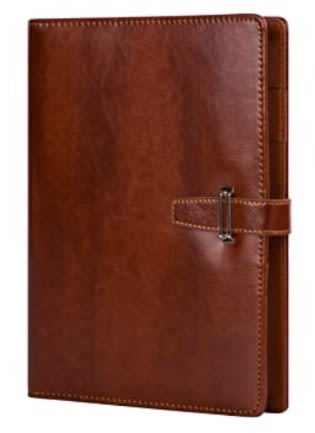 Photo by Fado.vn.
Besides having an excellent wear resistance, this faux leather a5 notebook has:
Anti-aging properties
Great flexibility and environmental protection.
Simple opening and closing operation
Stainless Steel 6 Round Ring Design
Card Notes Slot
BEST MEN'S LEATHER PORTFOLIO: KOMALC LEATHER PADFOLIO
Cost: $57.95 (as of 08/07/2020 14:28 EST- Details*)
If you're a guy looking for an evergreen, classic design, allow us to introduce you to the KomalC Leather Padfolio. Its simple design is perfect for seasoned business-men who prefer convenience over anything else. With a pocket for your notepad, a checkbooks' pocket, and another one for small notebooks, this leather padfolio is great for business meetings and colleges.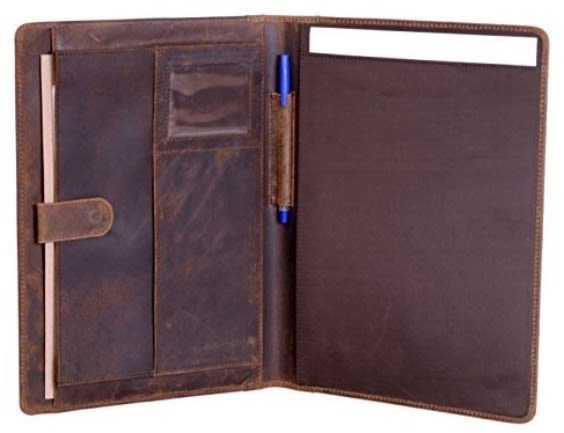 Photo by Fado.vn.
This buffalo leather padfolio for men includes:
Great size
12 Month warranty against manufacturing defects
External dimensions 10-inch width x 14-inch height
Top-Notch Quality
Rich classy vintage-inspired look
This men's leather padfolio would be perfect for a dinner party in Cancun or a brunch in Mexico City. Nothing like the smell of real leather to accompany a nice glass of LA Cetto wine!
If you're planning your trip to Mexico, you will need a visa to enter this country. Luckily, we can assist you in processing this document as well.
Conclusion
After searching the online marketplace for the top-reviewed padfolios, the Hustle Leather Padfolio is our number one pick. With the perfect blend of price, luxurious functionality, versatile storage, and customer satisfaction, this modern yet comfortable and practical leather padfolio will most definitely make you feel at ease at any meeting, interview, or workspace around the globe.
As an online visa processing agency, iVisa is passionate about helping you in each and every step of your trip. Simplifying your travel process with useful tools such as our online visa checker and user-friendly digital forms is our number one mission. iVisa will also make your visa application process a comfortable and enjoyable one through its highly intuitive platform, which is easy and safe to use. Ergo, we'll always be thrilled to help you find the correct travel equipment that fits all your important businesses and elevated pleasures.
Safe travels!
* Product prices and availability are accurate as of the date/time indicated and are subject to change. Any price and availability information displayed on the linked site at the time of purchase will apply to the purchase of this product.