We all want to look the part when we have an important meeting to attend and when it comes to dealing with clients it's vital to remember that looking professional isn't just about your appearance but also how well you perform under pressure. A laptop bag becomes a lifesaver when it can keep your daily essentials safe and help to support a busy job on the go. Thanks to improved innovative designs and streamlined features, a briefcase on wheels can tick all the boxes in providing laptop protection, storage for a change of clothes, and a durable lightweight design to help you reach your potential both in and out of the office.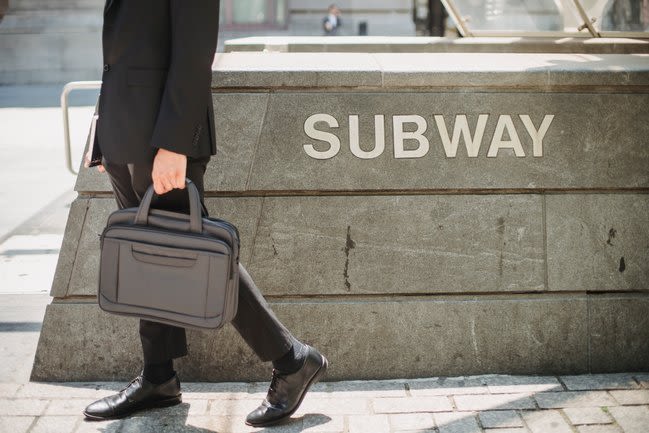 Whether it's a team talk in Tokyo or a client catch up in Canary Wharf, the last thing you need is to arrive with a sore back, and these days, it's not just your shoes that are being judged, it's your hand luggage too. Luckily for you, you can set down that old handheld briefcase and click on through to an easier life with a wheely good solution. We've already waded deep into the online world of rolling cases to identify the top laptop bags for attorneys and lawyers.
We've brought you a fine selection of briefcases on wheels ranging from budget to the more expensive offerings, as well as our favorite Alpine Swiss rolling bag. Check it out, we think you'll find the perfect one for you:
An online search for rolling briefcases turns up thousands of results. Who has the time to read reviews and product descriptions of hundreds of products? To save you time, we did it for you. Based on our extensive research, we created this guide of the best briefcases for all your important court dates and client meetings.
HIGH-END OPTION: BRIGGS AND RILEY SYMPATICO HARDSIDE CASE
Cost: $404.10 (as of 08/07/2020 14:36 EST- Details*)
The sleek and organized Briggs and Riley @Work Rolling Case wins our vote for the best high-end option.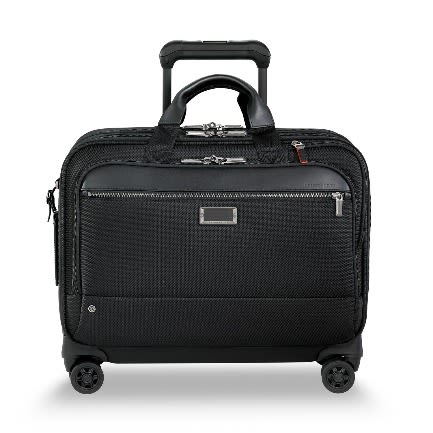 Photo by Briggs & Riley.
It combines timeless elegance with functionality and with capacity for 34.2 liters, this unisex large black briefcase features:
Nylon outer fabric resists wear, moisture, dirt, and abrasion.
Leather nameplate on the front panel to customize your bag.
Outsider handle system for wrinkle-free flat packing provides greater interior capacity and increased packing space
Aircraft-grade aluminum handle system with 3 stop heights
Measures 9x17.5x15 inches and weigh 8.36 pounds
Fits laptops up to 17 inches
Lifetime quality assurance
The Briggs and Riley @Work Rolling Case is ideal for that last-minute business trip in New York when you need effortless classic style on the go along with a high- quality finish to maintain your professional look. So forget the jet lag, you'll be able to zoom from one client to another without breaking a sweat, and most importantly reaching for the right document isn't an issue when you have everything organized.
ON A BUDGED OPTION: SOLO LINCOLN ROLLING CASE
Cost: $56.99 (as of 08/07/2020 14:36 EST- Details*)
Looking for a reliable rolling case that doesn't break the bank? No problem. The Solo Lincoln Rolling Case will get the job done for about $380 less than the more expensive Briggs and Riley case.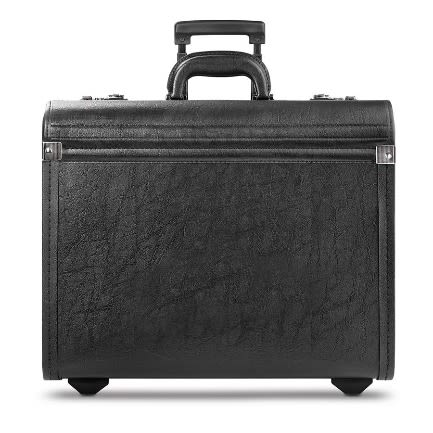 Photo by Solo New York.
Securely kitted out with dual combination locks to protect important paperwork whilst on the road, this vegan-friendly briefcase features:
Vinyl lining
Hard-sided frame
Measures 14 x 18 x 8.5 inches
Multiple organization pockets, with easy to roll wheels for improved transport
Built with a telescoping handle system that makes it easy to grab and go anywhere you need to travel
5 Year Warranty
If you're a vegan or vegetarian, this briefcase is perfect for a business meeting in exotic Mumbai where you can taste one of India's many vegetable curries whilst overlooking the Indian ocean. Thanks to its convenient size you can then slide this case into the overhead locker and take a quick flight to Agra to feast your eyes on the spectacular Taj Mahal. A trip to India wouldn't be complete without seeing it.
BEST ATTORNEY BRIEFCASE: SOLO NEW YORK HERALD ROLLING CASE
Cost: $89.09 (as of 08/07/2020 14:36 EST- Details*)
After looking through dozens of attorney briefcases available online, we found the Solo New York Herald Rolling Case to be the clear winner. Reviewers confirm that this briefcase combines convenience with durability with multiple compartments for documents and plenty of space for an overnight bag.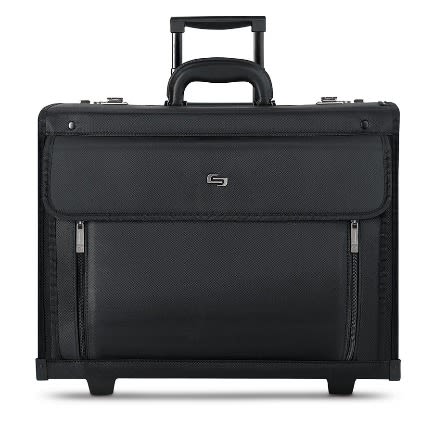 Photo by Solo New York.
With a 16 inch padded laptop compartment, the Solo New York Herald Rolling Case features:
Made with a sturdy hard-sided frame and black polyester material that keeps the two-wheeled catalog case stylish and functional
Dual combination locks
Two smooth-rolling rear wheels with protection frame that is built to absorb curb, stairs and escalator impact
Telescoping handle system
Measures 14 x 18 x 9 inches
Five-year warranty
Business trips can take you to far-away places but as you already know...there's always time for sightseeing. Next time you find yourself on the other side of the world in sunny Melbourne, why not follow the lead of your Aussie colleagues who work hard and play hard. Escape the city and hit the beach at the weekend to soak up the rays on pristine sands, swim in crystal blue waters, or hit the waves in the surf school. Or clock out early for cocktails and penguin spotting on the pier at St Kilda for the perfect end to a busy week.
BEST LAWYER BRIEFCASE 2020: SOLO NEW YORK CLASSIC CASE
Cost: $86.07 (as of 08/07/2020 14:36 EST- Details*)
When it comes to looking the part in the courtroom, the Solo New York Classic case topped the charts thanks to its generous laptop space and conventional design which allows you to reach your essentials with the minimum effort.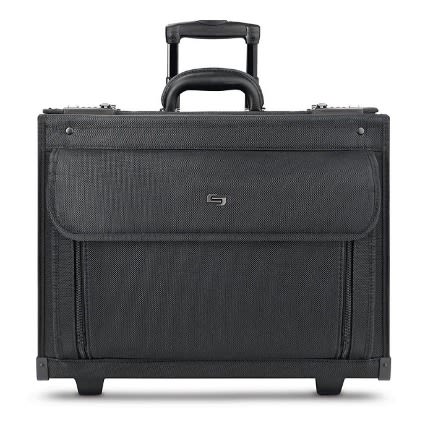 Photo by Solo New York.
Equipped with easy guide wheels and 17.3- inch laptop compartment, this briefcase features:
Dual combination locks
Push-button telescoping handle system
Made with a sturdy hard-sided frame and polyester material
Full- size front zip-down organizer section with an accordion file pocket to keep documents secure and easily accessible on-the-go
Measures 18 x 1.75 x 7 inches
Five-year warranty
This case would be fantastic for a business trip to Singapore, where you can splash out on a stay in one of the spectacular hotels overlooking the sparkling bay. Relax in the rooftop infinity pool at Marina Bay Sands before watching the famous sound and light show illuminate trees and gardens surrounding the water. You'll fit in with the VIPs if you arrive with the Solo New York bag.
BEST ALPINE SWISS BRIEFCASE: ALPINE SWISS ROLLING CASE
Cost: $89.99 (as of 08/07/2020 14:36 EST- Details*)
If you like the conventional briefcase style, we can guarantee you will love the classic Alpine Swiss Rolling Case as much as we do. This case comes highly recommended for its unique shape and is capable of holding multiple folders and documents.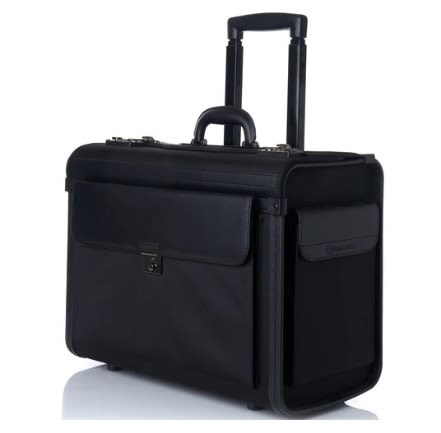 Photo by Alpine Swiss.
Made from a smooth leatherette for a sophisticated finish, this case features:
Dual combination locks
Made with a sturdy hard-sided frame to last
Front pocket expands 2 inches and has a button latch. Side pockets are spacious enough for A4 and legal sized documents.
Measures 19 x 14 x 9 inches
One year Alpine Swiss manufacturer's warranty against defects
The Alpine Swiss brand is world-renowned for its hard-wearing and durable products at an affordable price. Test the strength of this briefcase in extreme conditions with a trip east to Sochi in Russia, where you can challenge a colleague on the ski slopes at one of the many exclusive resorts. You should drop the case off in your room before heading out to sample the finest vodka in one of the many fashionable bars and restaurants around the city.
BEST SWISS ARMY ROLLING BAG: SWISSGEAR GRANADA ROLLING CASE
Cost: $88 (as of 08/07/2020 14:36 EST- Details*)
We chose the Swissgear Granada Rolling Case as our favorite Swissgear case. As multiple online reviewers confirm, this case is the perfect size for traveling with regional airlines, allowing you to step off your flight and into the boardroom with ease.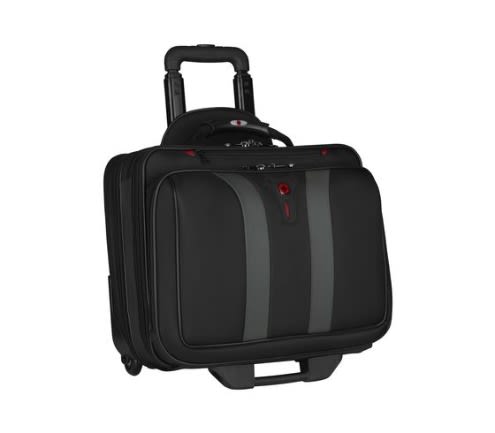 Photo by Wenger.
Equipped with a spacious overnight compartment for business trips, this case features:
Soft velvet lining
Quick Pocket for easy access to items such as your cell phone, airplane tickets
Easy-glide skate wheels make it easy to turn corners
Computer compartment fits most 15"/17" notebooks
Measures 9.84 x 16.54 x 13.78 inches
Weighs 8.05 pounds
This case is perfect for a weekend in Toronto, where you can pack away your laptop after your final meeting and head to the top of the CN tower to check out the view of the city. Be sure to pack your raincoat for a day trip to Niagara Falls for a peek at the awe-inspiring waterfalls before enjoying a show in one of the city's many theatres.
Conclusion
After scouring the online marketplace for the top-rated rolling briefcase, the Solo New York Herald Rolling Case is our number one pick. With the right mixture of price, quality, and style this case will help to keep your paperwork organized, give you the professional look you desire whilst on the go and it won't break the bank either. You can rest assured that you are making an investment when you purchase this briefcase.
As an online visa processing company, iVisa is passionate about making it easier for you to travel, whether it is for work or travel. With convenient tools such as the online visa checker and easy-to-use online forms, iVisa makes the visa application process as quick and easy as possible. That's why we are delighted to help you find the right travel goods to make your business trip even more convenient, comfortable, and enjoyable.
Bon Voyage on your next journey!
* Product prices and availability are accurate as of the date/time indicated and are subject to change. Any price and availability information displayed on the linked site at the time of purchase will apply to the purchase of this product.