Visiting Russia can be a challenge if you aren't sure of what documents you need to enter this country. Remember that many nations need a type of visa to enter this territory, that's why there's usually so much confusion when planning an adventure to this enigmatic place in Europe and Asia.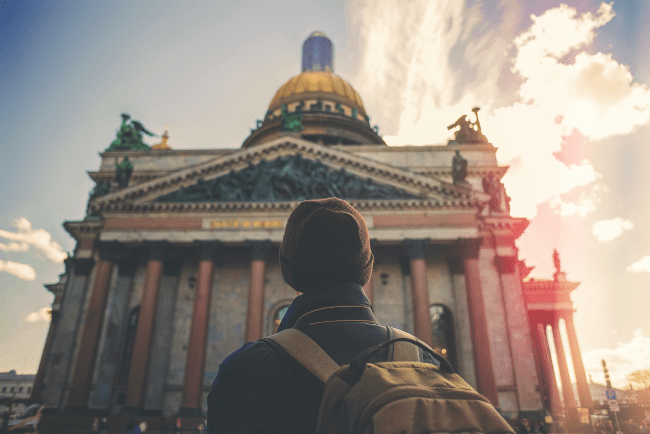 To know what type of visa you need to enter Russia, you must know first what places you want to visit. This way, you can know if you need a Kaliningrad eVisa or a regular visa.
As soon as you know this detail, you will be ready to take the next step and apply for your eVisa online, if necessary. Remember that you can obtain a paper visa only in person.
You can get more details on this topic by reading the rest of this article.
Frequently Asked Questions / FAQs
What is a Kaliningrad eVisa?
One of the most usual documents to enter Rusia is the Kaliningrad eVisa. This is official travel permission that allows you to enter into the Russian region of Kaliningrad as long as you do it for leisure. This travel authorization permits you to stay in Kaliningrad for 8 days Per Entry, but only if you keep your passport with a valid date (it shouldn't be expired).
This document was launched on July 1st, 2019 by the Russian authorities.
Is the Kaliningrad eVisa the same as a Paper Visa?
No, they're not the same. The Paper Visa is the official visa to enter Russia and it allows you to visit the entire country without any limit more than the date that you have been offered for your stay.
The Kaliningrad eVisa is only for the Kaliningrad region, it doesn't allow you to access other places in Russia. The other difference is that the Kaliningrad eVisa can be obtained with an online application, while the paper visa can only be received in person.
Still, we remind you that you can get the Invitation Letter with iVisa.com to speed up the interview process at the Russian embassy if you want to visit the entire country.
How can I know if I'm eligible for any of these documents?
By entering iVisa.com's website you'll be able to see the Visa Checker Tool on the homepage, a tool that can be quite useful to know if you can apply for the Kaliningrad eVisa or other types of Russian visas.
To use it, simply choose your nationality and then select 'Russia' as the main destination. After that, you'll be able to know if you can get the Kaliningrad eVisa. Just remember that in case you want to visit the entire country, you'll probably need the Paper Visa.
How long is the Kaliningrad eVisa valid for?
As soon as you receive this document via email, it'll be available for 30 days after arrival. However, once you land on Russia, you'll be able to use the eVisa only for 8 days Per Entry.
What requirements do I need to apply for it?
Please remember that you can also get your eVisa by going to a Russian embassy and then book an appointment. But, as you can guess, this method is tedious and time-consuming, so we recommend you to take advantage of iVisa.com's service to get your document faster and easier.
A great benefit of iVisa.com's service is that you don't need to collect a lot of documents to apply, you just need to collect the following:
Your passport.
A professional picture. This document can be easily obtained with iVisa.com Photos's professional service.
Email Address to receive the document.
Valid payment alternatives, like debit/credit card or/and Paypal profile to proceed with the payments.
What are the processing options and prices for the Kaliningrad eVisa?
Please consider the following before reading the following prices: the total price of your Kaliningrad eVisa will depend on your nationality and how quickly you need this document.
We'll provide you a reference to the average prices. We took Spanish nationality as an example:
Standard Processing Alternative – your document will be ready in

9 days

by paying

USD $33.99

.
Rush Processing Alternative – the price will be

USD $64.99

this time but you'll just wait

7 days

.
Super Rush Processing Alternative – the price will be

USD $95.99

, because you'll get your eVisa in only

5 days

.
How can I apply with iVisa.com?
iVisa.com created a straightforward and effortless online procedure that doesn't require much time to complete. You'll only need 20 minutes if not less to have everything ready to get your Kaliningrad eVisa in your email inbox.
These are the steps to follow with iVisa.com:
The first step, is to fill in the questionnaire with your personal details and then select your procedure time.
The next step will consist of revision because you'll have to double-check the spelling of everything you wrote. After that, you'll be able to proceed with the payment.
In the final step we will ask you to attach the documents required to your online form. After that, you can send the application form.
After you complete all of these steps your work will be ready! The rest is iVisa.com's work, you'll just need to wait for your Kaliningrad eVisa and nothing else!
Is it safe to use iVisa.com's service?
Yes, totally! iVisa.com's online service is totally trustworthy and it is a great alternative if you want to keep your personal data safe. In iVisa.com, we have an updated system that won't leak any detail about you. You can read our reviews if you have any doubts about it.
Where can I find more information?
The Kaliningrad eVisa is one of the most important travel authorizations to enter Russia, but it's still a bit unknown, so we understand that you might still have some questions about it. Therefore, we remind you that you can reach out to iVisa.com's customer service agents or search for more information on the iVisa.com's blog if you prefer to read more travel tips.