If you've always dreamt of seeing the Red Square in Moscow in real life, or wanted to bring back a set of Russian dolls as a gift for your sibling, it's time to start the application for a Russia e-Visa for citizens of Canada now at iVisa.com. Our friendly team can guide you through the steps.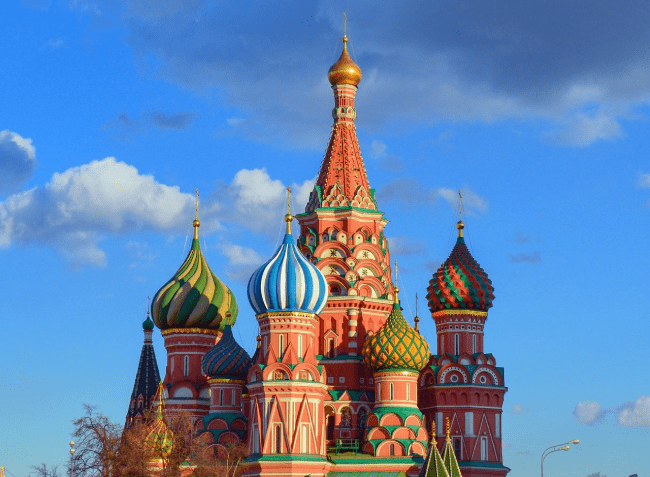 What do I do to apply for a Russia e-Visa for citizens of Canada?
It really is easy, thanks to our user-friendly website.
Open the application form.
Fill in the form with your personal details, giving it a once-over for errors.
Move on to the payment section- we take cards and Paypal.
An expert review is included in the cost of our service.
When the visa is approved, we will email it directly to the email address provided.
Why is applying in advance a good idea?
When we say advance planning, we really mean advance planning. So even if you won't be setting off for another year we can store your information and make sure everythings ready so that the e-Visa drops into your inbox with just enough time for you to pat yourself on the back for successfully applying in advance in a stress-free way with iVisa.com.
Frequently Asked Questions
What will I need for the Russia e-Visa for citizens of Canada application?
A passport with at least 6 months remaining before the expiry date.
A passport-sized digital photograph.
Your travel dates and schedule of places you plan to visit.
PayPal account details or a credit/debit card to pay for the processing fee.
Can my Russia e-Visa for citizens of Canada be used for multiple entries?
When you apply with our travel document processing service, you can choose between two different Russia e-Visas. One offers a single entry and the other provides a double entry.
Can I learn more about the Russia e-Visa for citizens of Canada?
If you're still interested in learning more about applying for your Russia e-Visa for citizens of Canada at iVisa.com then simply make your way over to the website, where you can even chat to a colleague using the messenger function
Why trust iVisa.com?
You can trust iVisa.com because we have provided thousands of customers with all of their travel documentation needs for years. We know how to submit a perfect application so apply for your Russia e-Visa for citizens of Canada now.
iVisa.com Recommends
There's a lot to see and do when you visit Moscow. Bring the whole family, because you'll never find yourself at a loss for fun activities. Moscow zoo is sure to be one of the highlights of your trip, as it's a fantastic way to keep the kids entertained. If you're into birds, make the most of a great opportunity to see the white-tailed eagle family. Despite rarely breeding in captivity, chicks were born there in August last year. The zoo also features a marine life section, where you can discover baby stingrays too. Just be careful not to touch them, as they can kill or injure you with their barbed tail. It's a great idea to plan your trip around the feeding schedule of your favourite creatures . Choose between lovable creatures like seals, mongoose, pelicans and beavers. Alternatively, take a guided tour of this massive attraction, which originally consisted of two separate parks until they were combined and a footbridge built to connect them in 1990.