You won't be permitted to enter Russia without the correct documentation, so if you're coming from Norway , we recommend applying for the Russia e-Visa for citizens of Norway as soon as possible.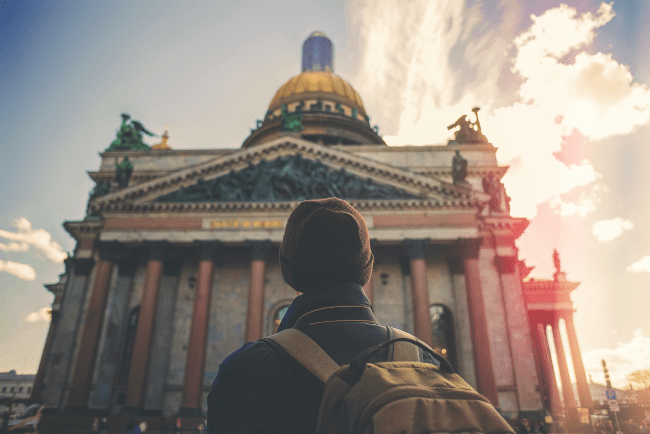 What's the Russia e-Visa for citizens of Norway application process?
Locate the application form at iVisa.com.
Answer the questions that pertain to you, and review them for errors.
Enter details of a Paypal account or bank card to pay our fee.
Submit the form once you've uploaded any scans we need (like your passport).
A visa expert will carefully check your application.
We will contact you by email or phone call if we need to ask you about anything.
Your approved Russia e-Visa for citizens of Norway will arrive by email.
Why submit the application for the Russia e-Visa for citizens of Norway in advance?
If an expert review and our user-friendly website isn't tempting enough, now it's also possible to apply months in advance. If your travel schedule has been finalised already, simply complete the application and submit it now. We'll store it until the right moment so you can forget it until it lands in your inbox.
Frequently Asked Questions
What's the cheapest way to get my Russia e-Visa for citizens of Norway?
The people behind our innovative process made sure that there's a price tag to satisfy all shoppers. Let's find out more:
Standard Processing - The low-cost choice if you're watching your purse strings.

USD $59.49

-

3 days

.
Rush Processing - Pay a slightly higher fee and receive the e-Visa sooner.

USD $118.49

-

36 hours

.
Super Rush Processing - The top-end choice for when money is no obstacle.

USD $170.49

-

1 hour

.
What's required for the Russia e-Visa for citizens of Norway application?
This simplified document list is unique to iVisa.com. Here's what's on it:
A passport is essential.
An email address so we can deliver your document.
Keep your PayPal details or a credit or debit card close to pay the processing charge.
What's the validity of the Russia e-Visa for citizens of Norway?
The Russia e-Visa for citizens of Norway is offered on a Single Entry allowance basis, although both have a maximum validity of 30 days after arrival. Speak to the embassy if you want a long-term visa for work or study reasons.
Can I learn more about the Russia e-Visa for citizens of Norway?
Visit iVisa.com if you want to read more articles like this about the travel documentation you need. If you still have burning questions, we recommend that you get in touch with one of our colleagues, who can provide the answers you're looking for.
Can I count on the team at iVisa.com?
Whilst it can be a bit nerve wracking entering your personal details on a website, we think it's more intimidating to set off on international travel without knowing whether or not you'll enjoy a smooth landing. Let the experts take care of your Russia e-Visa for citizens of Norway because you can count on our team.
iVisa.com Recommends
The Venice of the North is another name used to talk about Saint Petersburg. If you're wondering why, we can clarify that this beautiful city is often thought of as the cultural capital of Russia. This is mainly thanks to its high number of theatres, and its history over the past couple of hundred years, whereby it saw an explosion of art, dance and music. You can see many fascinating buildings and sculptures that were produced during this time, to the extent that the city parallels Rome and Paris in its open-air museum type qualities.In fact, there are over 2000 libraries, 45 art galleries and 62 cinemas, so you'll never find yourself short of something to do. Visit St Isaac's cathedral, just one of the many Orthodox, Protestant, Lutheran, and Catholic churches that fill this beautiful place. You'll find that many of them are decorated in opulent or gothic styles, so it's easy to lose track of time when exploring them.