As a citizen of Poland, you might be wondering why you need to visit Russia. Now you can get the Russia e-Visa for citizens of Poland without breaking leaving the comfort of your home with the fantastic iVisa.com online service.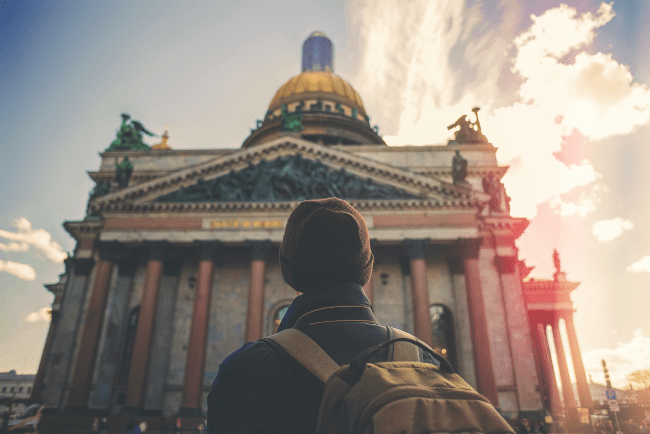 What are the steps to get a Russia e-Visa for citizens of Poland?
Get the ball rolling by completing the form at iVisa.com.
Review your responses and fix any typing mistakes.
You'll need bank card details or a Paypal account to pay our fee.
Upload any scans and submit your application for an expert study.
If we have any concerns, we will reach out to you by email or phone.
Once it's been reviewed, wait for your Russia e-Visa for citizens of Poland to be delivered by email.
Why submit the Russia e-Visa for citizens of Poland application in advance?
Fill in the application once your flight dates are confirmed. You don't need to delay it until the week before, as that means you run the risk of forgetting to apply. How stressful! Applying in advance removes stress, inconvenience and higher charges for last-minute processing.
Frequently Asked Questions
What do I need to apply for the Russia e-Visa for citizens of Poland?
Like we said, we aim to simplify the whole process. Here's all you'll need:
A passport with at least 6 months of validity after your travel dates.
An email address that we can use to contact you.
A credit or debit card to pay the processing charge, we also accept Paypal.
Can I talk to someone about the Russia e-Visa for citizens of Poland?
If you want to read up on the step-by-step process to apply for a travel document at iVisa.com then feel free to browse our collection of blogs. Alternatively, if you have a specific query, reach us by email or chat.
Can I trust the iVisa.com process?
If you're experiencing doubts about whether you can trust us to get you the Russia e-Visa for citizens of Poland in a stress-free and guided manner, we suggest you check out some of the feedback left by previous customers, who were delighted with the service they received.
iVisa.com Recommends
Apply for your Russian e-Visa and enjoy all of the spectacular attractions that Saint Petersburg has to offer. You'll fall in love with this city, known as the cultural capital of Russia. It's no surprise that dance, music and art is in such high esteem here, as there are an impressive number of libraries, art galleries, cinemas and theatres. The Mariinsky Theatre is the biggest of its kind in Russia, and has been instrumental in developing opera and dance in this field. It also hosts festivals like the White Nights celebration, whereby events are held in June and July to celebrate the long, bright evenings at this time of year. Alexandrinsky Theatre, with its white horse statues at the front, has the impressive title of being the first theatre in the Russian empire. This richly-decorated, fine building will transport you back to a former time with its luxurious interior and spellbinding performances.