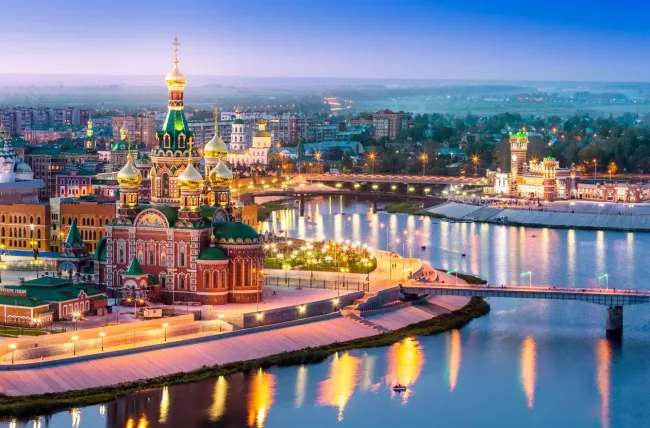 The ban imposed on Russia by Mastercard and Visa has caused significant disruption to the country's financial system and economy. This ban means that cards issued by Russian banks are no longer supported by the Visa-Mastercard network, both domestically and internationally.
Russian merchants and ATMs will not accept foreign-issued Mastercard-Visa cards. However, there's good news: the Russian foreign affairs introduced a solution called the "Tourist Card," which is expected to solve this issue. With this new payment tool, Russian tourist visa holders and locals alike can enjoy hassle-free transactions in Russian Federation territory.
Types of Russian visas: Entry to the Russian Federation territory
Other than the Russian eVisa, the Russian visas available include student visas, transit visas, private visas, and humanitarian visas. Student visas are issued to those who plan to study in Russia, while transit visas are issued to those who are passing through Russia to reach their destination. Private visas are issued to those who are visiting family or friends, and humanitarian visas are issued to those who are visiting Russia for medical or other humanitarian reasons.
If you are a citizen from one of the 50 eligible countries, you might need an invitation letter or other different requirements, such as Hotel reservation, valid passport, departure date and HIV certificate.
Visit iVisa to get your Tourist invitation letter.
How to get a Russian visa electronically (eVisa)
In the summer of 2020, citizens of more than 50 countries, including EU states, were granted access to apply for an electronic visa to Russia thanks to a new law adopted by the Russian government. According to this document, the electronic visa is valid for 60 days and allows visitors to enter Russia for tourism and business purposes. In January 2021, the Russian government delayed the implementation of e-visas due to COVID-19 but you can still apply.
To apply for a Russian eVisa, you can follow these steps:
Check if you are eligible for the eVisa to enter Russia. Citizens of eligible countries can apply for the eVisa online. With iVisa you can find this information and visa support faster and easier.
Use our iVisa checker tool now
Gather the required documents. You will need a passport with at least six months validity, a digital photo, and a completed application form. Use our iVisa passport photo online service if you don't have one. Make your life a little easier.
Fill out the online application form. You can find the form on the website of the Russian Ministry of Foreign Nationals Affairs. We know that sometimes it's hard to understand official pages so hopefully soon iVisa will do the Visa application form for you.
Pay the eVisa fee. The fee for the eVisa is $40, and it can be paid online using a credit or debit card.
Submit your application. Once you have completed the application and paid the fee, you can submit your Russia visa application. The processing time for the eVisa is up to 4 days.
Wait for your eVisa to be approved. If your application is approved, you will receive an email with your eVisa. Make sure to print out a copy of the eVisa and carry it with you when you travel to Russia.
It's important to note that the eVisa is only valid for certain regions of Russia, so make sure to Check the list of eligible countries here
What is a Russian Tourist Card
The Russian Tourist Card is a prepaid payment tool introduced by the government to offer a convenient payment method for tourists visiting Russia. It can be used to make purchases and withdraw cash at ATMs across the country, including in the tourism, transportation, hospitality, and retail sectors.
The card works seamlessly with the Russian banking system and is widely accepted by most merchants. It can be loaded with funds in advance, and any unused funds can be refunded upon departure from Russia.
You can purchase the Russian Tourist Card online, through travel agencies, or at designated sales points in Russia, such as airports and tourist information centers. It's an excellent option for travelers who want to avoid carrying large amounts of cash or dealing with currency exchange.
List of Countries That Can Apply for a Russian eVisa
Algeria, Andorra, Austria, Bahrain, Belgium, Brunei, Bulgaria, China (including Taiwan), Croatia, Cyprus, The Czech Republic, Democratic People's Republic of Korea, Denmar, Estonia, Finland, France, Germany, Greece, Hungary, Iceland, India, Indonesia, Iran, Ireland, Italy, Japan, Kuwait, Latvia, Liechtenstein, Lithuania, Luxembourg, Malaysia, Malta, Mexico, Monaco, Morocco, The Netherlands, North Macedonia, Norway, Oman, Palau, Philippines, Poland, Portugal, Qatar, Romania, San Marino, Saudi Arabia, Serbia, Singapore, Slovakia, Slovenia, South Africa, Spain, Sweden, Switzerland, Tunisia, Turkey, United Arab Emirates, Vatican City
How will I receive my Russian Visa? Do I have to go to a Russian Consulate? Or perhaps a Russian Embassy?
Once your Russian eVisa application is approved, you will receive the eVisa via email. The email will contain a PDF attachment with the eVisa, which you should print out and carry with you when you travel to Russia. The eVisa will have your personal information, including your name, date of birth, and passport details, as well as the dates and places of your stay in Russia.
Make sure to double-check that all the information on the eVisa is correct before printing it out. If you notice any errors, contact the Russian embassy or consulate immediately to have the issue resolved. It's also recommended that you keep a digital copy of the eVisa on your phone or other electronic devices as a backup in case the printed copy is lost or damaged during your trip.
What should you do if you need help with your process?
At iVisa we have a customer service channel available for you 24/7. They will guide and support you throughout the process. You can also communicate with us via email, [email protected] Do not hesitate to contact us!
Why Trust iVisa?
iVisa has implemented strict security guidelines for all its services. You can be sure that your information is safely managed. Our services are reliable, and our reputation speaks for itself! Feel free to explore the comments section and check our customer success.