The Russian government is expected to announce the Visa program restart date by 1 June. Citizens of the specified countries may get a visa for up to six months if they have a hotel reservation.
The countries include: India, Bahrain, Cambodia, China, Indonesia, Iran, the Democratic People's Republic of Korea, Kuwait, Malaysia, Mexico, Myanmar, Saudi Arabia, Thailand, Türkiye and the Philippines.
If you wish to travel to Russia, it is essential to know that apart from other myths, Russians are well known for their hospitality. They are a community that welcomes visitors and are happy to inform them of their best attractions and places of interest.
Russians enjoy a tasty meal accompanied by a cup of tea or a good local liquor. It is also interesting that because of how big the country is, every time you travel, it can be an incredible and totally different adventure.
As a foreign citizen, you have two options for travel arrangements with iVisa. The first one is the Tourist Invitation Letter, and the second is the Business Invitation Letter, both of which are a prerequisite for entry into the country. This letter of invitation allows you to obtain a consular visa in a faster and more effective way.
There may also be some other entry requirements All the information you need can be found in the article.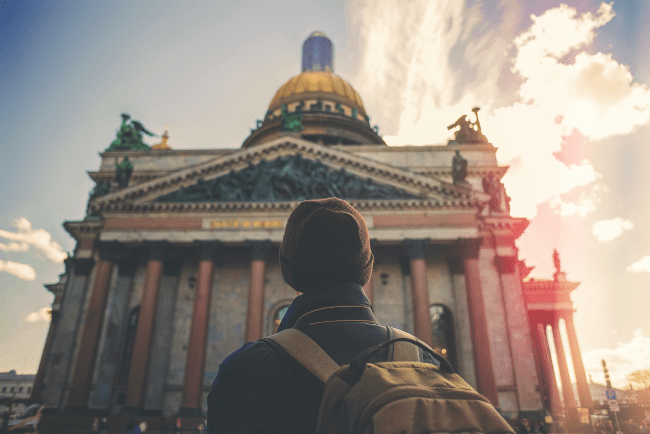 Russian Tourism or Business Invitation Letters for Indian Citizens
Indian citizens cannot apply for a "Russia visa for Indians" electronically. Instead, they need to apply for a letter of invitation with iVisa that allows them to get to a consular appointment and thus obtain the corresponding Russian visa, depending on the reason for the trip.
To get this document, you need to confirm that you're invited to Russia by a Russian Tour Operator or accredited hotel by the Ministry for Foreign Affairs of the Russian Federation.
However, it is also important to take into consideration that tourist invitations and tourist visas are for foreign citizens who will be staying in a hotel establishment. On the other hand, travelers visiting a friend or relative and staying at the address of a Russian citizen can obtain a "private tourist visa" through the Russian Government portals.
What is an Invitation Letter, and how can I get it?
In the case of invitation letters, we have two types, as mentioned above. The documents start from the same basis; what makes the difference is the reason for the trip submitted to the consulate. This is a document in A4 format stating that you are invited to Russia by an accredited Russian travel company or hotel.
The only difference between one type of invitation letter and the other is the dates of stay you are allowed. On the one hand, tourist cards have a duration of 30 days after arrival and can be issued for Single Entry, depending on the need. On the other hand, the business card is valid for 1 year after arrival and allows Multiple Entry into the country.
The same procedure created by iVisa is followed to obtain either of the above documents.
First, Indians must provide general information. You also need to choose the type of invitation letter and the processing time. In the next step, Indians will be asked to review the information provided and pay (The visa fee for any invitation letters is the same). Finally, the third step will ask you to upload additional documents. Once you have completed all three steps, just press the submit button and await email confirmation.
Remember, if you want to travel to Russia, you must apply for a letter of invitation to obtain your tourist or business visa.
Documents needed to apply for the Invitation Letter?
For iVisa to process your Invitation Letter, you need to provide a few things to accomplish this. Here is a list of what you need to provide for your invitation letter visa application:
A current passport must be at least six months old from your date of arrival in Russia.

For proof of accommodation, you must present a hotel reservation or Airbnb confirmation, or you can upload a letter from a host by an authorized travel agency. Remember that if you are visiting a friend, you do not need this type of travel document.

You may be asked to provide proof that you are able to pay for your trip for the duration of your stay, but this is not always required.

It is also essential that you provide us with your email address, so we can send you your letter of invitation electronically. Therefore, it is imperative to provide a valid email address.

Specify the payment method; iVisa works with credit/debit card payments.
In the case of a business invitation letter, it will also be important to present a business card, which allows validation of the destination and the company with which the business is being conducted in the country.
What are the fees I need to pay for the Russia Visa?
iVisa works with a Government fee and a Service fee. For each type of travel document, you will have a different charge. It will also vary based on the speed of your preferred processing option. These are the prices depending on your needs:
Tourist Invitation Letter - 30 Days - Single Entry
Standard Processing Time: USD $67.99 – 24 hours.

Rush Processing Time: USD $130.99 – 6 hours.

Super Rush Processing Time: USD $169.99 – 30 minutes.
Tourist Invitation Letter - 30 Days - Double Entry
Standard Processing Time: USD $67.99 – 24 hours.

Rush Processing Time: USD $130.99 – 6 hours.

Super Rush Processing Time: USD $169.99 – 30 minutes.
Business Invitation Letter - 1 Year - Multiple Entries
Standard Processing Time: USD $283.99 – 30 Business Days.

Rush Processing Time: USD $343.99 – 27 Business Days.

Super Rush Processing Time: USD $411.99 – 25 Business Days.
Travel Restrictions, COVID-19 vaccination, tests, quarantine, and travel insurance
To enter any country, there are medical restrictions, and due to the pandemic, there are COVID-19 restrictions. So it is crucial that, as an Indian citizen, you understand your Russia's specific requirements.
COVID-19 requirements for entry into Russia
Today, passports or COVID-19 vaccination certificates are no longer required to enter Russia. However, we will always recommend traveling with a full dose of vaccination to ensure that you do not have any problems during your trip and do not have a bad experience.
Travelers coming from India NO LONGER need to present a negative PCR results to enter Russia..
Finally, there are no quarantine requirements for Indian travelers to Russia.
As information can change rapidly, we advise that you check for the latest updates before traveling to Russia.
Health recommendations when traveling to Russia
When you take a trip abroad, it is always advisable to obtain health insurance before you start your journey, regardless of the purpose of your visit. For travel to Russia, there are some requirements that this policy must meet:
It must cover you for the entire duration of your stay in Russia.

It must indicate the geographical area of coverage as worldwide, Russian Federation, or Europe.

It must contain the insurer's date, stamp, and signature, the policy number, the insured person's full name, and the insurer's address and contact details, including the emergency number.

Must include the list of medical services and medical transportation, including repatriation. The document you present at the border must contain all this information. Remember that you are not always asked for this document at immigration, but it is best to have it handy.
Does iVisa guarantee that my visa will be issued?
At iVisa, we have a team of professionals who work hard to be able to process the documents requested by our clients. Our processes and workers are of high quality and allow us to ensure that you will have the document.
However, in the case of Russia, what we process is the letter of invitation to the consulate. Therefore, the approval or rejection of any Russian Visa will depend on the Russian Embassy agents and the correct delivery of all the requested papers, your travel history, and the reason for your trip.
Usually, there is no major problem when applying for a visa. However, there can always be rejections. In addition, if you need a Russian transit visa, you will need to apply for another procedure.
More questions about traveling to Russia as an Indian citizen?
If you have any concerns about how to get your invitation letter, another e-visa, or a visa extension, you can always contact our amazing customer support team, available 24/7. Also, you can contact us via email at [email protected].