It is not allowed to acquire an electronic visa for Russia at the moment. Still, iVisa can help Mexicans with the process if the destination is Kaliningrad or Far-East Russia (the rule applies only to these regions). We offer our applicants the option of applying online for a Kaliningrad Visa from the comfort of your house, just with a device with an Internet connection. We also assist our applicants with the whole process to obtain their visas. In this blog, you will find more info about it.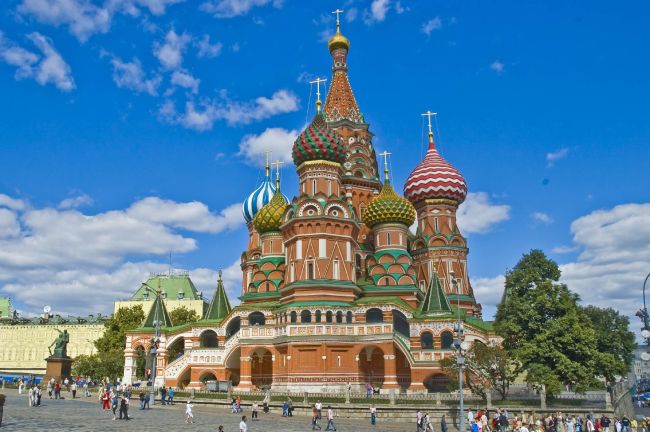 Frequently Asked Questions (FAQs)
I have a Mexican passport, do I need a visa to visit Russia?
Yes, all Mexican visitors require a visa to enter Russia. With iVisa, you will be able to apply for a Kalinigrad eVisa or a Far East eVisa, but these eVisas apply only for those regions. If you want to visit other regions of the country, iVisa offers you the option to apply for an Invitation Letter. You can check requirements and more info about it by clicking here.
If visa cost is zero, why do I need to pay?
iVisa wants to make things easier for you. To obtain an eVisa you just will need a few minutes of your time to apply online and we handle the rest. Then, you will be able to obtain your eVisa in as little as 5 days! That is why we charge you a small service fee.
Which visa types and invitation letters are there for Mexican passport holders?
These are the services for Mexican passport holders wishing to visit Russia:
Kaliningrad eVisa – the information about this visa is unfolded on this blog.

Far East (Vladivostok) eVisa – this is an electronic travel visa which allows traveling around the East region of the country for a maximum of 8 days Per Entry.

Tourist Invitation Letter.

Business Invitation Letter.
You can check them all here.
What is the Kaliningrad eVisa?
The Kaliningrad eVisa is an official document that allows visitors entry into and travel within the Russian region of Kaliningrad for tourism purposes.
How long can visitors with a Mexican passport stay in the Kaliningrad region with a Kaliningrad eVisa?
Visitors carrying a Kaliningrad eVisa can enter Kaliningrad for a maximum of 8 days Per Entry. All visits are strictly limited to business or tourism, so you can NOT seek paid work or employment.
What are the documents required to apply?
To apply for a Kaliningrad eVisa, you will need the following documents:
Valid passport.

A photo taken in the last 3 months.

Your travel dates.

A credit/debit card or PayPal account.
How long is the Kaliningrad eVisa valid?
Your Kaliningrad eVisa will be valid for 30 days after arrival.
What are the processing times and prices?
The visa cost depends on the processing time you need. Fortunately, iVisa comes with three processing time for Mexicans:
Standard processing – your application will be processed within 9 days when you select this option and it will cost you only USD 25.00.

Rush processing – the timeframe is reduced to 7 days this time, and you will be charged USD 40.00.

Super Rush processing – if you are in an urgent situation, you can select this option for USD 50.00. Your application processed within just 5 days.
Click here to start your application.
How does the Kaliningrad eVisa work?
Your Kaliningrad eVisa will be issued electronically by the Ministry of Foreign Affairs of the Russian Government.
iVisa use the Russia eVisa system to process an eVisa. We enter the applicant's information into the Russia eVisa system and after they review it, we are notified of the outcome of the application.
How long does it take to apply for a Kaliningrad eVisa?
iVisa wants to make things easier for its applicants. That's why we designed a very easy application form for you to fill out and this will take you less than 10 minutes! We handle the rest by sending you your eVisa to your email in the timeframe you chose.
How can I apply for a Kaliningrad eVisa?
You can start completing the online form once you have collected all the necessary documents. It consists of three steps that Mexicans needs to accomplish. iVisa has convenient customer support available 24/7. The steps are:
First, you'll need to provide some general information. Then select the processing time. This option will help determine the cost of your visa so take note of that.

The next step will ask to review the information you have provided and make the payment. Please take a moment to check everything before submitting. It is impossible to do corrections after the application is processed.

The last step will ask you to upload additional documents. The number and type of the document will be a case to case basis.
Click here to start. After you are done, you submit your form and wait for your visa to arrive. In case you need assistance to fill your application, iVisa has a fantastic support service that you can call 24/7.
What happens after I have applied?
Once the application is done, your Kaliningrad eVisa will be sent to you by email in the timeframe you chose. No need to deal with the embassy. We do it for you so you don't lose valuable time. Next, present a printed version of your Kaliningrad eVisa along with your passport once you enter the region.
How many entries do I have with a Kaliningrad eVisa?
The Kaliningrad eVisa allows a Single Entry to the region.
Does obtaining an eVisa guarantee me entry into Kaliningrad?
NO. Possession of an eVisa for Kaliningrad does not provide an automatic right of entry for the holder into the country. The Immigration Officer at the port of entry may refuse entry to any person if they consider that such a person is unable to fulfill the immigration requirements or that such person's presence in Kaliningrad would be contrary to national interests or security.
Do I need to get a Kaliningrad eVisa for my kids too?
Yes. All foreign citizens wishing to travel to Kaliningrad require a visa, even kids.
How can I apply for my family or friends?
You can apply for friends or family. Just make sure to have all the required documents (you can see above in this article). If you are applying for only one friend or family member, just apply here introducing his or her data. In case you need to apply for more than one person, you can do so by clicking on 'Add new applicant' in the application form and completing the data required.
What can I do if I make a mistake in my application?
If you made a mistake when entering your data online then please contact our customer service representatives as soon as possible via online chat to assist you. If we already submitted your application, then you can NOT make any changes and you will have to apply again but we will NOT charge you another service fee.
Is it safe to use iVisa to get my Kaliningrad eVisa?
Many people think that online information leaks and that their personal info is at risk of getting into the wrong hands. However, that is not the case with our services. We provide maximum safety for your personal data, confidentiality, and we invest a lot in the security of our database. Your personal information could not be safer. You can check what hundreds of happy customers say about us here.
I have more unresolved questions, where can I find more info?
For a faster resolution click here and start chatting with one of our customer service representatives. Alternatively, you can find more info, more visas and FAQs here.