Russia is one of the most interesting countries in Europe, especially for all the mystery that surrounds it to be such a large nation. In case you want to visit the Far East Region, then remember to apply for the Vladivostok eVisa. It's not difficult to obtain the Russia Vladivostok eVisa for the citizens of Latvia, but for that, you have to complete an online application form. That said, keep in mind that this document would be useful only in the Far East Region, not in the entire country.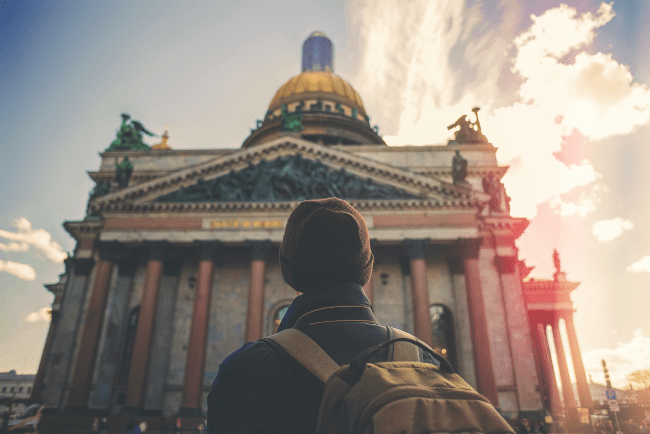 For your convenience, you can obtain this document with an online process that doesn't require you more than 20 minutes. This is the process that iVisa.com offers, which can save you a lot of effort.
In case you need to apply online for the Vladivostok eVisa as fast as possible, then we recommend that you keep reading this article.
Frequently Asked Questions
I'm a citizen of Latvia, do I need a visa to travel to Russia?
Yes, you need to get a valid visa to enter Russia. But, as we said before, in case you want to visit Vladivostok or the Far East Region, then you only need a Vladivostok eVisa. There are other similar processes to visit Kaliningrad and Saint Petersburg. Just remember that you cannot enter Russia without any of the documents.
What is a Russia Vladivostok eVisa?
The Russian Vladivostok eVisa is a specific travel authorization that you need to enter the Far East Region. This document stays valid for 30 days after issued, but you can only travel within the region for 8 days Per Entry. Note that this eVisa gives you legal access to almost every border point in the Russian Federation. Some of these are the airports and seaports in Vladivostok, Korsakov, and Zarubino, and also the land ports in Pogranichny and Poltavka.
What requirements do I need to get my Vladivostok eVisa?
If you apply with an official government website you'll probably need a long list of requirements, and you might spend a lot of time completing the form. With iVisa.com, you'll only need to provide these documents:
A visible copy of your passport: this is the most important part of your application, so be sure to have a valid passport and scan the information page to upload it when required.
A valid photo: you'll need to provide a passport-sized photo, which can be something easy to get with iVisa.com Photos.
An Email Address: don't forget that since this process is online, all the details about it, including the document, will be delivered via email.
Payment Alternatives: when you apply for your document with iVisa.com, you have to pay a small fee, and for that, you can use a debit/credit card or a Paypal account.
What are the processing times and fees for the Far East eVisa?
Your Russian eVisa isn't free, but the good thing is that you have different prices for your document according to what's your budget and what's the urgency you have with this document. Remember that if you decide to travel only to the Russian Far East Region, then the Vladivostok eVisa is all you need. With iVisa.com you can choose one of the following procedure times:
Standard Procedure Alternative – It has a waiting period of

9 days

and a price of

USD 25.00

.
Rush Procedure Alternative – This time, the price is

USD 40.00

, but your document will be ready in

7 days

.
Super Rush Procedure Alternative – It has a price of

USD 50.00

, but that's because you have to wait only

5 days

.
How can I apply with iVisa.com?
As you read before, you can apply with other official websites, but it might be a tedious procedure. With iVisa.com, you only have to complete a 3-step method and nothing else. Remember that you can reach out to iVisa.com's customer assistance if you require extra help, we'll be ready to assist you.
Firstly, you need to fill out a questionnaire with your personal details and choose the type of eVisa you need according to your travel plans. You also have to choose the procedure alternative in this part.
Secondly, check that all of the information you offered is alright and pay for the service with the Paypal or debit/credit card.
Thirdly, attach the documents listed at the beginning and send your online form.
Don't forget to always double-check the spelling. Once you finish the process, you'll just have to wait for your document and nothing else!
What is the difference between a Tourist Invitation Letter and a Russian Visa?
You should know that a Tourist Invitation Letter is a document required to complete a paper visa application. It's not an actual visa, just a document to get the Russian Visa. This is different from the Russian eVisas, because the eVisas are completely online since they don't have the same demands as a paper visa.
Is it safe to apply with iVisa.com?
Yes, totally! It's safe to use iVisa.com's service because we count on an amazing work team that's been offering eVisas and other important travel requirements for six years (and counting). This means that you'll receive a reliable document to enter the Far East Region of Russia.
You can check out these testimonials with 20,000 reviews on Trustpilot if you still have doubts about it.
Where can I find more information?
Remember that you can chat with our customer service representatives, or read iVisa.com's blog if you still have questions about this and other online processes related to travel authorizations.
In case you feel informed enough to begin the process, then you can complete the Russia Vladivostok e-Visa for the citizens of Latvia and focus on the rest of your trip once you send the form.