Russia was once a powerful country as part of the Soviet Union. But since its dissolution in the 90s the country has tried to develop through its great mineral reserves. As well, Russia is opening more to international tourism as this supports its economy in a great way. One of the policies to increase tourism is the implementation of e-Visas or electronic visas.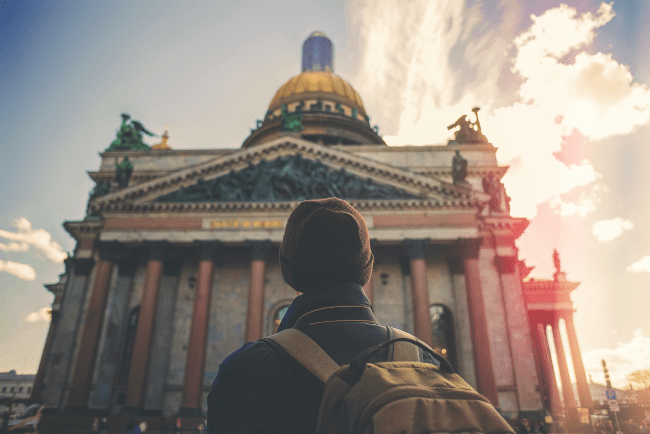 The Russia Vladivostok e-Visa is one of the new electronic visas made available by the Russian government. Citizens of 53 countries can apply for these visas and Slovakia is among those countries.
iVisa.com can help you obtain your Russia Vladivostok e-Visa with a fast, simple, and trustable service. Don't miss the opportunity to visit Russia, the biggest country in the world.
Do you want to know more about Russia e-Visas? Then, keep reading.
Frequently Asked Questions (FAQs)
What is the Russia Vladivostok e-Visa and do I need one?
The Russia Vladivostok e-Visa is one of the three e-Visas from Russia that will grant you to visit different regions of the country. The electronic visas simplify the process from a traditional visa procedure. No more appointments at the embassy and long waiting periods. Applying for the e-Visa will only take you a few minutes from the comfort of your home.
As a citizen of Slovakia, you need a Russia Vladivostok e-Visa and if you intend to visit other regions in Russia you can also apply to the Kaliningrad e-Visa and the Saint Petersburg e-Visa.
We want you to have a smooth entry to Russia, so start applying for your Russia e-Visa.
How long can I stay in Russia with the Vladivostok e-Visa?
The Russia Vladivostok e-Visa allows you to stay a maximum of 8 days Per Entry in the Far East region. This is a Single Entry visa and the document is valid for 30 days after issued since its issue date.
If you want to stay longer due to tourism or business purposes, iVisa.com also offers you the Invitation Letters service. These are necessary when you apply for a traditional visa. Go to the application page and get to know more about Invitation Letters to Russia.
What requirements do I need for the e-Visa?
Make sure to have the following:
Passport, you'll need a scan of your passport showing the photo and details. Your passport should be valid for 6 months or more from your arrival date.
Return flight, it is important you already have a return flight so you show no intention to stay in Russia longer.
Accommodation, have proof of reservation from your hotel or your Airbnb.
Email address, this email is relevant as this is how iVisa.com will send the Russia e-Visa.
Payment options, iVisa.com works with two electronic alternatives to process your payment. Use a Paypal account or a credit/debit card and pay the iVisa.com's fee.
How long do I need to wait for the Russia e-Visa?
According to your trip date and budget, choose the best option from the following:
Standard, for the lowest fee of

USD 25.00

and you wait

9 days

to get the e-Visa document.
Rush, if you pay

USD 40.00

your requirement will be done in just

7 days

.
Super rush, the highest fee at

USD 50.00

will give you the Russia e-Visa in

5 days

.
The services explained are available for any of the e-Visas, the Kaliningrad e-Visa, the Saint Petersburg e-Visa, and the Far East (Vladivostok) e-Visa
Contact our knowledgeable customer service team in case you have any questions.
How easy is the e-Visa process?
This is a simple procedure that only takes you three fundamental steps:
First, complete the electronic form with your details and pick a processing time.
Second, review your information and choose a payment method, Paypal account or credit/debit card.
Third, attach the documents required, like your passport.
Apply with iVisa.com and you can have your e-Visa in just a few days!
How will I get my e-Visa?
You should be getting your Russia e-Visa through email. For this reason, you must provide a valid email address to receive your document. Once you have your e-Visa, have it with you at all times while entering Russia as we are sure the immigration officers will request it.
How trustable is iVisa.com?
You can trust iVisa.com with your documents, as many other previous customers have done already. Check our clients' opinions so you are sure you are choosing the best service for your Russia e-Visa. iVisa.com is an external agency that can take care of your application even though we are not directly related to the Russian government.
Who can I contact for further information?
Contact iVisa.com's service agents in case you want to choose between the Kaliningrad e-Visa, Far East (Vladivostok) e-Visa, or the Saint Petersburg e-Visa. Also, contact us through email to help@ivisa.com.
Your application can be done today! Start now!