Are you planning to travel to St Petersburg? If so, in this article, we will share valuable information for you to plan and do your process with iVisa.comquickly.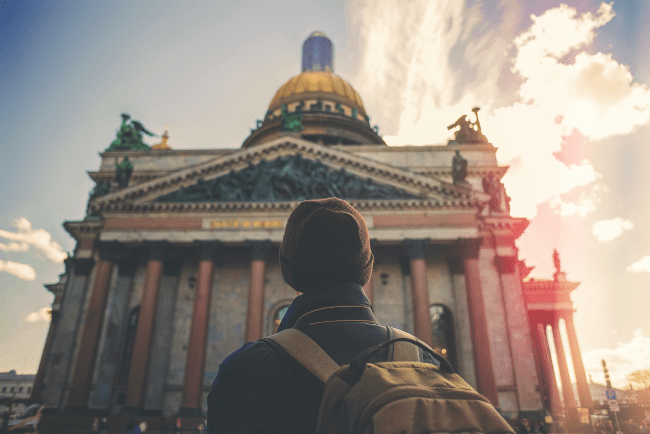 The first thing you should know is St Petersburg Visa Requirements. Let us begin!
Frequently Asked Questions
What are the Covid-19 restrictions for entering St Petersburg?
As the COVID-19 restrictions are frequently changing, we recommend you check our Product page to get up-to-date information about traveling to St Petersburg.
How to apply for the St Petersburg Visa Requirements?
First, you need to know if your country needs a visa to enter St Petersburg.
For this, you can check out our Visa Checker Tool to see what e-Visa options you need.
What are the St Petersburg Visa Requirements?
Now that you know that you need a visa, let's check the St Petersburg Visa Requirements:
A valid passport.
A valid email address.
An invitation letter.
Booking hotels or the address of the person that you will visit on your trip.
A payment method.
Do I require an invitation letter to enter St. Petersburg?
For the St Petersburg Visa Requirements, if you are visiting some friend or a family member, or for business, you are required to submit an invitation letter.
At iVisa.com, we help you get your Russian Tourist Visa Invitation Letter Online.
What are the cost and the processing times for the visa to St Petersburg?
If you use iVisa.com to process your application for the St Petersburg Visa Requirementsyou can save some money as we give you some options for your comfort.
Standard processing option (

USD $24.49

-

9 days

): The processing speed is low, but the cost is affordable.
Rush processing option (

USD $43.49

-

7 days

): This option is faster and more expensive than the previous option.
Super Rush processing option (

USD $69.99

-

5 days

): It is the fastest and most expensive option among the three.
And the costs depend on where you are from.
Can I trust iVisa.com?
Of course! At iVisa.com we have more than a decade of helping people around the world with their visa processes. To feel more confident about starting this process of the St Petersburg Visa Requirements, we invite you to learn more about us in our review section.
I have other questions, how can I contact you?
If you have any other questions about St Petersburg Visa Requirements, we have a great support team at iVisa.com 24 hours a day, 7 days a week for you.
iVisa.com Recommends
St Petersburg is a Russian city that mesmerizes with its magic every traveler, who is in search of history and architecture. Its imposing architecture and the river that crosses the city make this city one of the most desired in Russia. Here at iVisa.com we give you some recommendations for you to visit on your trip.
Moika River: There are over 500 bridges in St. Petersburg. The Palace Bridge is the most famous of them all. The Museum of Musical Instruments and the Hermitage Museum are also located here. Both of these museums are a must-see for anyone visiting the city. Aside from this, there are also some beautiful sculptures in the gardens. There are so many museums and art galleries in the area that you'll surely find something that will suit your taste and needs.
The Peterhof Palace: A small boat is a great way to see the famous city. This is one of the most important museums in St Petersburg. The Mikhailovsky Theater is home to an impressive collection of paintings. The Malachite Room displays artworks that reflect the region's history. The Mariinsky Theater is another popular venue. The Grand Canals is another highlight of the capital. The gilded palace is one of the most beautiful and scenic in the world.
The Hermitage Museum: A museum of art and history, the Hermitage is one of the prettiest cities in the world. This museum houses over 3 million items, including the largest collection of paintings in the world. The Hermitage is also the place to see a spectacular display of works of art. The Hermitage has a permanent exhibit of paintings and sculptures in Russia. In addition, the Hermitage is a great place to experience Russian culture.