As the coronavirus vaccine has come out, traveling restrictions are being relaxed all across the world. As a citizen of Saint Lucia, you might be concerned about the update and wondering, "Do I need a vaccine to travel to Saint Lucia?" Well, you are lucky because citizens of Saint Kitts do not need a coronavirus vaccine to visit the island of Saint Lucia.
Saint Lucia is a beautiful Caribbean island that has some of the best beaches in the world that people visit from across the world to get a break from their hectic schedules. You can enjoy adventurous activities like reef-diving and surfing in the coastal areas. The luxury resorts and fishing villages are a must-visit for everyone.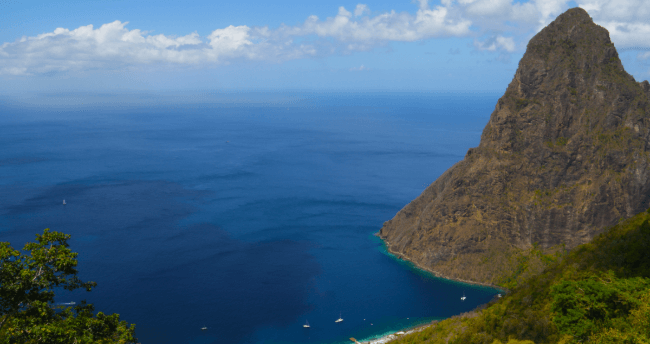 If you are planning on visiting the island and are still concerned, "Do I need a vaccine to travel to Saint Lucia?", then you need not worry anymore because as per the current guidelines, people can visit Saint Lucia without the vaccine. However, you will need other necessary documents to complete your visit to Saint Lucia stress-free.
Find out more about the travel documentation for Saint Lucia.
Can I get a Health Declaration through iVisa.com?
At the moment, citizens of other countries do not need a vaccine to enter Saint Lucia. However, getting the Health Declaration can be a tedious task, but through the following three quick steps, your Health Declaration application will be ready in time:
Complete the online form and the details about your personal information accurately.
Check your answers in order to be sure that all the details you have added are correct and legally valid. Once you have done that select your preferred processing time and complete the payment for your Health Declaration application process.
Upload any essential document as asked in the form. iVisa.com will send you the processed Health Declaration to your email inbox as soon as it is approved. With these simple steps, your application process has begun.
Frequently Asked Questions
Do I need a vaccine to travel to Saint Lucia?
No, you don't. COVID vaccination certificates are not mandatory for travelers to enter Saint Lucia. Since information may change quickly, we advise you to follow up on the latest Saint Lucia travel updates or contact your local embassy.
Is a COVID-19 test needed for Saint Lucia?
Pre-departure testing is no longer required.
Do I have to quarantine when I get to Saint Lucia?
Quarantine requirements: There are no quarantine requirements in Saint Lucia.
Can iVisa.com help me in getting the entry requirements for my visit to Saint Lucia?
If you are planning a delightful trip to Saint Lucia and are still concerned about, "Do I need a vaccine to travel to Saint Lucia?", no need to worry, as it is not a mandatory requirement. However, you will need a valid passport to travel to Saint Lucia. We can help you get the documents for a quick trip to Saint Lucia without any obstacles.
Begin the application process now
I have to travel urgently! Can iVisa.com speed up my application?
Yes, we can help you get your document to Saint Lucia in time. iVisa.com has created three options for all our visitors to ensure that any urgent requests can get processed faster in order to help all those who are visiting Saint Lucia:
Standard processing: This is the most inexpensive option for those who already have some time before they need to leave for Saint Lucia.

USD $18.49

-

24 hours

.
Rush processing: This can be a convenient option for you if you wish to get your Health Declaration in advance.

USD $35.99

-

20 hours

.
Super Rush processing: This is the most suitable option if you need to leave for Saint Lucia in an emergency. This is the fastest option and will make sure that you get your document as soon as possible.

USD $59.99

-

16 hours

.
Will I need a lot of documents to start my iVisa.com application?
These are the documents you will need when applying for your Health Declaration online:
A valid passport with the information page (this is the page with your picture).
A debit card or credit card with which you'll be making your payment.
An active email ID on which you shall receive the processed document.
Apply for Saint Lucia Health Declaration now
I still have a few more questions, what do I do?
If you are still confused and wondering, "Do I need a vaccine to travel to Saint Lucia?", you can send us your queries via email to know more about your application for Saint Lucia. You can also visit this page to read more information!
iVisa.com Recommends
When traveling to Saint Lucia, you can begin by exploring the historical landmarks of Morne Fortune and the Pigeon Island National Park. You can go on exciting nature trails to the Pitons, enjoy the luscious beaches of Marigot Bay. You can also try water sports and adventures at the Chastanet Marine National Park, which has one of a kind experience for all adventure seekers. Saint Lucia is also blessed with the Sulphur Springs Park, Diamond Falls Botanical Garden, and Tet Paul Nature Trail, all exquisite in their grand views and natural beauty. The Sulphur Springs Park scenic drive is also a delight as it gives you the unique experience of driving on an active volcano.
iVisa.com hopes you have a rejuvenating trip to Saint Lucia.