Visa Policy for San Marino
San Marino is a gorgeous country located near Italy in the continent of Europe. Though often forgotten by those outside the continent, you will definitely hear many recommendations suggesting San Marino for a refreshing vacation. The country is picturesque, ornamented by medieval architecture and a great spirit, all you need is the right visa and a valid passport, and you are good to go!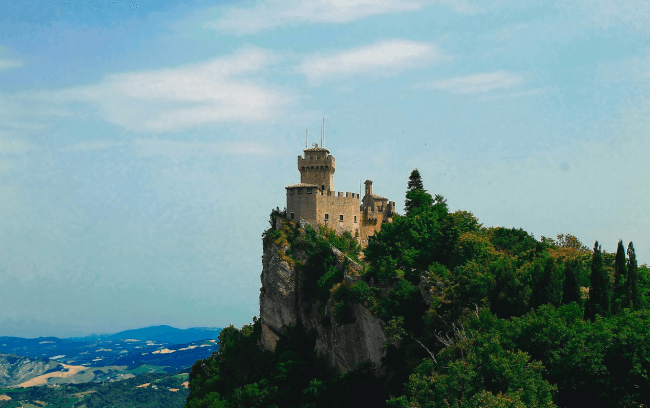 click here to apply for the San Marino visa. The San Marino visa policy is a fair and simple set of guidelines that will help you obtain permission to visit the country if you are a foreigner. You will have to abide by the San Marino visa policy during your stay in the country. There are many types of San Marino visa that you can apply for.
Even though the country is not an official member of the European Union, the San Marino visa policy works hand in hand with the Schengen Area visa policy, as per the current guidelines. This is the case because San Marino is only accessible via Italy, one of the members of the Schengen zone agreement.
You can visit San Marino with the help of a visa, your valid passport, and a few other additional documents. However, those foreign nationals that wish to visit the country for more than 10 days will need to acquire the permit. The San Marino permit can be obtained via the San Marino government as per San Marino visa policy.
start applying for San Marino visa today
Tourist Visa for San Marino
All visitors from across the world that are planning their stay in San Marino are more than welcome. However, the visa category that you will be qualifying for will depend upon a wide range of factors. The duration of your stay in San Marino and the purpose of your visit are some of the most cited reasons. In addition, your nationality can also affect your eligibility for the visa.
In such scenarios, it is advised to go through the San Marino visa policy properly and prepare the visa application form accordingly. Most visitors that are traveling to San Marino for leisure purposes like sightseeing, tourism, meeting friends and family often apply for the San Marino tourist visa.
If you are a working professional, you will have to submit a bunch of documents to obtain a San Marino visa. The business visa will enable you to attend business conferences, exhibitions, seminars and so much more. In some cases, the business visa will also enable you to invest in San Marino's flourishing economy. You can know all about the San Marino visa on iVisa.com.
There are special student visas and work visas for foreign nationals as well. You will have to provide adequate documentation to prove your scholarship and work in San Marino. You might be expected to present a letter of acceptance from your educational institution or a letter of employment by the San Marino company you are applying for.
San Marino Schengen Visa
If your nationality does not exempt you from traveling in the Schengen zone without a visa, you will need the Schengen visa to enter San Marino. Since San Marino can only be accessed via Italy, a member of the Schengen zone, you might need a Schengen visa to enter San Marino.
You will be required to have a wide range of additional documents to support your visa application form. Some of the documents that you will be needing are:
Your visa application form. Make sure that all the details that you mentioned on the form are up-to-date and accurate.
A valid passport.
Flight tickets to San Marino and the return ticket to the country of your residence.
Proof of accommodation- this can be in the form of hotel bookings or a letter of invitation from the residence you are planning to stay at.
Proof of financial security- you will be required to submit documents like a bank statement from the past three months, a letter of employment, and others. This will prove your ability to financially sustain yourself after you enter San Marino.
Copies of your latest photograph.
A travel itinerary.
Copies of your latest visa approval from any immigration authority.
These are just some of the documents that the San Marino officials may ask for. You can visit the iVisa.com website to stay updated with any new information about the San Marino visa policy. You must make sure there are no discrepancies in your visa application.
You must keep in mind that all the dates mentioned in the documents you are submitting are accurate. The dates mentioned on your flight tickets should match with the dates mentioned in the proof of accommodation and other such documents that you are submitting.
San Marino Stay Permit
San Marino has a fantastic tourism industry. This development has only been possible because of the tourism-friendly San Marino visa policy. The current rule states that visitors staying in San Marino for more than 10 days will have to acquire a permit. However, the policy allows several exceptions to this rule.
San Marino stay permits allow visitors to stay in the country for a period of a minimum of 3 months and a maximum of 12 months. These permits can be granted for a variety of purposes like work, tourism, education, and much more.
The San Marino visa policy allows entry for many nationals without a visa. These visa-free tourists can enter the country without a visa, but are required to have a valid passport.
list of nationals that can visit San Marino visa-free
In addition, many diplomatic passport holders can also visit San Marino without a visa. The countries eligible for such an exclusive arrangement are:
Azerbaijan
Gambia
Moldova
Eswatini
Tunisia
Turkey
Uganda
The unique thing about the San Marino visa policy is that there is no passport control. This means that you will not be issued passport stamps for your visit to the country. However, there are souvenir stamps for travel enthusiasts, leaving with something to take with them as a memory of their amazing stay in San Marino.
You must be wondering if the country of your nationality is exempted from any of these formalities. You can now check this exclusively on the iVisa.com page with the help of the visa eligibility tracker. Once you mention all the details, the search engine should be able to tell you about the visa application process for your nationality.