Even though Saudi Arabia decided to suspend all international flights indefinitely to try to prevent the spread of coronavirus within their community, there are exceptional cases in which arrangements can be made for residents and non-residents to enter this country.
Nonetheless, all of these exceptional cases include a 14-day quarantine requirement along with displaying a Saudi Arabia Health Declaration, and if you're not from a visa-exempt country, you will need a visa to enter this land as well. Luckily, we can help you process your Tourist eVisa here.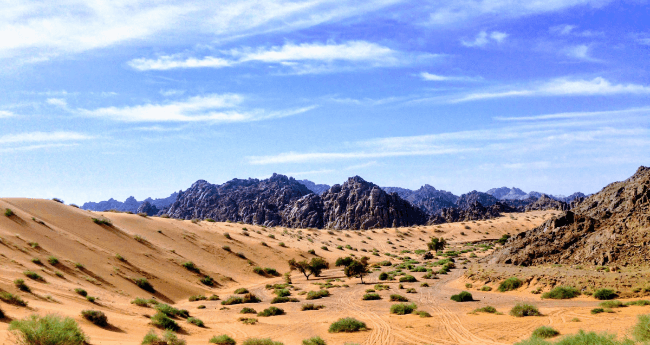 The Saudi Arabia Health Declaration is a document that is also mandatory to have at the moment of your arrival. You can get it by downloading it from the Saudi Center for Disease Prevention and Control. However, if you don't want to engage in too many steps with this government's authorities, you can digitally request your Health Declaration with us instead.
Learn more about this precautionary method that will help you enter Saudi Arabia without any inconvenience and enjoy your trip the best you can.
FREQUENTLY ASKED QUESTIONS (FAQs)
WHY DO I NEED A HEALTH DECLARATION TO ENTER SAUDI ARABIA?
A Health Declaration is necessary for you to travel to Saudi Arabia in order to comply with this government's laws and efforts to stem the spread of COVID-19 in their community. You will be denied entry to Saudi Arabia if you don't show one at the moment of your arrival. Fortunately, you can request a digital health declaration before you travel by applying here.
Do I need a COVID vaccine or vaccination certificate to enter Saudi Arabia?
Yes, Saudi Arabia has been taking steps to restore travel within its borders. In order to enter Saudi Arabia, you'll need to display your COVID vaccine passport or vaccination certificate.
Accepted vaccines are Pfizer, Moderna, AstraZeneca, and Janssen. You are considered vaccinated if all doses of a vaccine against SARS-Cov-2 have been administered for at least two weeks before traveling. Travelers who have been vaccinated with Sinopharm and Sinovac will also be accepted if they have received one vaccine dose of AstraZeneca, Janssen, Moderna or Pfizer as well.
Will I have to quarantine when I get to Saudi Arabia?
Quarantine requirements: 5 days in government facility for unvaccinated travelers
Quarantine testing: 24 hours after arrival and day 5
HOW DO I GET A SAUDI ARABIA HEALTH DECLARATION?
You can get it through an application that the Saudi Arabia government has implemented and follow all the steps related to the registration, or you can request one easily, fastly, and securely with iVisa.com. The process takes less than 10 minutes.
Request yours here.
WHAT DOCUMENTS DO I NEED TO PROVIDE TO APPLY ONLINE?
To request your digital Health Declaration, you will only need to supply the following documents:
Passport Scan: we will ask you to please send the passport scan that shows all your personal details and information.
Method of Payment: when you're done filling out the application form, you will proceed to payment. We'll give you the option to make it via Paypal or with any credit or debit card.
WHAT ARE THE PROCESSING TIMES AND PRICES TO GET MY HEALTH DECLARATION?
iVisa.com understands that as a traveler, this is one of your main concerns. That's why we've developed a quick and reliable process through our highly intuitive platform where our team of experts will process your request as fast as you require. Here are the three options for you to choose the one that is the best suited for your travel needs:
Standard Processing: USD 0.35 - 24 hours.

Rush Processing: USD 15.35 - 8 hours.

Super Rush Processing: USD 40.35 - 4 hours.
Process your digital Health Declaration with iVisa.com from the comfort of your home now.
HOW CAN I PROCESS MY HEALTH DECLARATION FOR SAUDI ARABIA?
Processing your digital Health Declaration with us is the easiest, most simple way you can choose. Besides, the process is very reliable. You won't take longer than 10 minutes to complete all of it if you follow these simple steps:
Complete the application form here by simply answering a few questions. After you're done, simply choose the processing time that works best for your trip.

Double-check the information you provided in order to continue with the payment through Paypal or with a credit or debit card.

Upload your passport scan and any other document that may be required. After this, our hard-working team of experts will review your application and send you the health declaration as a QR code straight to your email. This way, you'll only have to show it to the immigration officer once you get to the airport, and your personal information will appear in their system, along with your Health Declaration.
Don't forget that if you need further assistance while completing these steps, you can get in touch at any time! Our customer service representatives are eager to solve any of your needs 24/7.
HOW SAFE IS IVISA.com TO PROCESS MY DIGITAL HEALTH DECLARATION TO SAUDI ARABIA?
Our service is extremely reliable! Even though we are not affiliated with the Saudi Arabia government we are an authorized travel agency with a seasoned review team that will carefully take care of your application. For your peace of mind, you can read what our customers have to say about us.
WHERE CAN I FIND MORE INFORMATION ABOUT THIS PROCESS?
Feel free to get in touch with one of our agents here. We are available Monday to Friday, 8 AM to 8 PM Eastern Time. Please contact us via chat or by emailing help@ivisa.com.