Before making any plans to Saudi Arabia, you should know first if you need any special requirements to enter. You might need a Saudi Arabia eVisa for example, especially if you're from certain countries like the US, Canada, and the U.K. This online document doesn't require much effort on your side, and best of all is that you can apply for it on iVisa.com.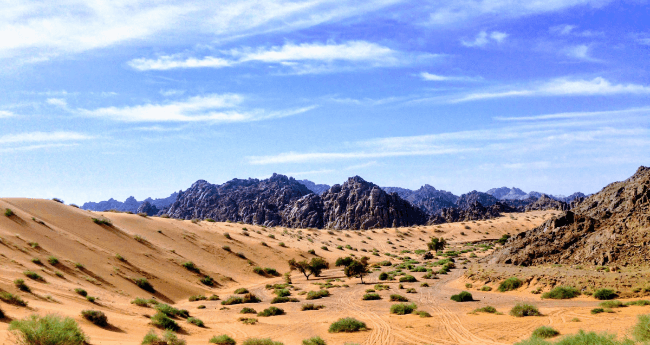 But, since this is something that can vary from nationality to nationality, we still advise you to check your eligibility by using our visa checker. This checker tool allows you not only to verify if you can apply for a Saudi Arabia eVisa, but also if you can apply for any travel document.
Aside from that, there are other things you should know about the Saudi Arabia eVisa, including the Saudi Arabia e-Visa duration. Therefore, we recommend you read the questions below.
Frequently Asked Questions
Do I have to apply for a Saudi Arabia eVisa?
It will depend on the nationality you have. To check if you're eligible for the Saudi Arabia eVisa, you can use our Visa Checker, just put in your country of origin and choose Saudi Arabia as your destination. After that, you'll be able to confirm the information in a few seconds.
We can tell you that some of the countries that can apply for this eVisa are: the US, the UK, Canada, Ireland, China, Australia, and New Zealand, but there are many more.
What is a Saudi Arabia eVisa?
The Saudi Arabia eVisa is an official document that grants the right to enter Saudi Arabia. There's no need to make an appointment or present original documents to the Embassy or Consular Office by having this eVisa. You can apply for the Saudi eVisa on our platform and thereafter just focus on getting ready for the rest of your trip.
Forget about visiting the Saudi Arabia Embassy by using our online form.
What is the Saudi Arabia e-Visa duration?
Visitors with an eVisa have the right to a maximum stay of 90 days in Total in the country with a Multiple Entry allowed. Keep in mind that this eVisa is valid for 1 year after issued.
What items should I get to apply for Saudi Arabia eVisa?
You won't need many things to apply online for your Saudi Arabia eVisa. By using iVisa.com, you'll only need these:
Valid passport: your passport needs to be valid for three months after your visa expires.
A digital photo: in PDF format and passport size.
E-mail address: when applying with iVisa.com, you receive your eVisa via email, so make sure that you introduce a valid e-mail address you have access to.
Means of payment: iVisa.com accepts multiple methods of payment like credit and debit cards or Paypal. Do not forget to double-check the spelling before submitting your application.
What is the price of the Saudi Arabia eVisa?
Three options are available for those who want to visit Saudi Arabia:
Standard processing: with this processing time you get your Saudi Arabia eVisa in

5 days

, and the price is

USD 171.49

(with all the service fees included).
Rush processing: you will receive your eVisa in only

3 days

, and the total price of it will be

USD 233.99

(with all the service fees included).
Super rush processing: this is the fastest option. You will get your eVisa in only

24 hours

, and you'll be charged

USD 275.99

(all service fees included).
The prices shown above are based on the Saudi Arabia eVisa for Americans, so it can vary if you have another nationality. To check more information about it, click here.
How can I apply for the Saudi Arabia eVisa?
The application form iVisa.com designed is really easy and fast to fill in. It should take you no more than 10 minutes. All you'd have to do is to follow this 3-step method:
Step one, complete the form by answering the questions you see on screen (it'll be things like full name and passport number, nothing complicated) and choose the processing option.
Step two, review the information you wrote and enter the payment platform to pay your fees. We won't charge you anything unless you authorize us, which is possible only after you see the total price.
Step three, which is the last one, simply upload the items required (if necessary) and click the 'submit' button once you're ready to send the online form safely and quickly.
You wouldn't have to do anything else after that. The last thing is to simply check your email to stay alert to the process and be ready once you receive the eVisa in a PDF file. By the way, if you have doubts, you can contact our support service.
What should I present once I arrive in Saudi Arabia?
As soon as you arrive in Saudi Arabia, you have to present your passport along with your Saudi Arabia eVisa. We recommend you to print a copy of the PDF file just in case, but keep in mind that the eVisa will be linked to your passport. All the instructions about it will be delivered via email, so stay alert to your inbox.
What should I do if I make a mistake in my application form?
Mistakes are always possible. If this is the case for you, then please contact our customer service representatives as soon as possible to assist you.
Is it safe to use iVisa.com to get my Saudi Arabia eVisa?
iVisa.com provides maximum security for your personal data, and at the same time, we invest a lot in the safety of our database. In other words, you can feel safe by using our services because we won't endanger any private or personal details you give us through our website. You can check the testimonials of hundreds of happy customers with this link.
I still have questions about the Saudi Arabia eVisa, where can I find more information?
You can click over to the chat page and start chatting with one of our customer service representatives if you have doubts. But, you can also find more info about the Saudi Arabia e-Visa and the Saudi Arabia e-Visa duration here.