Visiting Saudi Arabia is a wonderful plan for anyone who wants to discover the Middle East closely. However, if you're planning to visit this magnificent country, you might be overwhelmed by the amount of paperwork to obtain the visa. Luckily, you can apply for the Saudi Arabia eVisa at home. iVisa.com will assist you throughout the procedure, so you don't spend time and effort on complicated questionnaires.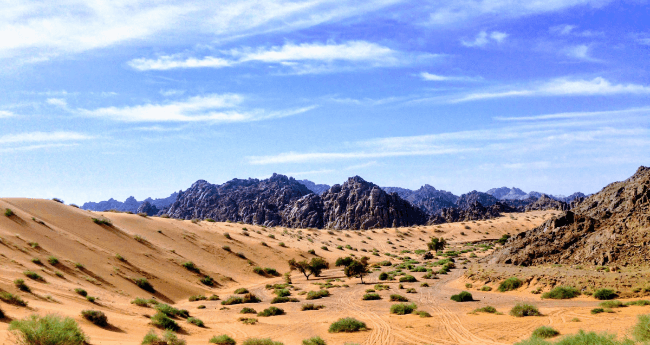 Check out our FAQS to learn more about the Saudi Arabia e-visa for Dutch citizens and how you can get it with iVisa.com's help.
Frequently Asked Questions
Is it mandatory to obtain the Saudi Arabia e-visa for Dutch citizens?
Yes, all Dutch citizens wishing to visit Saudi Arabia must obtain the Saudi Arabia eVisa. It is an electronic travel permit that gives you access to the country without any restriction. Furthermore, there is no need to go to the embassy or consulate to submit the documents because you can do it online from the comfort of your own sofa. It usually does not take more than ten minutes to complete. Besides, you will receive assistance from our team of professionals who will help you with the process.
How long can I stay in Saudi Arabia with the Saudi Arabia e-visa for Dutch citizens
You can stay within Saudi Arabia for ninety days, but you can visit the country at any moment until it expires. It means it is a multiple-entry document.
Do minors need to obtain the Saudi Arabia e-visa for Dutch citizens?
All travelers holding a Dutch passport (regardless of their age) must get the Saudi Arabia eVisa. There are no exceptions. Fortunately, you can apply online for any of your relatives, including children.
What are the mandatory documents to apply for the Saudi Arabia e-visa for Dutch citizens?
Before you get down to business, you must keep in mind the following list of documents required to apply for the Saudi Arabia eVisa, prepared by iVisa.com.
You will need a valid passport. However, it must not be close to expiring, so you avoid any possible inconveniences that might delay your procedure.
You have to provide your email address so that you can receive your Saudi Arabia eVisa.
You have to choose one of the means of payment of your preference. Feel free to use any, because iVisa.com accepts all of them!
How much does it cost to obtain the Saudi Arabia eVisa?
Most travelers are concerned about the possible prices to get their travel documents. Fortunately, iVisa.com prepared the following three options based on your budget and how fast you want to receive your document:
Standard Processing Time: Your request is processed in

5 days

, and it costs

USD $220.99

Rush Processing Time: You receive a faster service

3 days

, and it costs

USD $272.99

Super Rush Processing Time: If you're in a hurry and you need your document ASAP, this option is the best one for you. You get your visa in

24 hours

for

USD $327.99
How can I apply for the Saudi Arabia eVisa?
Obtaining your Saudi Arabia eVisa might be complicated if you don't have any assistance from anyone else. That's why iVisa.com designed an uncomplicated procedure that reduces both time and effort, so you won't need to worry about anything else.
You will have to fill out the application form here with relevant information about yourself and your trip. Once you do so, choose the best processing time that suits you: Standard, Rush, or Super Rush.
After doing so, make sure to double-check that your information has no typos or any other errors. Then, continue with the payment.
Finally, attach the required documents and submit your form.
You will receive a confirmation email when your Saudi Arabia eVisa is ready. Don't forget to verify your inbox.
Can I trust iVisa.com?
For sure! iVisa.com is a trustworthy travel agency that assists travelers wishing to obtain the Saudi Arabia eVisa effortlessly. Our incredible team will help you with superb service. Moreover, we have a high-security platform that will prevent any leaks to third parties. So feel free to read our reviews from our satisfied customers if you want to have peace of mind.
I have more unresolved questions about the document; how can I find out more?
For more information or to solve any inquiries about the Saudi Arabia e-visa for Dutch citizens, you can chat with our support team whenever you need help.